Security for Outswing Door (Patio) Not Sliding door
12-17-14, 09:24 PM
Join Date: Dec 2014
Posts: 1
Security for Outswing Door (Patio) Not Sliding door
---
I live on 1st floor (Ground floor) in an apartment complex. The door opens outside into the patio not inside to the apartment. How do I secure the door while we are inside the apartment? Any security bars or DOOR Jammers etc?
For front door we use this now (This is works perfect for door opens inside/inswing):
Amazon.com: Brinks 675-83001 Home Security Commercial Door Jammer: Home Improvement
Brinks 675-83001 Home Security Commercial Door Jammer
Sponsored Links
12-17-14, 09:41 PM
Plenty of doors open outwards and can be secure. In some ways it's more secure than an inswing door. Harder to pull than push most times.

Is this a single or a double door? Double doors normally have quite secure throw bolts top and bottom on both doors, singles can also have this feature. Thats assuming it's not a typical contractor grade door with just a handle and deadbolt. Since it's an apartment complex, they are probably the cheap ones.

They make thin steel plates that cover the entire jamb and prevent kick-in type things, but won't prevent prying the jamb apart unless you upgrade to a high quality handleset.

The Pros will be around later to give more exact advice.
12-18-14, 05:50 AM
Join Date: Mar 2003
Location: NC, USA
Posts: 18,554
One method that's ancient and very reliable is a piece of wood horizontally across the door as you've probably seen in some forts and castles. It's inexpensive, reliable and in case you need to get out quickly (in case of fire) it's quickly and easily removed. Another benefit is you cannot lock yourself out as it must be installed from the inside.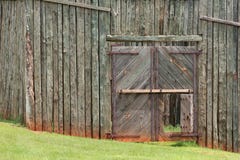 12-18-14, 07:49 PM
Join Date: Nov 2008
Location: USA
Posts: 1,196
The nice thing about the "Jammer" is that there is no installation, ie., holes to be drilled in the door/jamb. The bar that Pilot refers to requires the brackets to be through-bolted to the door, something the apartment owners would no doubt frown upon. If you could "southern-engineer" a yoke of sorts to fasten to the bar (2 by 4) it might work.

By the way, do you not have a deadbolt on the door already? The vast majority of apartments nowadays do.
12-19-14, 08:23 AM
Join Date: Oct 2004
Location: WI/MN
Posts: 18,832
Deadbolt was my first thought as well.
12-19-14, 03:26 PM
Go to your local locksmith and ask for a surface mounted patio bolt.
12-19-14, 03:38 PM
It's an apartment, so anything you do has to be approved with management or you'll be paying bucks when you move.
12-21-14, 01:41 PM
Even the Bird Claw bolt (Jimmy Proof) is suitable enough a deadbolt to secure "double" doors because it binds the doors together. It doesnt matter whether the door is inswing or outswing.
12-21-14, 03:14 PM
Join Date: Aug 2009
Location: USA
Posts: 4,946
Anything more than a deadbolt is meaningless if you don't hare bars on your windows.
12-21-14, 08:58 PM
@ drooplug

I disagree.....that's what security window film is designed for. product made by 3M come to mind. Or Shattergard is another. Glass is no reason to worry anymore. You can replace the glass with Polycarbonate Glazing if you want. Secure hinges with hinge pins. Use a key lockable patio bolt...and any would be intruder will be required to work pretty darned hard to "bust" down that door.
12-21-14, 11:31 PM
Well, there has been no response after the first post...so any discussion is pretty moot at this point. One post wonder I imagine.
Posting Rules
You may not post new threads
You may not post replies
You may not post attachments
You may not edit your posts
---
HTML code is Off
---