DIY Locking Mechanism Brainstorm
08-02-18, 10:20 PM
Join Date: Aug 2018
Posts: 3
DIY Locking Mechanism Brainstorm
---
Hi all,
I have an industry specific challenge that I was hoping someone here might know how to attack.
We install wall-mounted dispensers for commercial cleaning products and the particular dispenser we've installed at an account needs to be locked up at night, as it's currently being pilfered. I've attached a picture of the dispenser here:
The goal is to prevent the two levers marked with purple arrows from moving upwards. That's why I've envisioned a bar or rod (blue line) sitting on top of the levers that can be locked. It could be on a hindge or slider of some sort to get out of the way when not in use. Ideal would be something like a 12 inch version of
this hasp lock
, but i havent been able to find anything yet. (The orange in the image is representing risers of some sort)...
Any thoughts are appreciated! Open to any and all ideas as long as they'd lock and unlock the levers....
THANK YOU!
Sponsored Links
08-02-18, 10:35 PM
I think you are approaching it from the wrong way. A single bar there is too easily bent out of the way.
How about a locked box ?
Those chemicals are dispensed out thru a hose. Can the hose be locked off ?
08-03-18, 06:04 AM
Join Date: Mar 2003
Location: NC, USA
Posts: 18,576
If you put a bar across the two dispensing levers I'm afraid someone will damage the unit while trying to defeat the bar. I'd build a box or cage to go around the entire thing. A metal fabrication shop or welding shop the is experienced with sheet metal can make you a box out of steel or expanded metal.
08-03-18, 06:19 AM
Join Date: Aug 2018
Posts: 3
Thank you both for your replies. However this is not supposed to be a high security lock - it's just to make it clear that the night crew (also cleaners) are not to use this dispenser. If they try to break it, it will be a big issue for them and their contract cleaning company. Right now, however, there's nothing stopping them from helping themselves...

I'm also looking for a cheaply repeatable solution for this kind of thing. It's almost never going to need extreme security, just a small barrier to use. Thank you for any thoughts on a solution!
08-03-18, 06:29 AM
Join Date: Nov 2002
Location: Northern Virginia
Posts: 679
Are you thinking to lock the unit so no chemicals can dispense? Or allow normal use and prevent theft of the reservoir?

A cage or cover that prevents any use at all would require storage during the day, and adds a daily "remove" and "replace" chore for someone. Not to mention keeping after the key.

Possible to change the chemical so it's less attractive to the thief for use at home? Although if it's hand soap that smells like skunk, no one would use it ever.
08-04-18, 12:01 PM
Join Date: Sep 2015
Location: US
Posts: 341
Rather than a round bar, consider using a piece of angle iron; very difficult to bend. Conforming cutouts on the L-brackets will allow you to slip the angle through and secure it with a small padlock.
08-06-18, 04:28 AM
Join Date: Aug 2018
Posts: 3
Update on solution
---
Here is what we ended up rigging after an hour or two at home depot: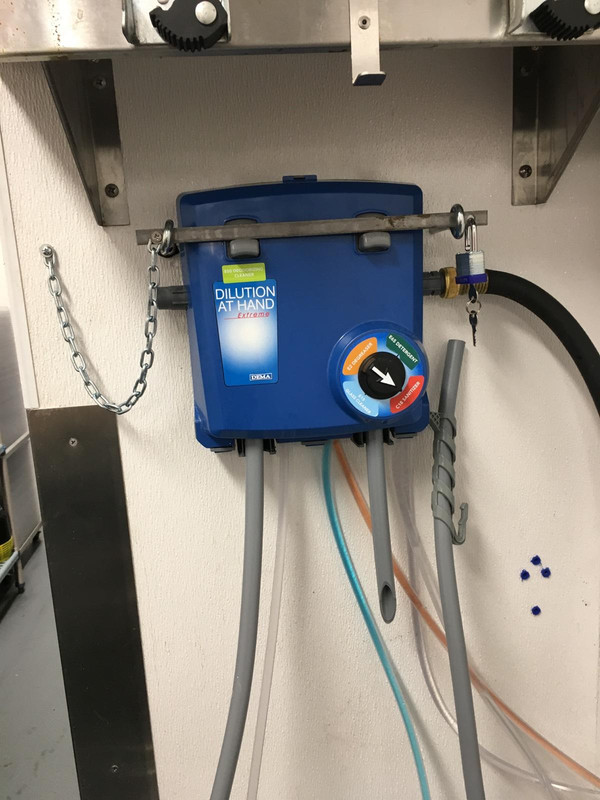 08-06-18, 06:25 AM
Pretty easy to defeat, but I'm guessing that's not an issue? More like a physical "Don't Use This" than a high security device.
08-06-18, 09:23 PM
Join Date: Nov 2008
Location: USA
Posts: 1,197
Looks like a winner to me....better contact a patent attorney right away. You could make millions!
Posting Rules
You may not post new threads
You may not post replies
You may not post attachments
You may not edit your posts
---
HTML code is Off
---