Schlage A-series locks
03-09-19, 03:11 PM
Join Date: Oct 2005
Location: Florida
Posts: 1,486
Schlage A-series locks
---
So in my attempt to normalize all my different variants of locks, I am trying to round up all my Schlage locks.
I found four Schlage locks in my garage that I have had for years. I don't remember where I got them from may be more than ten years I had intended to use them but never did.
The only thing is they don't seem to work right, or may be they do I just don't get it.
It is called a Schlage A-series "ALL PURPOSE ENTRY LOCK". I played with it a little and I am perplexed.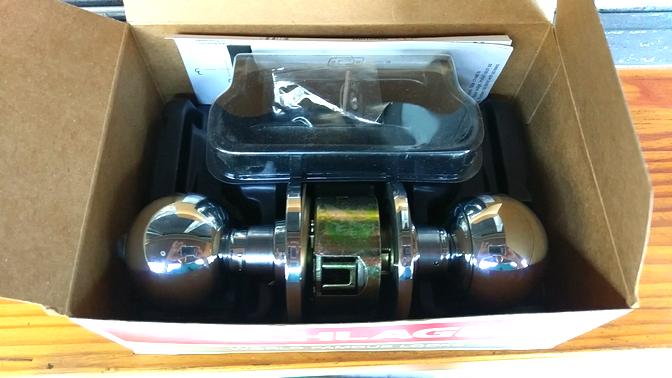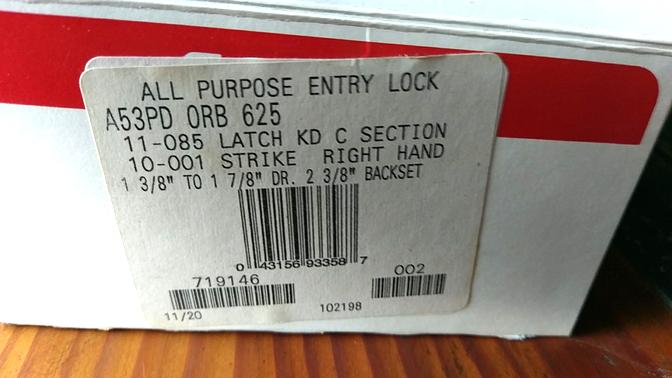 It appears I can unlock it with a key from the outside. It also appear I can lock it with a push button on the inside. But it appears there is no way I can lock it with a key from the outside. ALL FOUR LOCKS behave this way, so it can't be a defect, it must be something I am missing.
Also if I push the button in and turn the button 90 degrees it appears even after unlocking with a key, if I close it again it locks automatically. So that way it stays locked even after unlocking with a key. I can't find a way to lock it with a key from the outside.
In addition, one of the locks has a loose part. The door knob is a sphere. The bottom of the knob that small round piece is loose so it spins. I can't seem to find a way to tighten it. The other three locks do not have this issue. Is this fixable?
Here is a picture showing the gap between the loose piece and the knob, I can easily fit a flat head in the gap.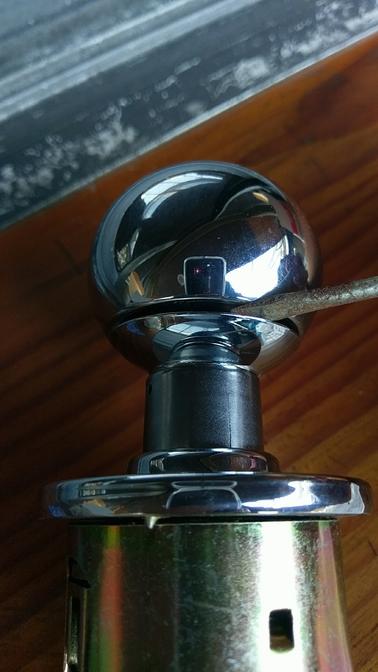 Sponsored Links
03-09-19, 09:06 PM
Join Date: Nov 2008
Location: USA
Posts: 1,227
Indeed, this model cannot be locked with key; only unlocked. The A53PD is probably the most popular of all the functions available for cylindrical knob locks, as it fits the needs of most folks.

And I believe the loose ring should fit snugly by friction only, so something is "sprung". That's the outside knob that comes off by turning the key and poking the retainer at the same time, which would then allow you to see what's loose around the ring....IIRC, it was common to see that ring somewhat loose on well-worn locks. I think it gets loose when the knob is turned hard (when locked) and that can deform the hollow spindle a little, and cause that cover ring to be loose.

ThisOldMan, any clues? I've worked on hundreds of A53's years ago, and that cover ring was frequently loose, but being of no consequence, we just let it be loose.
03-10-19, 01:19 PM
Join Date: Sep 2015
Location: US
Posts: 358
I'm pretty much like
rstripe
, if the sleeve were loose it was no big deal. You can "tighten" it by grabbing the small lip that sits on the knob sleeve with a pair of needle nose pliers and bend it very slightly.
This info is probably 25 years old, but I doubt they've changed much. The reason it's loose to begin with is probably the design of the Orbit knob. There isn't much in the knob assembly to support the cylinder and they had (have?) a separate cylinder support that wraps around the back of the bible (pin chambers) and holds the plug face (Where the key goes in) in position. This extra mass could make getting everything in the proper places at the proper time somewhat problematic. Hopefully that has been solved.
---
Last edited by ThisOldMan; 03-10-19 at

01:21 PM

. Reason: Added explanatory material
03-10-19, 01:42 PM
Join Date: Nov 2008
Location: USA
Posts: 1,227
And I forgot to point out to OP that the A series locks were used primarily in commercial properties....office entry doors, etc., altho the 2-3/8" backset latch that, per OP's label, came with his locks, means they will fit the residential standard.
03-12-19, 06:35 AM
Join Date: Oct 2005
Location: Florida
Posts: 1,486
Thanks ThisOldMan and rstripe for the comments.

I will try to bend the lip a tiny amount to try and get it to catch the sleeve better and see. Good suggestion and greatly appreciated.

rstripe, thanks for the explanation. I didn't pay much attention when I bought these locks many years ago, it said "ALL PURPOSE ENTRY LOCK" then that was good enough for me. I had no idea there are so many variations. After reading what you wrote I still wonder why would such a lock be desirable if you cannot lock it from the outside, may be it was a special purpose lock for places you want to always kept locked, like a janitor's supply room, a building storage locker room, a restaurant liquor storage room and such? You open it with a key, grab what you need, you have your hands full, most likely you kick the door closed, and don't worry about having to relock with a key?
03-13-19, 12:52 PM
Join Date: Nov 2008
Location: USA
Posts: 1,227
Of the dozen or so cylindrical lock functions available, the Entry function, especially with the "universal" button, like you've got, is probably the most popular out there, because of it's versatility; It can be left unlocked, it can be locked as you leave by pushing the button, unlocked with a turn of the key when you come in next morning, or, if you want to keep it locked all the time, push and turn the button. There are several sub-categories of Entry function that use a different type inside button, including one that, upon closing the door, will cause the button to pop back out, thereby preventing accidental lockout, but by pushing and turning the button, it will stay in.

For a more specific function you can choose among a few of these common
key-operated alternatives:

"Storeroom" = No inside button at all; always locked outside.

"Classroom" = No button inside; outside knob set in the locked or unlocked condition by the key.

Less common:

"Communicating" = With many sub-categories, they have a key operation on both sides.
Posting Rules
You may not post new threads
You may not post replies
You may not post attachments
You may not edit your posts
---
HTML code is Off
---