Metal gate dead bolt latch plate
01-09-20, 07:46 PM
Metal gate dead bolt latch plate
---
I have an exterior wrought iron gate, where the dead bolt latch plate for some reason was notched out in a "C" shape instead of a rectangular hole. The plate is 5-3/4" long, 1-1/4" wide and the bottom of the notch is 1" above the bottom edge.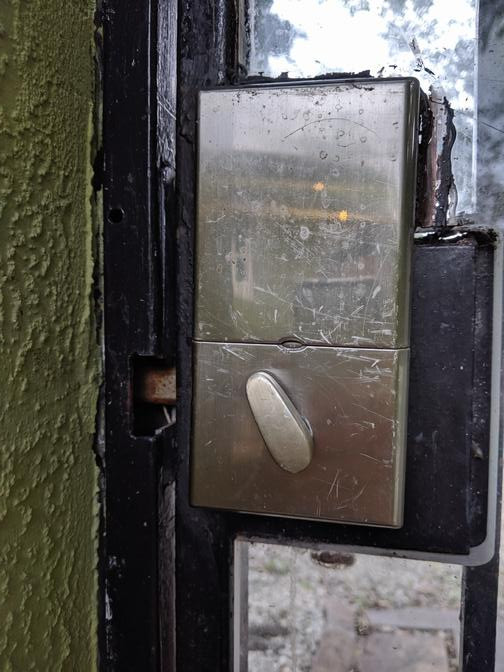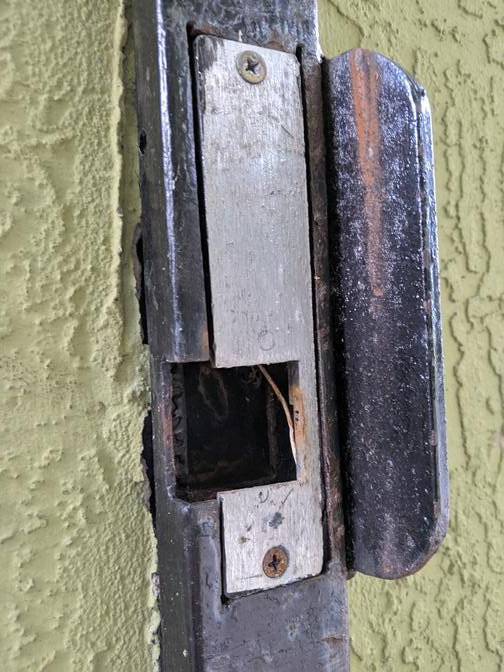 The dead bolt is long so it does lock, but because of the notch it has too much play and when it's windy the gate keeps banging the metal jamb.
I doubt I will be able to find a latch plate that fits exactly what I have. What is the best way to fabricate something that works? Do I take an aluminum ruler, cut it to 5-3/4" long, then use something like a Dremel to cut a rectangular hole to fit the bolt?
My "plan B" is to remove the existing strike plate and flip it around.
---
Last edited by MiamiCuse; 01-09-20 at

08:26 PM

.
01-10-20, 10:13 AM
What you see in the frame is the front-plate of an electric strike (see the wire?), so the gate could be released remotely. Your Plan B will probably be the easiest, although the mounting holes on the other side of the plate are probably not countersunk.
The original lock was almost certainly a deadlatch instead of a deadbolt.
01-10-20, 02:01 PM
Looks like the face plate to the venerable old Trine 001 electric strike....that should be brass or similar material, ie., not aluminum, so should be pretty strong. As ThisOldMan said, just turn it around. (Don Jo makes replacement filler strike plates that replace some brands of electric strikes, but not this particular one).
01-10-20, 03:59 PM
I do see wiring inside, and I assume it's low voltage? So there should be a transformer somewhere.
So once upon a time there was a lock here that could be opened/locked remotely?
This is the gate, with a concrete column on each side.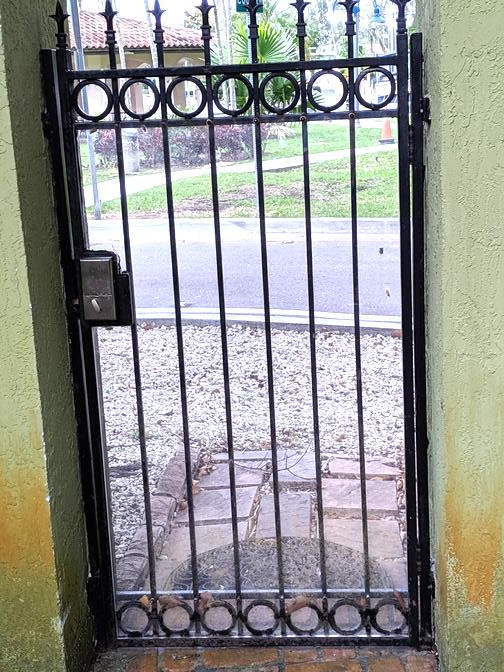 Here is the back side of the strike plate once I removed it. It has some parts sticking out, so I will need to grind it smooth with an angle grinder...still think may be easier to get a plate and cut a hole?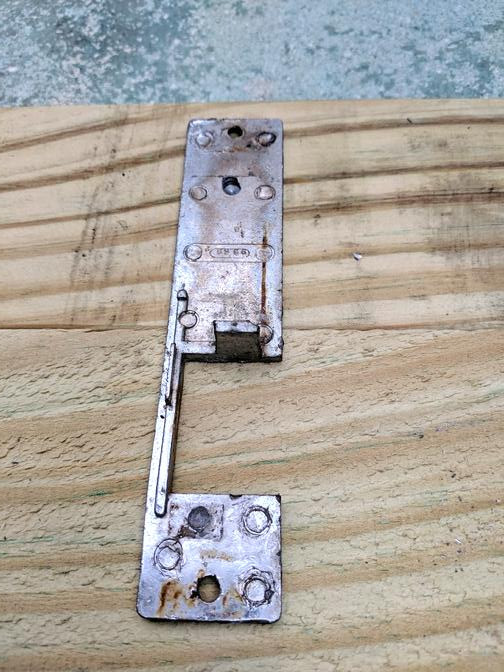 Looking into the hole after the strike plate was removed, I see a wire nut back there, inside the concrete column.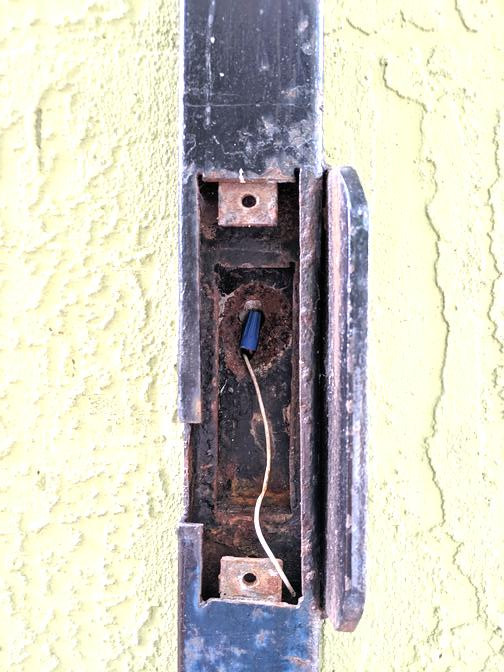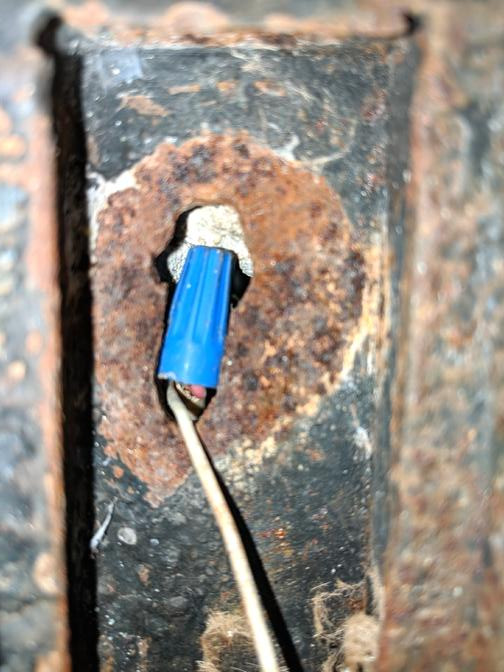 01-12-20, 04:42 PM
I flipped the existing latch plate around, took a grinder and smooth off all the stuff on the back side, I was able to mount it flipped around.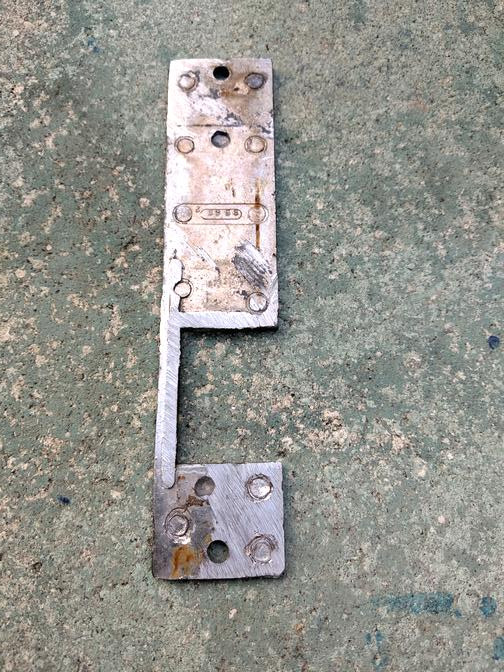 Only thing is the play went from 1 inch to about 1/2".
I think I will cut a piece of metal plate to make a latch myself for a better fit instead of trying to hack this one further.
I could use a blank aluminum or plated steel stock that they sell in 24", 48" and cut them to 5-3/4" then cut the hole with a Dremel.
I also saw something like this on Amazon: Filler Plate | Mortise Lock Strike Plate Filler Bar | Latch Repair | 1 1/4" x 8" | Oil Rubbed Bronze | Tuff Strike
The width matches. I could use this too perhaps.
01-15-20, 05:04 PM
well, I end up getting an 8" filler plate, thickness over 1/8". Cut it to 5-3/4" long, drilled two new holes to match the screw holes, then tapped the existing holes on the jamb side. Then used a Dremel to cut the hole for the dead bolt. Overheated my Dremel since it's so thick. In the end it worked out.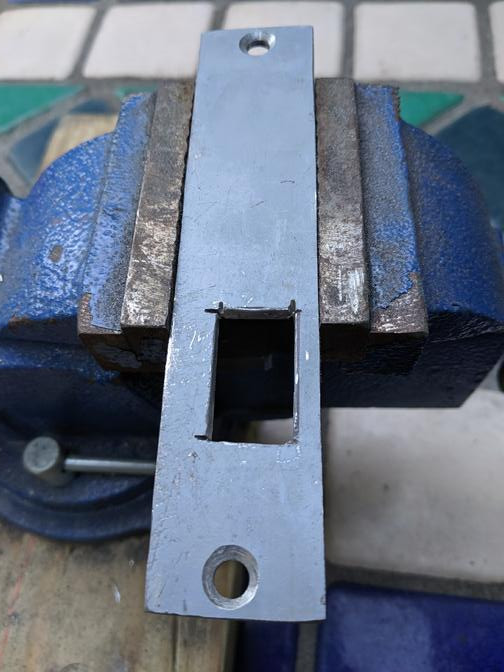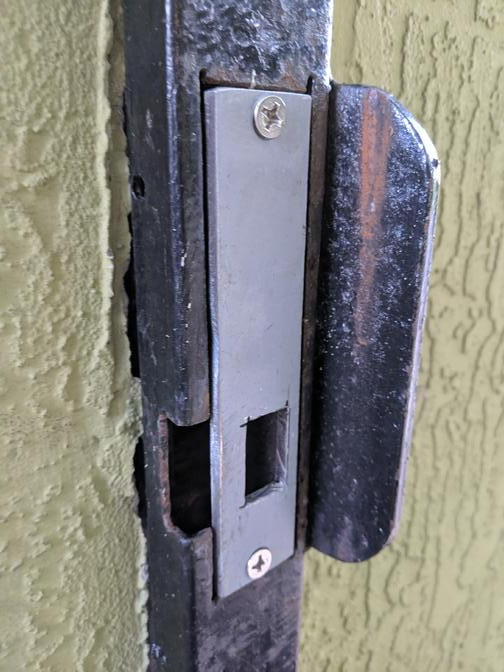 01-17-20, 07:32 AM
Just out of curiosity, how does a professional locksmith cut the bolt hole like this? I used a Dremel and it tool a bit of time and lots of patience. Do they have a machine that would punch a perfect hole in a second, or some sort of a metal routing table that go around and crave that out in a single pass?
01-18-20, 10:28 AM
No single tool available that I know of, other than a nibbler but different materials (brass, aluminum, steel and stainless steel) and thicknesses can make a nibbler a non-starter. With a good sized press and proper tooling, the hold could be punched but it would be a multi-step operation and the tooling would be EXPEN$IVE.

I drilled 1/8" holes just inside the corners of area to be removed, used a die grinder with cut-off discs and plunge cut just like you did, just "connecting the dots". But I stopped at the holes, flipped the plate over and repeated the process from the back side. Knock the area out, finish (square the corners) and then smooth the edges with progressively finer files.

Any independent locksmith has to be a businessman first or you won't have your lock-shop for long. Tools, including the press and associated tooling mentioned above, are an investment and if I can't get a decent rate of return on your investment, I should invest my money elsewhere. There would have to be A LOT of custom hole punching to make it worth while.

01-18-20, 11:39 PM
Similar to ThisOldMan's statements, doesn't pay to invest in costly tools you'll rarely use; since I use a jigsaw all the time to cut in electric strikes, I'd use that for this purpose as well. Drill a couple of 3/16" holes together, rock the bit to and fro to get an oval shaped hole to insert the blade and go at it.