Add mini Roof Side House
08-07-08, 03:12 PM
Add mini Roof Side House
---
We have a 6x8 small deck on the side of the house and we want to add a cover or roof over it. Where the back of the roof meets the house, the roof starts to slant down.
What are our options?
My plan; 4x4 beams on the outer corners of deck these will attach to siding of house by 2x4. Then plastic curvey roof.
Will i need a permit for this?
Is there a certain number of feet that the 4x4 beams have to be near eachother?
Is there certain feet that the 2x4's would have to be apart?
Does the grade for the roof need to be a certain grade?
Certain feet tall?
Any other suggestions??
Thanks
Matt
ps- my picture is obviously not to scale and probably looks like a 5 year did it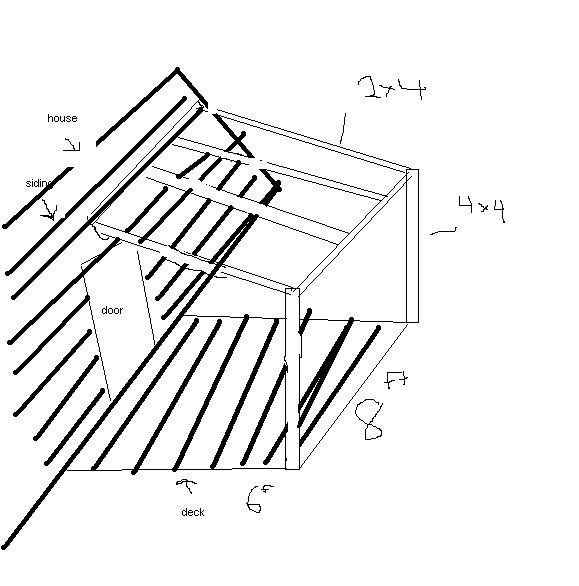 08-07-08, 03:55 PM
Join Date: Jul 2008
Location: NY
Posts: 10,265
Upvotes: 0
Received 0 Upvotes on 0 Posts
I wouldn't attach it to the house. Attaching it can cause tax and CO problems at a later date. To do it bt code you would have to use, 4 4x4s instead of two and 2x6s instead of 2x4s. Footings would also be needed.

To avoid all that, you could use canvas and basically make a tent. There are many pre fab tents available.. That way no permit or CO is needed because it's not a permanent structure.
08-11-08, 01:55 PM
I'm not sure where you live, but it's certainly not up to code as far as structure goes. If you're not putting up walls and enclosing it, why not try a "sunsetter" type of awning? It's much quicker and easier to install and probably will cost less. No, I do not work for Sunsetter..... I've put up a few and it seems to fit your need, I.M.O.