Dutch gutter drainage problems
02-22-09, 06:55 PM
Join Date: Oct 2005
Location: Florida
Posts: 1,527
Dutch gutter drainage problems
---
I have a house that wraps around an interior courtyard and pool, because of this unique design it presents a unique drainage problem where I have to drain the portion of the rain water on the roof sloping into the courtyard. This is done with a dutch gutter system where the end of the roof overhang acts like a gutter. Like this: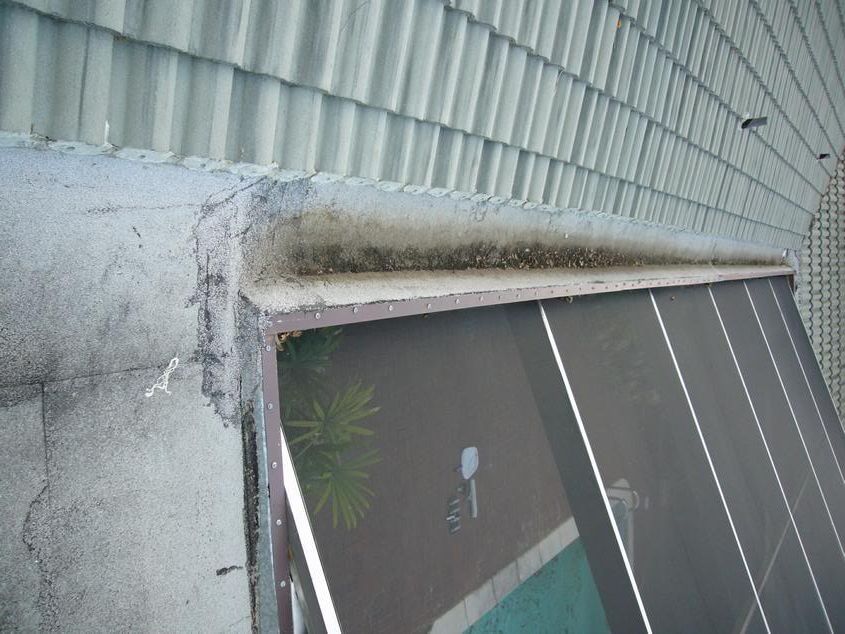 The problem is the slope of this gutter is not designed correctly. It is sloping to the drain inlet, but the slope is not steep enough and there are some spots along the way it will pond some water. The gutter is lined with a modified bitumen membrane now that are cracking and breaking up.
The drain inlet looks like this: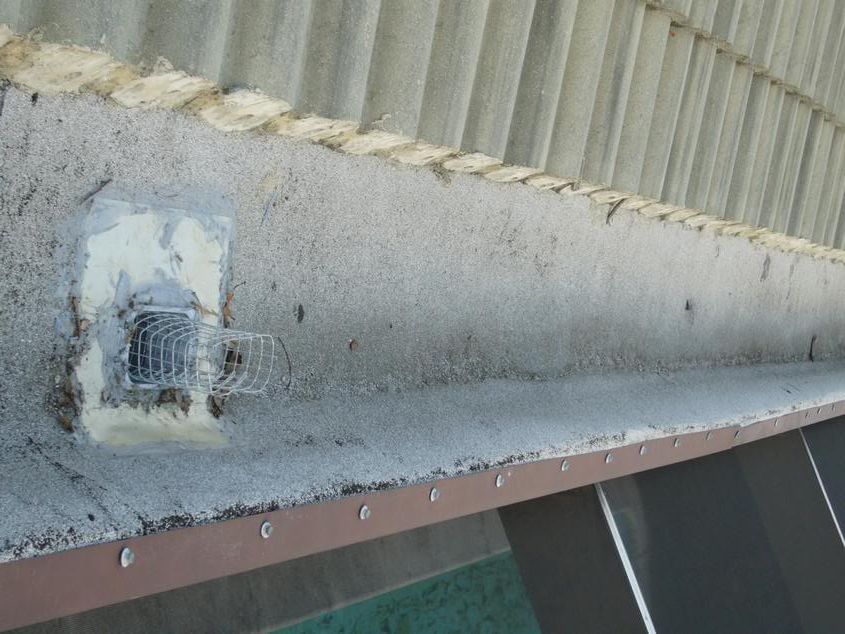 A 4"x6" corrugated metal inlet. I stick in a wire mesh thing to stop debris (leaves etc...) from clogging the drain. Underneath the downspout looks like this: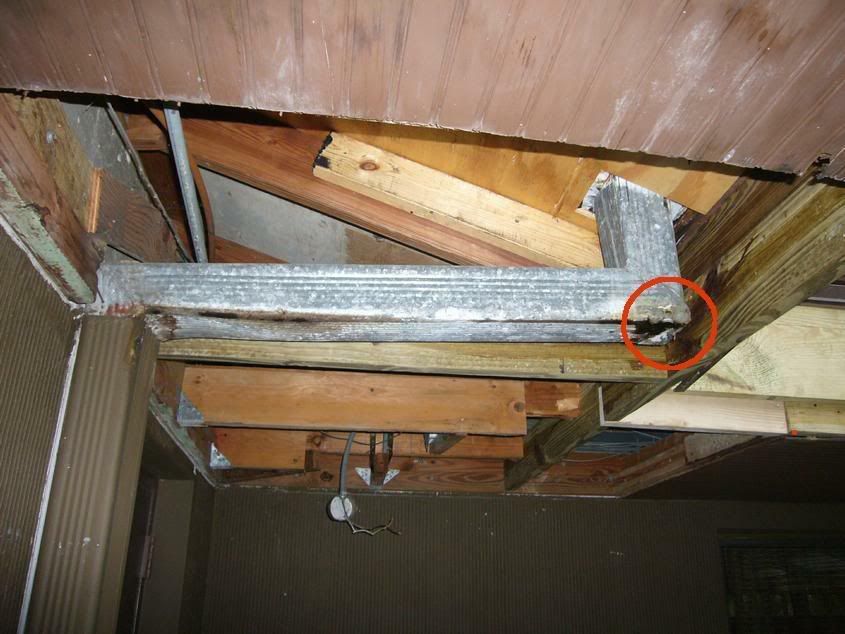 It leaks around the drain inlets. I think I need a special roof drain. I have seen some "dome shaped" inlets that attaches to 4" or 6" PVC pipe. I am thinking of changing to that system. However prices seem to vary. I saw one at Home Depot for $10.00 and I have seen some internet site sells them for $150.00. The plywood around the 4x6 inlet is wet and partially rotted. If I change to a round pipe configuration, do I need to redo the plywood there as well as the bitumen layer above? I would assume so.
Next is to find a way to solve the drainage slope. I cannot really think of a way to increase the steepness of the gutter. Not unless I remove an entire row of tiles closest to the gutter, remove the bitumen membrane down to the plywood, and try to cut or fabricate some material with a graduating thickness on top of the plywood, then apply the bitumen membrane again...not sure how that would be done just an idea.
I spoke to a few roofers and all of them told me this approach would be a lot of money and not that effective. All of them suggest I coat on top of the asphalt gutter a coat of liquid thermoplastic rubber sealant or elastomeric membrane. One roofer told me those who protect me for 10 years and after 10 years I can do another coat. He also said these sealant will deal with ponding water so even flat roof or low spots are ok.
How would these coats work if my bitumen layer is cracking up? The roofer says no problem just pressure clean and apply.
I am not sure what I should do any advise appreciated.
02-26-09, 09:51 AM
Join Date: Jul 2008
Location: NY
Posts: 10,265
Upvotes: 0
Received 0 Upvotes on 0 Posts
Starting with the piping, I don't think you need anywhere near 6" diameter. Even 4" might be excessive. I never had occasion to use any liquid thermoplastic and the only type of membrane I've used came on a roll which was glued to the side of a foundation to seal cracks. It worked very well. I could see cutting something like that to fit the shape of the gutter, then sealing it in place at the desired angle.
02-27-09, 10:28 AM
You have a can of worms there for sure. Normally, built-in-gutters are sloped by notching the rafters.
That drain was doomed fail with galvie pipe. And set level to boot.
Use 4" PVC, and give it some fall.
As for liquid stuff, I have no clue what the other roofers are talking about. I consider most bucket roof jobs a 4-6 month lifetime. I don't guarantee bucket stuff for as long as it takes to get out of the driveway.
03-02-09, 10:03 AM
Join Date: Oct 2005
Location: Florida
Posts: 1,527
The rafters are already sloped more or less. The fact that longitudinal there are some flat spots that cause ponding I suspect may be leaks in the existing membrane that caused wood rot or something below. Really no way to know until I tear out the existing membrane that is blistering and cracking.

I think the approach has to be to remove the last row of tiles all around to expose one side of the membrane.

The existing drip edge that has a screw every 8" or so needs to be removed.

The existing membrane needs to be taken out in it's entirety...I think to see if there are any wood rot below and repair as needed.

My thinking is I cannot get around doing the above steps.

I would welcome thoughts about this assessment.

Now what to do afterwards I am not sure - new membrane? fabricate new metal gutter to line the existing gutter?

The material they used for flashing around windows and chimneys is soft and easily workable, is that lead?

Is it possible to get those in large sheets to line the gutter going from the last row of tiles over the gutter and come up and wrap around the lip of the gutter and weld the pieces together lengthwise? Now I don't know if this would be a problem in the hot and humid Miami Florida sun the material needs to expand and contract.
03-03-09, 03:57 AM
You're on the right track. The devil is in the details.
Will you be able to lap the new materail under the existing on the ends?

If not, can you melt and scrape off enough granual to get adhesion?

Have you ever worked with a Mod-Bit torch? Professionals seem to burn 1-2 houses down, per month. Most insurance companies have dropped roof coverages for companies that use them.

Be prepared to go from Plan 'A' and eventually end up with Plan 'H' if each step reveals another unseen issue.

Be prepared for 3-6 days of open roof.