Rafters spreading, ceiling cracked
06-28-10, 08:20 PM
Join Date: May 2008
Location: Cleveland Ohio
Posts: 41
Upvotes: 0
Received 0 Upvotes on 0 Posts
Rafters spreading, ceiling cracked
---
This maybe just too complex of a question to ask here but I'd like to try anyway.
I've had three visits from two different structural engineers to help me figure out what is causing a crack to appear in my living room ceiling. We are pretty sure that problem was caused by roof rafters which have spread outward a fraction of an inch over the years. This pushing out happened because of having the weight of three layers off roofing pushing down and having attic joists that are laid perpendicular to the rafters instead of parallel to them. I had a complete tear down done last year so the new roof in only one layer now.
It was suggested that it should be possible to create a rig which can pull the rafters together slightly. This could result in the crack in the ceiling being closed up. A brace would then installed to prevent further spreading.
The rig would consist of a 1/4" thick wire or a tie down strap with each end attached to the bottom of two opposing rafters. A winch would then be used to tension up the wire to the point where the rafter is pulled in a fraction of an inch.
My question is how to attach the wire to the bottom of the rafter. This could be dangerous because the amount of tension being applied could end up being 1000 pounds or more. The wire could snap and sever something off my body or the wire could tear off from it's attachment point of the rafter and seriously weaken the rafter.
Maybe I'm better off just leaving it as and putting in a brace (a flat 2x4) over the affected area. This will hopefully any further spreading.
This diagram is only showing one side of the roof. It was too much work to draw both sides. But hopefully it's understandable.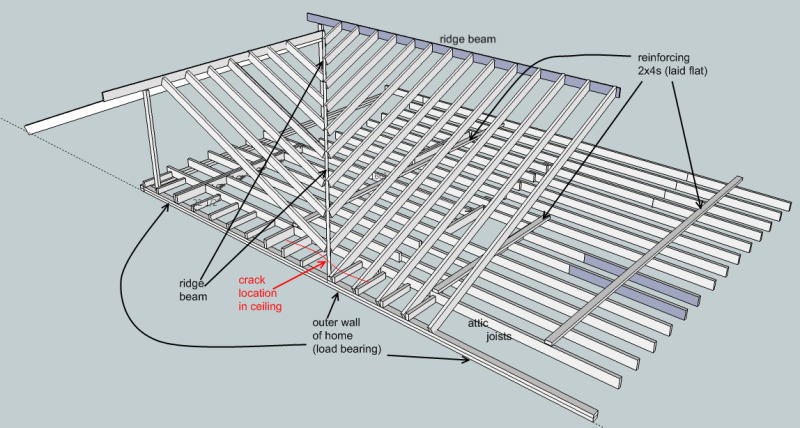 06-29-10, 05:26 AM
Theres nothing to control the roof spread from pushing out on the top of that outside wall.
All of the existing reinforcement supports seem to stop short of that last joist bay with all the blocking.
It gets left without that support even though it needs it the most, since the load point of the roof lands on the top of the outer wall.
The area of the the crack is part of the inside of the house? Usually that last portion forms an outside overhang.
I don't think your rafters spread. I think the top outside wall is deflecting from live load at the roof.
Nice diagram.