Addition Tie-In to House- Watershed / Roofing dilemma
08-04-11, 10:27 AM
Join Date: Feb 2010
Location: Montana
Posts: 4
Upvotes: 0
Received 0 Upvotes on 0 Posts
Addition Tie-In to House- Watershed / Roofing dilemma
---
We are putting an addition on our house and where the addition meets the house there is about a 2.5' length of existing roof that slopes down into the wall of the addition. We aren't too sure how to deal with this watershed issue. Most of the opinions we've gotten are to do a pretty extensive remodel of the existing roof- i.e create a new ridgeline and new valley that diverts around the area in question.
I was wondering if a simple cricket (see my primitive drawing below) would work?
Any other ideas for how to do this cheaply and quickly, but also soundly?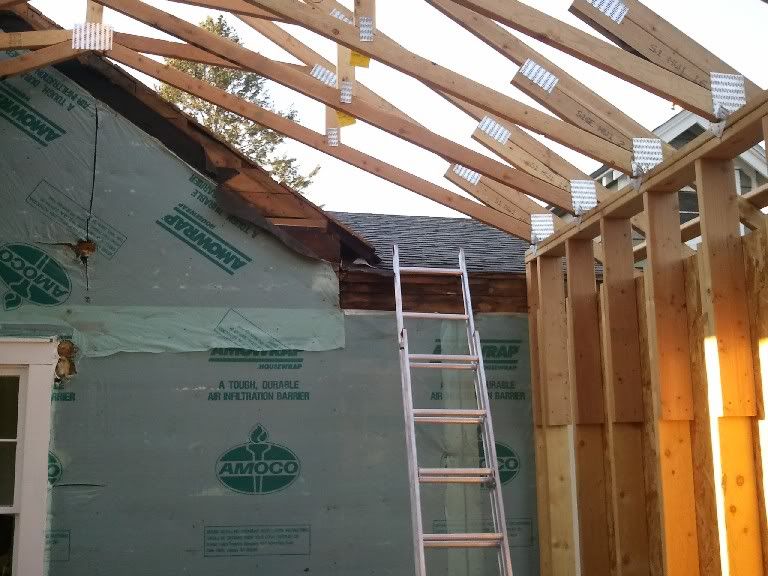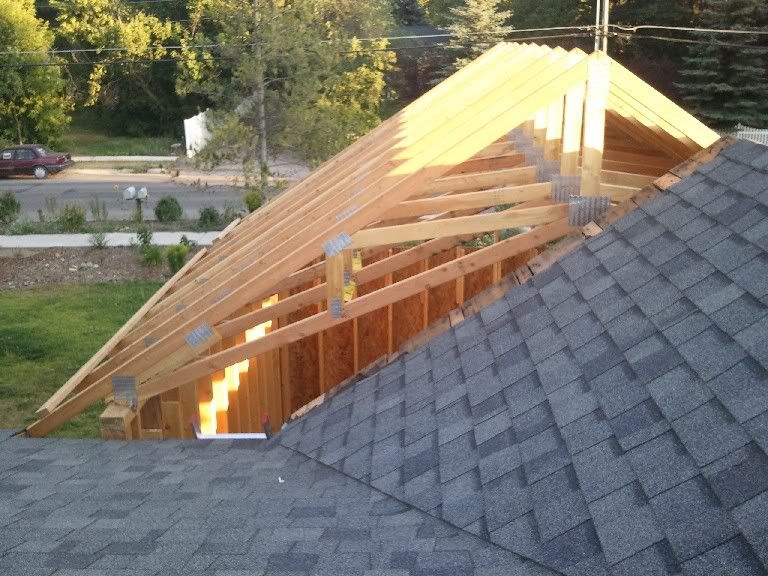 08-04-11, 11:53 AM
It looks to me like your proposed water diversion will just backup flow in the valley causing flooding under your shingles and create a perfect place for ice dams if you are in a cold climate area. There is anyway alot of water to try and divert and to me at least it sounds like the other opinions you have received are the correct ones unfortunately.
08-04-11, 12:32 PM
Join Date: Feb 2010
Location: Montana
Posts: 4
Upvotes: 0
Received 0 Upvotes on 0 Posts
Equinox,

Thank you for your reply, but I am not seeing how water will "back up" based on the picture. Could you be more specific? In my eyes, the cricket will just divert the valley to an acceptable runoff point, instead of having to re-do the entire valley.
08-04-11, 12:34 PM
Roof
---
Build up the old roof line to match the new roof line. This will divert the water out to the point where the old and new walls meet.
08-05-11, 07:31 AM
Assuming you are constructing under a permit, what did the inspector say? Would he accept it? With the diversion you are considering you will have water running down the one roof side of the valley and being diverted back up the shingle line of the other side before it flows to the side. You will also have the valley itself supplying runoff directly to the wrong side of the diversion. In a heavy rain it looks like the water will back up. Same problem in winter months if you have snow melt coming down from the the peak and being partially dammed against any residual snow at the diversion. The idea with roof pitch is to get the water off the roof as fast and as efficiently as is required to meet the shingle specifications. You could re-pitch over the existing roof to match the new roofline, and add more weight to the trusses, but then why not just rebuild the roof trusses with a new valley tying into the new roof line. In the end it will be what the inspector will accept with all of your structure including your wall stud extensions.