Help with flooding around foundation-- Pic!
08-14-11, 04:06 PM
Join Date: Nov 2007
Location: New York
Posts: 39
Upvotes: 0
Received 0 Upvotes on 0 Posts
Help with flooding around foundation-- Pic!
---
Hey all-
Not looking for help this time, rather giving a tip to help others.
In the pic below, I would get constant flooding around the foundation of the house during heavy rain. I had the leaders moving the water from the roof, but due to the sloping of the earth, during heavy rain, it would always collect in the area in red -- circled below.
I got a rain barrel -- 55 gallon. and got a diverter online. This solution has nothing to do with the conservation of water, and everything to do with keeping rainwater away from my foundation.
The bottom of the barrel, has a ball valve, which I leave open. WHen the rain comes down (and it was a doosy here in NY today), the barrel would fill up in minutes if the ball value was closed -- but when the valve is left open, and the hose is routed into a flower bed, 15 ft from the foundation, everything works perfectly.. the barrel will never fill, no matter how hard the rain comes down. Granted, the flower beds get flooded, but the area in red -- actually will dry out during the heaviest rainfall.
You can get a longer hose which would be fine -- as long as it doesnt go up.. you only have the pressure of gravity moving that water out, so dont go uphill!!
Who wants to spend $$$$ on getting it regraded when you dont have to?. I can just close the ball valve when I want to save some water and then open it up again just before a big storm.
Just tryin to pass the word!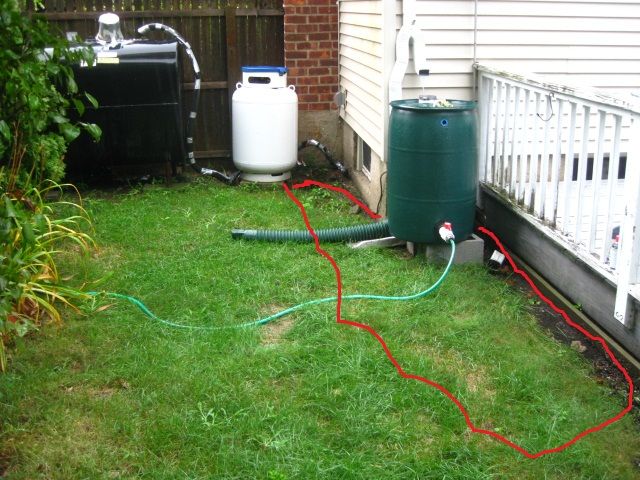 08-14-11, 05:10 PM
Join Date: Dec 2010
Location: Galivants Ferry SC USA
Posts: 15,984
Looks good.

I had a similar issue. Instead I cut the leader higher like you have done but ran the leader along a fence and pitched it properly. Only about 10 ft away. Made all the difference. No more pooling around the foundation.

Instead of that barrel I probably would have ran the leader along the side of the deck starting high and pitching properly away.

But its probaby good to retain rain water for watering plants in dry times. I just dont like the water sitting during dry times. Gets mosquitos.....

You could not grade much higher with that window anyway, unless you boxed it out somehow.

My 2 cents.

Mike NJ