Questions About Installing Clay Barrel Tiles On Roof Edge
02-16-13, 10:39 AM
Join Date: Jan 2010
Location: US
Posts: 57
Upvotes: 0
Received 0 Upvotes on 0 Posts
Questions About Installing Clay Barrel Tiles On Roof Edge
---
I have a Spanish style house built in 1924. The previous owners remodeled the house and removed a lot of its character (replaced the windows, but didn't install any window borders, installed a white picket fence, etc.). So I've been working hard add character by installing a new medieval looking fence, front door and now I'm adding clay tiles to the roof's edge. It's a flat roof (roll asphalt), so I'm just affixing the tiles at an angle, so they hang over the parapet and cover the weather barrier (not an expert, but assuming that's what this metal "cover" is around the edge - whatever it is, it's ugly and looks out of place).

I literally couldn't find any links online specifically talking about roof tile edge installation. All I saw was in regards to the total roof installation. So I'm curious about a few things. First, does anyone have any helpful links they can share? Second, is it ok to just use mortar where I nail the tiles into the roof instead of Henry's since there is the roll asphalt and Henry's already there for the actual roof? I don't want any roof rot, but I have 2 huge bags of mortar I'd like to use up if possible.

I'm sure I'll have more questions, but any help on the above or anything you think I've missed or would be useful to know is much appreciated!
02-20-13, 09:18 AM
Join Date: Mar 2005
Location: USA - N.E.Tn
Posts: 45,160
Sometimes a question gets asked that we really don't have a good answer for
When you install the tile edging will the water still have an easy way off of the roof?
Pics might help to better explain what you are trying to do -
http://www.doityourself.com/forum/el...-pictures.html
02-20-13, 11:06 AM
Join Date: Jan 2010
Location: US
Posts: 57
Upvotes: 0
Received 0 Upvotes on 0 Posts
I figured between all of the knowledgeable people on here somebody would know. Yes, the water will not be affected by the tiles as the pitch of the roof has it draining in other locations.

I went ahead and installed them with the mortar, but will take a pic of the finished product as I'd still like to have piece of mind regarding this. Will be back with a pic soon.

Thanks for the response.
02-20-13, 11:38 AM
Join Date: Dec 2007
Location: USA
Posts: 19,281
Gootz....for whatever reason, we just don't have many people knowledgeable about clay tile roofing. I guess it's a pretty specialized field. We have tons of them here in AZ and up in NV...as do you in CA, but we just don't have much input on questions of this type. Guess the specialists are too busy?
02-20-13, 11:52 AM
Join Date: Jan 2010
Location: US
Posts: 57
Upvotes: 0
Received 0 Upvotes on 0 Posts
Hey Gunguy! I know I've asked questions on here before and you've always jumped in and tried to help, so thanks. No worries, I just wanted to make sure I went into this eyes wide open.
Here's a couple pics of the tiles on my roof: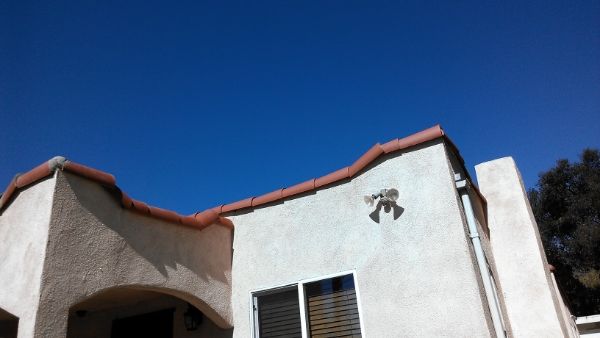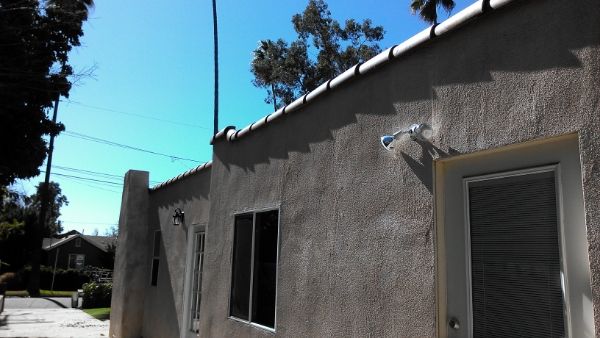 I think it turned out really nice and gives the house some character. There are a couple things I don't like about it which include the corders where you can see I used mortar to "cap" the exposed ends. I don't have any special clay caps, so the only thing I could think of is to leave it like this with the gray mortar, or I could find some similar colored paint to the clay and pain it. Any thoughts here?
Mark, let me know if these pics help.
02-20-13, 01:59 PM
Join Date: Mar 2005
Location: USA - N.E.Tn
Posts: 45,160
Above the flood lamps in the 1st pic worries me a little. It looks like the mortar is the only thing that would keep rain from getting under that tile..... and mortar is prone to crack over time. Maybe the rolled roofing makes it a non issue ?? I don't know much about clay tiles either other than painting houses that had them - you do have to be careful how you walk on them.
02-20-13, 03:07 PM
Join Date: Jan 2010
Location: US
Posts: 57
Upvotes: 0
Received 0 Upvotes on 0 Posts
Those tiles are on the parapet, so it's raised above where the rain drains down. I am worried about the mortar cracking where the nails were driven through the tiles to secure them to the roof. That's my biggest concern, roof rot.

The tiles are not in the way when you walk around on the roof.
02-21-13, 04:08 AM
Join Date: Mar 2005
Location: USA - N.E.Tn
Posts: 45,160
Ya, I know your tiles won't get walked on - I was just trying to say I don't know much about tile roofs.
I would think both the nails and the mortar joints could be a concern. Maybe a yearly inspection of both would catch any problems before any real damage could be done ??