Water Pooling Problem On Roof Near Drainage Area
12-24-13, 10:54 AM
Water Pooling Problem On Roof Near Drainage Area
---
I have a flat roof that is pitched towards one corner for drainage. Apparently the debris on the roof had built up around the screen preventing the water from properly draining for some time (maybe 2-3 weeks). I noticed the water wasn't draining properly below at the downspout, so I went up to the roof to investigate. I found a pretty decent sized pool of water (went out about 2-3') and after cleaning it all out, including the screen, I noticed that where the roof meets the wall of the house there is about a 1/3" - 1/2" rise. So I'm guessing the weight of the water caused some sagging and now I'm worried not only will future rain pool up there, but there may also be a bit of water damage.
I attached a couple of pics to give you an idea of the area and what it looks like up close. Could really use some advice on what to do and maybe some steps on how to fix this issue.
Appreciate it!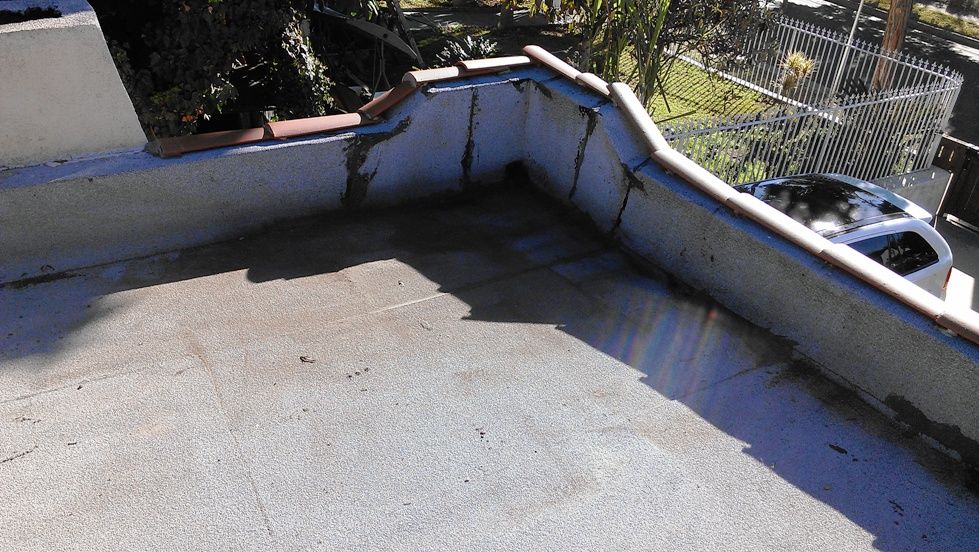 Sponsored Links
12-24-13, 05:27 PM
Join Date: Dec 2005
Location: USA
Posts: 39,967
If you are talking about the rise right at the scupper, it looks normal to me. Even if you had 1/2" of water there, it would me a miniscule puddle that would dry up rather quickly. The key, as you found out is to keep that, and all scupper areas clean so water will flow properly. If you have trees in your area, the more you will need to go up there and clean it out. Others may have different ideas, so hang in there for their input.
Posting Rules
You may not post new threads
You may not post replies
You may not post attachments
You may not edit your posts
---
HTML code is Off
---