Wooden Gutter
01-17-14, 12:06 AM
Join Date: Dec 2013
Posts: 6
Received 0 Votes on 0 Posts
Wooden Gutter
---
I was thinking building a wooden gutter, with treated 2x4's bolted to a treated 2x8 (using 1/4 inch diameter bolts).

The gutter would be mounted to a 2x6 fascia board, with one side of the gutter have 1/4 inch diameter bolts (countersunk and covered with putty) going through the 2x4 of the gutter, and 3/8 inch diameter bolts going longways through the 2x8 floor of the gutter, into the bottom of 2x6 fascia (these 3/8 inch bolts would have to be 10 inches).

Although this is a relatively easy task, I wonder if the rafter tails can bear the weight of this gutter?

For increased stability, I would like to have a "sub fascia" between each rafter (and flush with the rafter tails), so i could bolt the treated 2x6 fascia board to it (counter sunk and covered with putty).

However, that doesn't help the rafter tails with supporting the vertical weight, and in fact increases the vertical weight load on the rafter tails.

Is it possible to sister the rafter tails on both sides to gain the needed support? Or would this have no overall effect (assume a 18 to 24 inch sister starting from the tail). Since m rafters are 2x6, can I sister them with a more narrow 2x4 to avoid the birdsmouth complication? Or is the birdsmouth joint (along the wall plate) necessary to contribute to weight bearing?

Can a bracket be attached to the sheathing (plywood)? Or is plywood inadequate?

Is there a way to utilize the vertical weight bearing strength of the wall plate, even though it is 8 inches away from end the of the rafter tails (horizontally) and above the rafter tails (and thus above the fascia)???

-------------------------------

Side note:

If the treated lumber is maintained annually with Ready Seal and re-caulked along the 2x4/2x8 seams, can it be trusted as a gutter? Will water seep into the fascia (and beyond)?
Sponsored Links
01-17-14, 12:51 AM
Join Date: Mar 2006
Location: Wet side of Washington state.
Posts: 18,493
Why are you trying to re-invent the wheel? Wooden gutters (cedar) are available at most lumberyards. Personally, I wouldn't have anything but seamless aluminum gutters as the wooden gutters are much heavier and require much more maintenance. Then again, if it is a historic building you may need to use wooden gutters for authenticity.
01-17-14, 01:27 AM
Join Date: Dec 2013
Posts: 6
Received 0 Votes on 0 Posts
I have lots of treated 2x4, 2x6 and 2x8 left over. Plenty of 1/4 and 3/8 bolts and 1 inch fender washers and gaskets to go along with it.

I'd prefer to make a gutter using the materials I have, with the skills and trade/hobby I am accustomed (woodworking [furniture]). I could dovetail the 2x4's to the 2x8 without breaking a sweat.

Now that I've answered that question, can you answer mine?

Could the rafters bear this weight? Certainly they bear the weight of the roof, but most of that is directed into the wall plate and transferred vertically to the studs and sill plate. The rafter tails have no where to transfer the weight, since they are below the birdsmouth

Also, would the pulling below the birdsmouth have a potentially dangerous affect?
01-17-14, 03:44 AM
Join Date: Dec 2005
Location: USA
Posts: 39,967
Its not whether or not the rafter tails can carry the weight since you will be spreading the weight between them, but whether your fasteners can handle the shear of the weight of the wood and water, and leaves. PT will warp in this application and leak like a sieve, but you are determined, so post some pictures so we can see the finished product.
01-17-14, 06:41 AM
I have a sluce (think old 1849 California gold mining) on the outlet of my pond constructed similar to what you mention.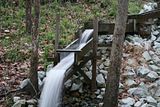 Strike 1: The seams will leak. I've tried a couple sealing methods but over time the seams eventually leak to some extent.
Strike 2: They are very heavy and I don't think your fascia will support it for long without sagging. It might carry the load if bolting into the rafters but at the added risk of allowing moisture to wick in along the bolts and rot the rafter ends.
Strike 3: Modern treated lumber is corrosive and requires special hardware. Unless you want to spend a fortune on stainless steel I think you'll eventually have rust streaks appearing. Another problem is that most 2" thick lumber is only rated for non-ground contact and cannot tolerate being wet for long periods. If your gutters hold any water the boards will likely rot sooner than you'd like.
01-17-14, 08:18 AM
Join Date: Dec 2013
Posts: 6
Received 0 Votes on 0 Posts
Could aluminum trim coil be used to plate the box?
Here is the old design, that was utilizing the pre-existing 1x6 fascia boards; the current design uses 2x6 and 10 inch bolts. I was considering using 20 inch vinyl coil to plate the box, which I will consider again, since you guys don't think ReadySeal + Caulk would suffice on the bare lumber.
View image: Box gutter design
---
Last edited by Edward Solomon; 01-17-14 at

08:34 AM

.
01-17-14, 08:29 AM
Join Date: Dec 2013
Posts: 6
Received 0 Votes on 0 Posts
So I should use the untreated lumber, and use Ready Seal? I wasn't aware that PT warped so badly, since I never use it in furniture.
01-17-14, 10:21 AM
Join Date: Dec 2013
Posts: 6
Received 0 Votes on 0 Posts
Should I just used regular/untreated wood, and seal it twice to ReadySeal?
I also have 20 inch vinyl trim coil (50 foot roll), does PT and vinyl have corrosion issues?
EDIT:
I found a thread that discussed this idea several years ago, and briefly mentioned "integral gutters" as a comparison:
Wooden Gutters... - Page 3 - General Woodworking Talk - Wood Talk Online
---
Last edited by Edward Solomon; 01-17-14 at

12:30 PM

.
Posting Rules
You may not post new threads
You may not post replies
You may not post attachments
You may not edit your posts
---
HTML code is Off
---