A leak from above - roofer's diagnosis
05-07-14, 08:10 PM
A leak from above - roofer's diagnosis
---
I have a house where on one side the exterior 8" concrete block wall actually extends above the roof (instead of the roof framing resting on it and overhangs like the other three sides). Here is a picture you can see the top of the block wall is actually about 6-8" higher than the roof tiles.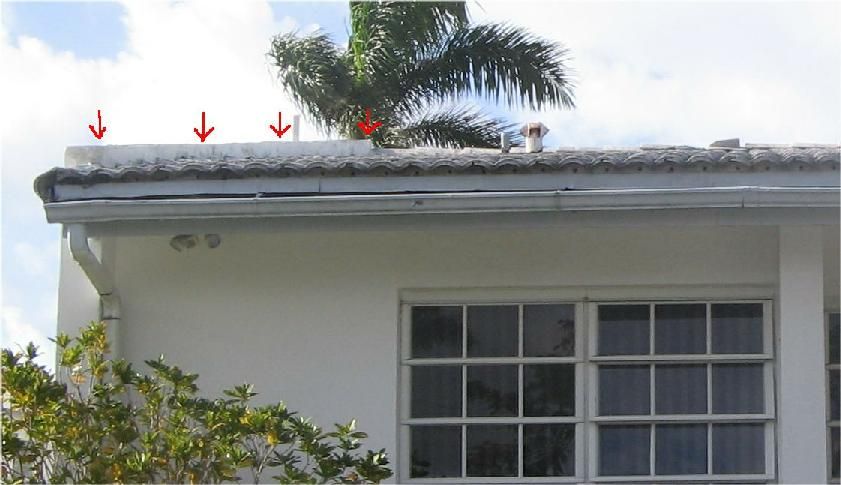 I have a leak on the inside ceiling right at the edge of that block wall.
I called a roofer to come out and fix it, after looking it over, the roofer told me my roof tiles look fine, there could be a leak below in the roofing felt, or flashing, but no way to tell unless he rips up the entire strip of tiles butting up against that wall. However, he said it is more likely my roof is OK, but that wall's top face (which I don't have a picture of at this moment), has a bunch of cracks and water could be penetrating through those cracks and into the wall cavities and leaked into the ceiling. He suggested I first seal the top face of that wall and see if it still leaks, and if it does, then call him back to tear out some tiles and spend some money.
Sounds reasonable to me.
What would be the best way to waterproof the top face of that wall that is being subjected to intense heat and humidity every day in South Florida's sun?
Should I just treat this the same as the other vertical wall surfaces - prime and paint?
Or should this be treated a bit different? My neighbor suggested applying a coat of tar compound over it, then paint. I am not so sure. First, it's my understanding that these tar compound do not dry but stays flexible, so there is no painting over it. Second, everyone who climbs on the roof - roofers, painters, sometimes plumbers or stucco finishers they get on the roof by leaning the ladder on that wall - instead of the other three sides where the gutters wrap around - so as they step onto that wall they will be stepping onto soft messy tar, not good.
Any suggestions?
Sponsored Links
Posting Rules
You may not post new threads
You may not post replies
You may not post attachments
You may not edit your posts
---
HTML code is Off
---