Roofing material options for low pitch patio roof
03-07-15, 01:43 PM
Join Date: Mar 2015
Location: Canada
Posts: 4
Upvotes: 0
Received 0 Upvotes on 0 Posts
Roofing material options for low pitch patio roof
---
I am wondering if I could get some assistance from with some questions and concerns I have about a patio roof I am planning to build.
SCOPE:
Build a 25 foot wide by approximately 12-15 foot long roof off the back of my story-and-a-half house to: provide shade from the intense summer sun, keep area below roof dry from rain, and provide privacy from neighbours. I am gathering as much information as possible prior to applying to get building permit. Location is Toronto, Canada where summer heat, winter snow, and winds that can approach 100 km/h need to be dealt with.
CONCERNS:
The pros and cons of different roofing materials that I am able to install myself.
Shingles:
Although the exact pitch is still undetermined, it will not be steep. Durability and ability to not leak may be an issue. I am also not sure about the cost of this. It would be a waste if it would need to be replaced in less than 15 years. My shingled house roof and detached garage roof will need to be re-shingled in a couple of years and the possibility of them not matching this new roof doesn't seem appealing. Lastly, I think it will seem dark under this roof after 12 pm as the sun will be on the other side of my house.
Polycarbonate panels:
Although this would let in some light to not make the whole area seem so dark, concerns about cost and material fragility may be an issue. Also, wife is concerned that it might look like cheap. Personally, I think it can be made to look decent but I think might be high due to the square footage of a roof this size.
Metal panels:
Not sure of cost, feasibility, or durability. Might look the best as it will not have to match the roof of my house or garage. I wonder if a hard rain would be sound again the metal. Again, it will be dark underneath this roof.
EPDM:
I am curious about this material for this kind of application. I wonder about colour options. Once again, it will be dark underneath this roof.
This roof will be built out of wood and the general structure of it will be: ledger installed under soffit, and rafters coming outward from house to a beam supported by posts.
The distance from ground to soffit is 11 feet, and distance from soffit to top of window is 16 inches. The plan is for the roof to come out from the house somewhere between 12-15 feet which I think will be dictated by several factors such how close I can get to the adjacent fence at the property line, and whatever an acceptable roof pitch will be given all things considered.
Does anybody want to give their feedback on the materials I listed? Feel to suggest others I may not be aware of. Thanks.
(Ugly) Pictures of the back of my house are shown to give you an idea of where this new roof is going to be built.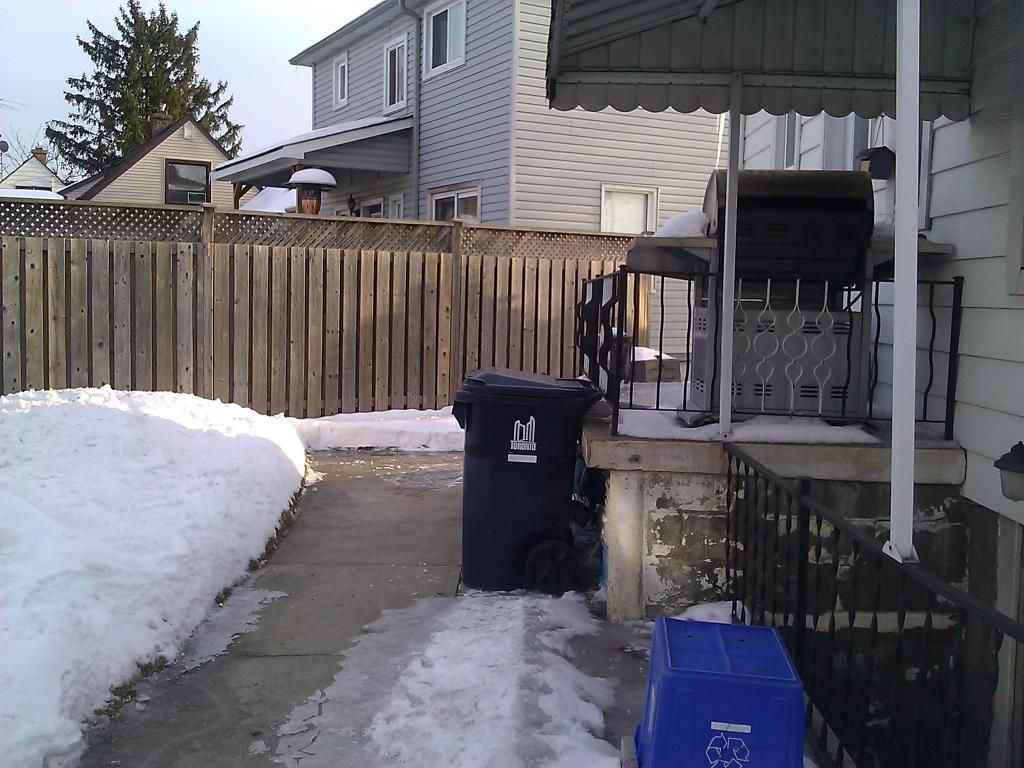 03-07-15, 08:44 PM
Join Date: Oct 2012
Location: Jersey
Posts: 61,718
Welcome to the forums.
Why reinvent the wheel ? Look to a kit for your patio cover.
Do a google search for "aluminum patio covers" and then select images. There are some beautiful kits available or just parts for customizing yourself.
I have the W type of system. Looks very similar to product in the link. It's been up 30 years and still looks good. Mine attaches to the house with an aluminum ledger plate. The lower end is held up with five wrought iron railings. Has one downspout to get rid of water.
Standard Aluminum Patio Cover Kits, Aluminum Patio Covers
03-08-15, 01:44 PM
Join Date: Mar 2015
Location: Canada
Posts: 4
Upvotes: 0
Received 0 Upvotes on 0 Posts
Pete;

Thank you very much for welcoming me and for your suggestion. For this project I do not want to reinvent the wheel. I want to be able to enjoy the upcoming good weather. I've lived in this house for 8 years now and have not be able to change anything and enjoy the backyard as there is no shelter. Your suggestion may save me a great deal of time, effort, maintenance, etc. It's pretty promising that yours has been up for 30 years and it's still standing.

I am planning on removing the aluminum awning over the window and removing the concrete steps and 'deck'. Eventually I would like to remove the concrete pads on the ground. I hope when I do that bits of flying concrete won't damage any new cover I put up. The cover needs to come first because I won't be able to removing the junk until at least next year.

I am going to gather more information on these but my guess is that for the size I am needing, they'll be pretty pricey. Any guestimate as to what a 'basic' flat rectangular one goes for? I understand many factors dictate price but I am wondering if it would be less or more than $5000. I'd be interested it installing it myself and from the sounds of what you're saying, there doesn't seem to be a need to pay somebody to do the installation.