To GUTTER or NOT TO GUTTER, that is the question
08-27-15, 09:43 AM
To GUTTER or NOT TO GUTTER, that is the question
---
I am trying to decide if I should install gutters.
First of all, money is a secondary consideration in this case.
Location is Miami, Florida, so yes, lots of RAIN. No snow.
Building is from 1955, flat roof. New flat roof installed six months ago, a two ply system with a "mineral cap sheet".
Since a flat roof is not perfectly flat, when it pours I observed the perimeter and noted in some spots we have more water coming down and in certain spots not so much.
In one area, unfortunately, right where the front door is, the rain pours down pretty hard. It is an area of the roof where it protrudes from the rest of the roof line. Here is a view from up top.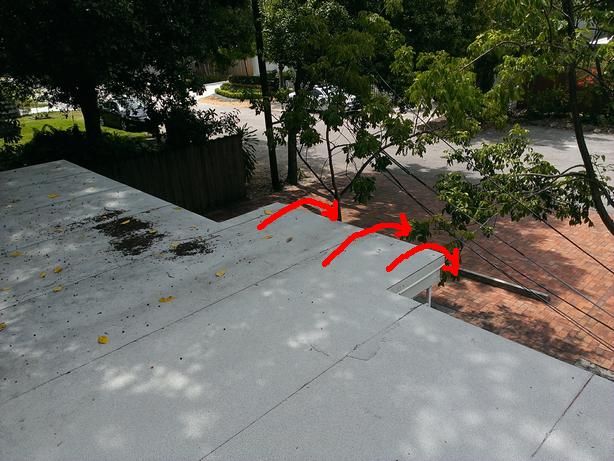 Here is from below.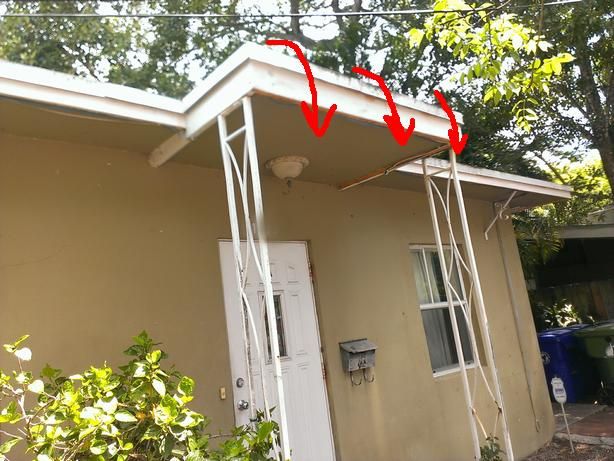 It seems like a gutter would solve my problem yes?
However, here is a picture of the house when I took 20 steps back.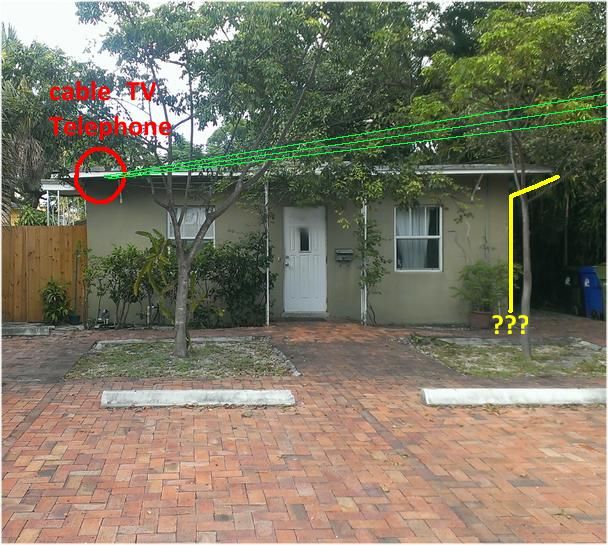 As you can see, at the front of the house is all paver bricks. On the sides I have 4 feet of concrete sidewalk. They all slope away from the house, so I have very little landscaped/previous areas to receive the roof drain...except where the two trees are upfront.
How would the gutter run?
On the left side, I have like four cables/wires anchored to the eave that interfere with a gutter. That's cable TV, telephone and not sure what else. I am not too keen on taking that all down to install a gutter, then remount them out of the way, I probably need to contact each utility company to come do it right?
The gutter would need to wrap around the front part of the roof, with two inside corners and two outside corners?
where would the downspout be? I have indicated in yellow, a potential spot, in the right corner, a downspout but then where would I direct the discharge to? Can't be the pavers or the sidewalk...do I remove a section of the pavers excavate and put in a pipe and discharge the water into where the tree sits?
Or should I just forget putting in a gutter since it has been without a gutter for 60 years and just do something else? I know they have rain diverters like a flashing facing up but I don't know if that works on a flat roof and if it may be a viable solution in my case.
Sponsored Links
08-27-15, 02:36 PM
Join Date: Dec 2005
Location: USA
Posts: 39,967
Since the house is on a slab, and has obviously not had flood waters to enter it from rain, I would forego the gutters. Now, that is coming from someone who is an arch supporter of gutters and downspouts to get water away from foundations and basements. Your situation is different. If the property were to see a degradation in the way the water moves from the foundation, then I would consider redirecting the rain water. Until then, just enjoy the cascades of water.
Posting Rules
You may not post new threads
You may not post replies
You may not post attachments
You may not edit your posts
---
HTML code is Off
---