Where one roof overhangs another at a tight angle
02-20-20, 08:38 PM
Where one roof overhangs another at a tight angle
---
I have a roof leak (wet stain in the ceiling) only during driving rain. I know where it is leaking but I am not sure the best approach to fix this. I may end up hiring a roofer but still would appreciate knowing the best practice.
Here is a overview picture. You can see in the middle I have a lower roof that slopes to the front, but I have a higher roof on the left and right sides that slopes towards the lower roof. So on the left and right side there is basically a triangular sliver of a "wall".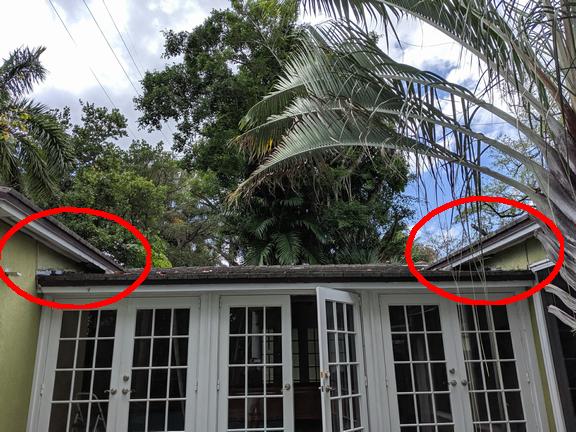 The leaks are under these two walls. The right side leaks much more when it's raining.
Here are pictures of the left side wall.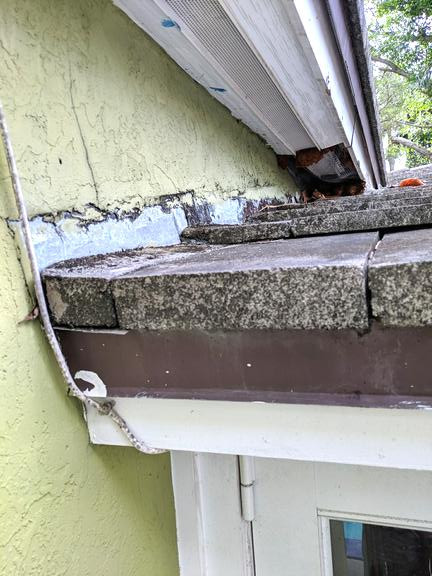 The flashing is visible. It should be under right? Where the two tapers together is basically a 1/4" rabbit guard pushed back there then a bunch of foam which seems to be half way disintegrated and very brittle.
On the right side it's more of the same.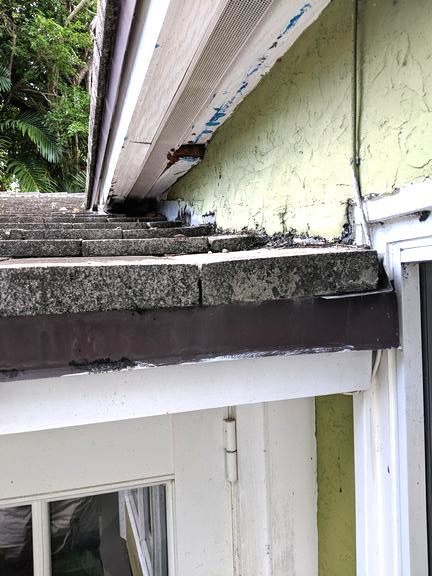 There is a soffit coming loose and it was sealed with foam. I also see a slight gap between the flashing and the stucco which I think is where the water may be getting in.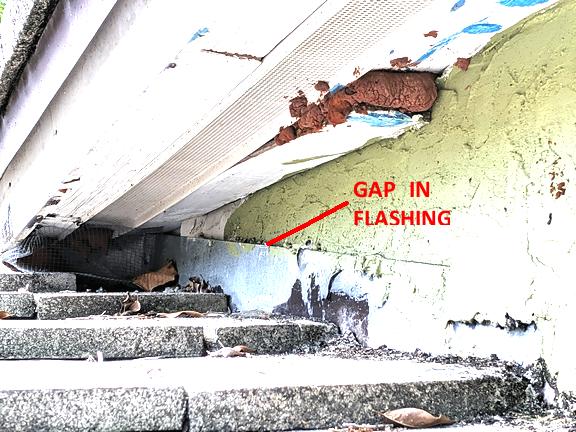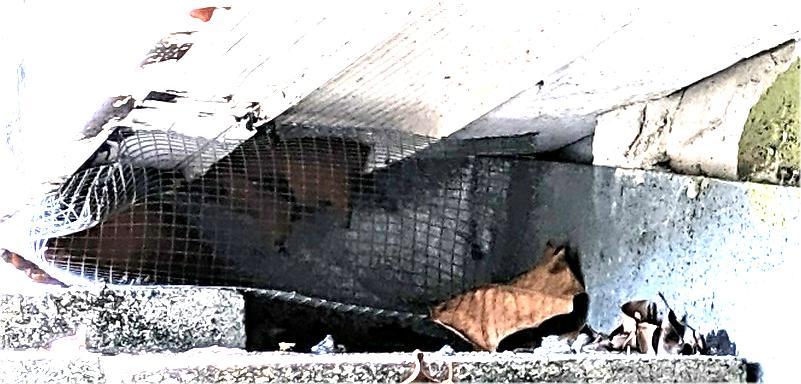 If I get real close to feel around I also see silicone caulk, and some dried up cracking tar, so I think it's been a problem for a while and repeat attempts to fix the leak.
What is the proper way to correct this?
02-21-20, 04:26 AM
Join Date: Oct 2015
Location: Ct.,USA
Posts: 2,664
Have you considered installing gutters with downspouts at the bottom of the 2 upper roofs? I am no roofer but the first row of roofing material on lower roof appears at least twice as thick as the upper rows reducing the slope of the lower roof in this area. Also, the bottom row has gaps between pieces that will cause water problems unless there is flashing or a membrane underneath. I would redo the 2 upper roof overhangs before doing any lower roof work.
02-21-20, 05:06 AM
Join Date: Sep 2016
Location: USA MI
Posts: 9,272
The area under the eve is somewhat protected so I'd put money that it's where the upper and lower roof lines meet! Lots of opportunities for a leak if not flashed sealed correctly.

As noted water could be entering under the shingles anywhere and then following the path of least resistance to cause a leak.

Definitely looks like an issue that has been around for some time based on all the shoddy patchwork repairs. I doubt nothing short of a pretty significant tear off is going to do much!
02-21-20, 07:03 AM
Here is a view from the top where the two roofs come together on one side, the other side is the same but mirror image.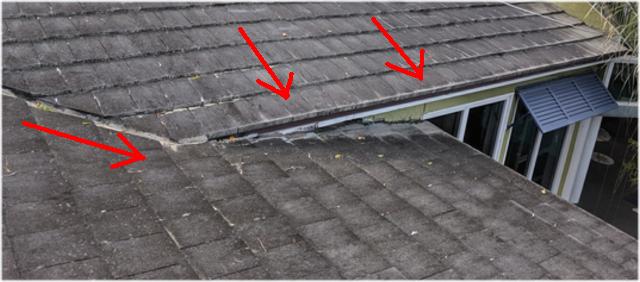 As you can see, there is a lot of water coming down that path. The higher roof is dropping everything from the crown down to that edge, and there is a valley higher up that also lead to that spot. With a gutter taking the water from the higher roof would reduce the water coming down there, but won't impede the flow from the higher valley. May be a tear out of the stucco to expose the bad flashing is evitable, but I am not sure what is the correct way to seal and finish where the eave/soffit converge, it can't be just shoving some wire cloth and large quantities of spray foam right?
02-21-20, 07:21 AM
I doubt that water is getting in where you say it is unless by driving rain you mean it is horizontal.
Also even if it lets ware in it would be a minimal amount.

As far as the last row of tiles being thicker I do not think this is a problem because it looks like the other roofs are the same so I assume that there is a water proof membrane or metal sheet under them that extends up to under where the overlaid tiles are.

It is hard to tell if this is a one piece flashing or a step flashing.
In the second picture it looks like there is an overlap but the overlap is wrong re: the lower flashing overlaps the upper piece and it should be the other way around.

Also looks like there is rot but again hard to tell with all that spray foam.
I would guess there have been critter problems in the past.

Eve-troughs on the two side roofs would be a good idea,
I would also look into fixing the soffits.
Perhaps knowing from which direction the driving rain is coming from would help find the leak.
You could also go up there with a hose set on jet to find it.
You will have to spray an area and then wit a while to see if that area is the problem.

Also have you actually been up on the roof and checked the tiles?






02-21-20, 07:32 AM
Answered and post and then saw your latest picture.
I would say that the most likely spot for a leak is that intersect point or the channel between the roof lines.
02-21-20, 07:36 AM
I have been up there but have not torn anything off in those areas. I have replaced a few broken tiles in other parts of the roof so I know what's under these tiles.

But the concrete roof tiles are applied over some very thick paper membrane and attached with foam. It was permitted and complied with Florida hurricane code - but over ten years ago. I think the eave/soffit issue came later, this can't be original but someone has been hacking at it multiple times - there is tar, there is white caulk, there is clear silicone, wire cloth, spray foam.

I don't know if the wire cloth + foam is supposed to be a way to stop critters from invading, or whether the wire cloth was intended to act as lath/key for the spray foam to hold as an effort to stop water penetration.
02-21-20, 08:52 AM
Join Date: Sep 2016
Location: USA MI
Posts: 9,272
there is clear silicone, wire cloth, spray foam.
None of these materials is an acceptable solution to your issue!
02-21-20, 09:23 AM
The gutter between the roof lines seems looks like it is in pretty bad shape.
It is very hard to tell from the pictures.

With a roof line like this there are always problems because you want to keep the water out but at the same time you need air circulation to dry the area out to prevent or at least slow down rot.
02-21-20, 10:20 AM
...silicone, wire cloth, spray foam...
None of these materials is an acceptable solution to your issue!


Correct. That's not what I was suggesting. I was describing what is there now...existing conditions.
02-22-20, 12:22 AM
Join Date: Feb 2020
Location: United States
Posts: 2
Upvotes: 0
Received 0 Upvotes on 0 Posts
Hey I'm from the north east did u see you say you were in Florida? Up here yeas ago probably 15 or plus I would see that alot on older houses and the undereavr there covered by the wire is actually your fascia soffit. Its venting the walls and roof of your attic. The wire is there to keep the rodents out. Check out the valley where both groves meet first. That way if its dry you can eliminate probably the only other place you'd be getting water from. And yes I'd do some material swap there. The rake is supposed to be wrapped with metal when on a roof and exposed to so much water exposure.
02-22-20, 05:53 AM
Join Date: Oct 2015
Location: Ct.,USA
Posts: 2,664
The lower roof has a shallower slope than the upper roofs. Does the lower roof tilt toward either or both problem areas (walls under higher roofs)?