Scaffolding recommendation for under soffit work
04-24-20, 12:18 PM
Scaffolding recommendation for under soffit work
---
I can't really find a matching forum for this but I figured may be roof and soffit framing may be most likely to run into similar dilemmas.
I have a couple of projects that would require me to work on the underside of my second floor. However there is no first floor, the second floor is overhanging my swimming pool.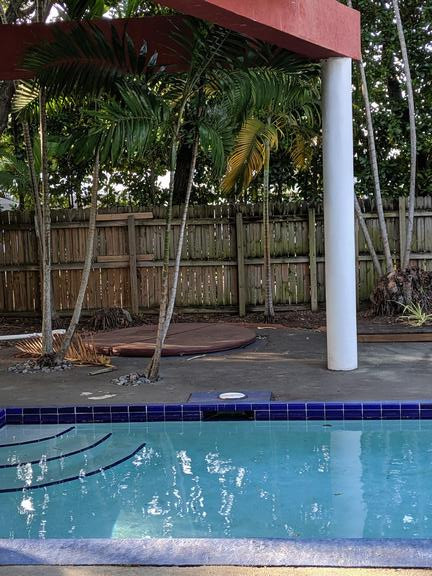 First, I need to change out (or eliminate) the light fixtures on the under side, it's basically impossible to replace the light bulbs. Right now the bulbs are out and I can't even figure out what circuit it's on.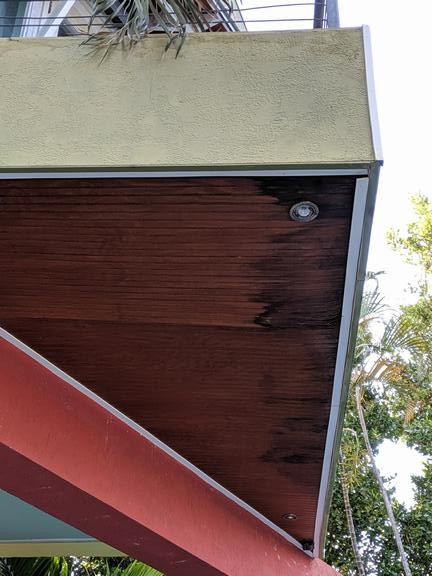 Second, there is an electrical receptacle up there, and I guess it was intended for Christmas lights. I need to check the wiring and see about relocating or eliminating that receptacle.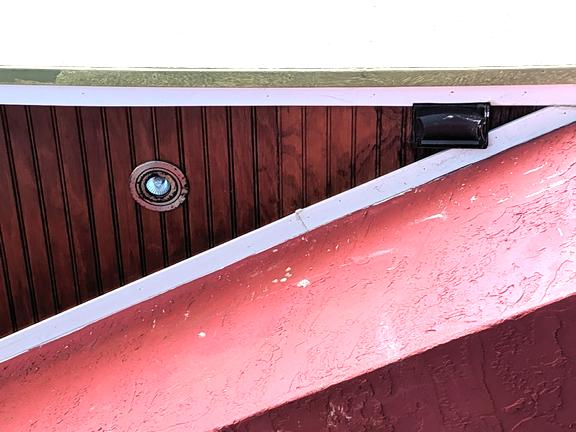 Lastly, half the bead board soffit has water stain on it, which I assume it's from a leak coming from above. Right above that is the second floor balcony. Once I fixed the leak I will change out the soffit to something else. May be T1-11 or stucco.
So in summary I will need to figure out how to work on that area for a number of days to do electrical, carpentry, waterproofing, painting etc...safely. I think a scaffold is needed.
The pool section directly underneath is 11' wide. The soffit section directly above the pool is 13' wide. From the pool coping to the soffit is 12' of height.
Should I rent something, buy something, or rig something up myself that will give me the height I need and yet would span over the pool?
Sponsored Links
04-24-20, 01:09 PM
Join Date: Oct 2012
Location: Northern NJ - USA
Posts: 59,710
It's hard to recommend anything without actually being there.
From what I'm seeing I don't see how a scaffold will even work with the pool under it.
The first thought that comes to my mind is an articulating boom truck.
The picture is strictly for type of machine. There are many styles available and for rent.
I used one of these to replace bulbs OVER a YMCA indoor pool.
04-24-20, 02:08 PM
Can you use a deck anywhere.
If yes then build it over the pool using screws etc, so you can remove it when done and rebuild it elsewhere.

As far as scaffolding see if you can find some used.
I could not when I did my project so bought new on sale and then sold it for half of what I paid when I was done.
Was a lot cheaper than renting especially as I did not know how long the job would take.
04-24-20, 04:49 PM
How wide is the pool? If its only 20 feet you could rent a 24ft long, 20-24" wide x 6" aluminum walk plank. Also rent a couple sections of scaffolding and 8 screw jack lags with mud sills. This would enable you to set up a section on each side of the pool to rest the plank on. You want the kind of scaffolding with the ladder built into the sides.
04-24-20, 08:30 PM
Scaffold is 5 ft high... screw jacks get you another 12" higher. The plank is 6". So you'd be standing 6.5ft high. If your 5'6" to 6ft tall that's about the right height. Screw jacks could go up another 6-8" or so if needed.
04-26-20, 06:49 AM
I have three bucks of aluminum Baker scaffolding and it is extremely handy. Aluminum is nice because of it's lighter weight so it's much easier for a single (older) person to set up. I would erect the scaffolding in your pool with scraps of carpeting or a heavy towel under each foot to protect your pool.

If you think you're job will be over in a reasonable time you can rent it. My house has numerous high areas so for me it made sense to purchase the scaffolding. I can always sell it when the projects are done. Nobody in my area had aluminum scaffold available for rent and I know I did not want to be hoisting steel scaffold so high in the air so that further swayed me to purchase aluminum.
04-26-20, 08:39 AM
Join Date: Nov 2007
Location: Twin Cities, MN
Posts: 13,664
Changing the light bulb to an LED will greatly increase the time between how often you change the light bulb. Just make sure to install one that is rated for enclosed fixtures.
Posting Rules
You may not post new threads
You may not post replies
You may not post attachments
You may not edit your posts
---
HTML code is Off
---