Balmain Jackets
11-18-09, 05:39 PM
Join Date: May 2007
Location: Colorado
Posts: 203
Received 0 Votes on 0 Posts
Balmain Jackets
---
What is the braiding called on this jacket?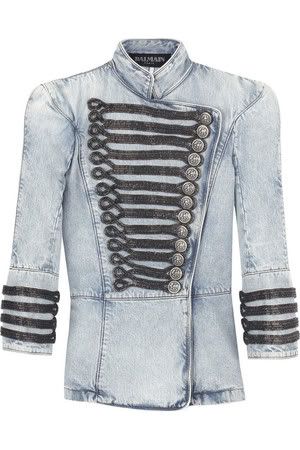 I have looked everywhere and can't find the military type braiding.
Thank you!
11-21-09, 08:50 AM
I've been looking at this pic for a couple of days and really not sure if there's a special type of braiding used. It looks like it's just some continuous cord sewed down in a distinct pattern.
I think I'd just make my own by covering some cording (maybe 1/4") with fabric (inside out), then turning it right side out, so you don't have any lip showing.
11-21-09, 01:12 PM
Join Date: May 2007
Location: Colorado
Posts: 203
Received 0 Votes on 0 Posts
Thank you, ShadeLadie
I've seen it up close before and some of the trim is jeweled or beaded.
I was wondering if it was 1/4" braiding, too. Alot of stitching ...that's for sure!