Help, stairs transition to slab at the top of the rise
04-20-08, 08:30 AM
Join Date: Apr 2008
Posts: 1
Help, stairs transition to slab at the top of the rise
---
I am about to install 3/4" Brazilian Cherry hardwood floors in the 2nd story of my condo which has a concrete slab. So far I intially thought of putting down 3/4 ply & pad as the subfloor. I am replacing all of the treads in the staircase to solid Brazilian Cherry as well. My problem is that I will be adding 1 1/2 inches to the top of the rise. I am unsure how awkward that last step will be and if it even will meet code. What can I do to make this transition smooth with out re-doing the whole staircase?
One though I had would be to cover the stairs with Brazilian Cherry replacement treads which will compensate for 1/2" of the difference at the last rise.
Link to replacement tread:
http://www.stairsupplies.com/eng/pro...rs/treads/8073
Any suggestions would greatly be appreciated.
Thanks
Sponsored Links
04-20-08, 08:52 AM
I would definetly check with a local inspector as to the rise height.
Here is a typical transition: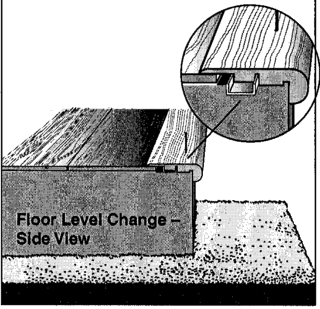 Posting Rules
You may not post new threads
You may not post replies
You may not post attachments
You may not edit your posts
---
HTML code is Off
---