Concrete- How smooth?
05-13-08, 12:34 PM
Join Date: May 2008
Posts: 1
Concrete- How smooth?
---
Hi everyone-
I'm going to be installing laminate flooring over a concrete subfloor. I checked the moisture content and have no problems there.

My main question is, how smooth does the concrete have to be? By smoothness, I mean texture. Right now, the concrete has very small bumps all throughout. Does this need to be smoothed down?

Any advice on how smooth the floor needs to be is appreciated. Pics would be great too.

Thanks.
John
Sponsored Links
05-13-08, 01:00 PM
Join Date: Aug 2000
Location: USA
Posts: 15,834
Flatness is the major concern. No high spots. No low spots. If necessary, grind high spots. Fill low spots with cement-based self-leveling compound.
How to check for flatness?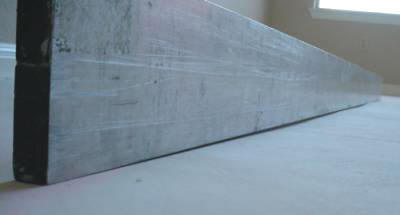 Photo Credit: Hardwoodflooringtalk
Read instructive article and view more pictures here:
http://www.hardwoodflooringtalk.com/...-sub-floor.htm
05-29-08, 06:15 PM
Dang!!! That is my picture!!!

That is a gluedown over concrete, I was doing. The same picture is up in the STICKY post above. Concrete Prep.
Posting Rules
You may not post new threads
You may not post replies
You may not post attachments
You may not edit your posts
---
HTML code is Off
---