do you like/dislike your floating floor?
09-29-08, 06:43 PM
do you like/dislike your floating floor?
---
Would you do it again?

I've seen post where several people here have floated engineered wood floor and would like some feedback. Thanks.
Sponsored Links
09-30-08, 06:21 AM
We absolutely love it. Product installed: Owens Plank Flooring, Engineered, 5 inch width, Santos Mahogany. Floated over concrete slab. Note that my original preference would always be for solid, however, our situation dictated that engineered (floated) would be best. The quality of the product and installation are first rate. The floor looks awesome. I will admit that the sound when walking with hard heel shoes on the floor is different than what it would be on solid. The key word is different. Not hollow, not cheap, just a bit different. However, not a single person has identified it as floating. One surprising benefit: due to being floated over a high quality underlayment, there is a barely perceptible amount of give to the floor and since we live in socks, it is much, much easier on the feet. I would still go with solid where possible, that's just my preference, but not a single potential downside to floating that I had heard about is an issue. If you visit a retail flooring store, they generally will have a floating installation of some high quality product on display which may help you decide. Good luck.
09-30-08, 10:15 AM
Thanks for the reply OneBowl! You hit on the subject of my next question...

"good quaility underlayment"

I have seen cork, felt and what looks like a form of rubber (specifically made for underlayment) used. The felt was the thickest, but looks to be the least dense and least quaility. Either of the other two seems like it would be okay. I am waiting for my flooring to come in so I can read the manufacture's recommendations before buying any underlayment. Any recommendations here?
09-30-08, 12:09 PM
Join Date: Feb 2001
Location: SW Fla USA
Posts: 11,987
Love mine. This was actually a clearance item at one of the Big Box stores and has attached underlayment: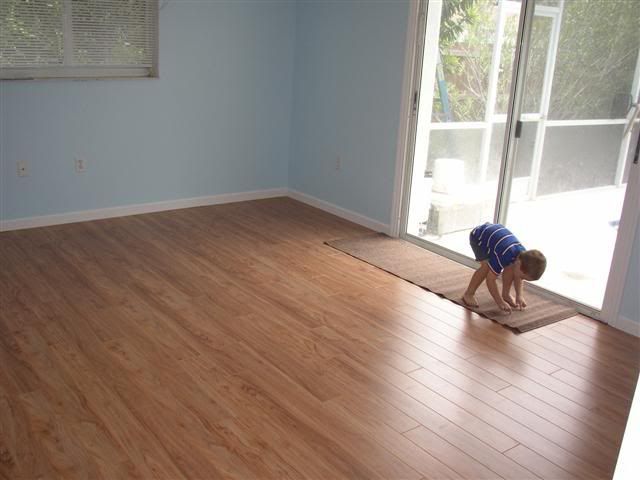 I would definitely do it again; wife is eyeballing it to replace the old carpet in youngest's bedroom.
09-30-08, 06:41 PM
regretted doing it
---
I installed an engineered oak floor a bit thicker than most (7/16) and got the best underlayment available save rubber. I did the entire second floor 24X40. I found a few (2) pieces of the flooring that have started to separate a bit. The manufacturer I'm sure would send me a replacement piece but thats not the problem. How do you get it out of the middle? This is a snap lock style that you drive together. I did the downstairs in a light maple 25/32" T&G and nailed it. I am much happier with the nailed product. The snaplocks due to moisture variences in the northeast causes the joints to open in a few places actually abot 3 or 4 in the winter, where the downstairs nailed product never does that. The maple was prefinished. That is another rookie mistake. We don't have the patience to sand and finish 3 to 5 coats, but if you have the patience the sanded and sealed product if far superior, maybe not as hard a finish but much glossyier and without joint cracks that trap dirt like a prefinish product does.
10-02-08, 06:09 AM
lajones,

Here are some other bits and pieces that may help you out, based on my experience. I think all helped contribute to a good final outcome:

1. Good quality product - The milling on the Owens plank flooring was near perfect. Solid (same species) would have actually been less expensive if we could have gone that way.
2. Installation - glued together, not snap lock. Plus, installer was more focused on a quality outcome than getting out quick. It took him much longer to install than I expected.
3. Underlayment - roofing felt went down first (on concrete slab) then combination sound barrier underlayment. I can't recall the brand/name though. Go with manufacturer's recommendations.
4. Finished/Unfinished - product was unfinished, square edge
5. Final finish - light sanding on-site, then 4 coats of oil finish

Took about 8 days from start to finish, mostly due to choice of oil finish.

Note that the last post hit upon a key element: humidity levels throughout the year. Without year round humidity control, you're at risk due to expansion/contraction cycles and plank separation can occur. Engineered is more stable, but is not a substitute for humidity control.

Overall, we're perfectly satisfied with floating. Again, the sound is different, but that's just the physics of sound transmission without mechanical fasteners or adhesives in the mix. Good luck.
Posting Rules
You may not post new threads
You may not post replies
You may not post attachments
You may not edit your posts
---
HTML code is Off
---