Harwood floor repair
06-17-10, 10:50 PM
Join Date: Jul 2008
Location: canada
Posts: 345
Harwood floor repair
---
Uploaded with
ImageShack.us
I would appreciate some advice on how to repair the floor where part of a wall used to be, I do have some floor boards available that I removed from a closet.
Im planning on refinishing all the floors
Floor is about 70 yrs old .
Thank you
Sponsored Links
06-18-10, 12:35 AM
Join Date: Jun 2010
Posts: 6
I'm no pro, but I wouldn't just try to throw in boards in the gaps. If you have enough, I would take out some boards on each side of the gap and completely replace them with boards that will go all the way across the gap. You could also reuse some of the other boards too. That way you don't have a weird looking section where all of the seams line up.

If you decide to take boards out and move them, play around with them until you get the look you want.
06-18-10, 04:06 AM
I don't think you will ever match end for end with newer boards. I would smooth up the ends as much as possible. Yours only shows one board to be too short, and I am amazed the remainder are squared off. It doesn't happen much in modern installations. Run your new boards perpendicular to the existing flooring, forming a threshold. You will need to remove the tongue from the last board and possibly split it to fit in the gap. Once installed, the shoe molding or base you will install should dress up the edges. Fill in any gaps with matching wood putty and finish the floors like you planned.
06-18-10, 11:47 PM
Join Date: Jul 2008
Location: canada
Posts: 345
Thank you for replies

Im wondering now if some one can tell what kind of wood is it [ house build 1938]
Regards
06-19-10, 11:44 AM
Join Date: Sep 2007
Location: Cottage Grove, MN
Posts: 239
From what I can tell, it looks like birch, but it could be maple too. As far as patching goes.. You have two choices. like the other person suggested - square up both sides and run however many rows needed horizontally to fill it in. This works okay, but your first and last rows probably wont have a tongue or groove to grab the rest of the floor so it will be susceptible to more movement but is the easier route to go. Your other option(s) is to a) pull all of the wood out in the closet and "finger joint" it all back in. I know this is kind of the opposite of what you're trying to do but look below to get an idea of what I'm talking about...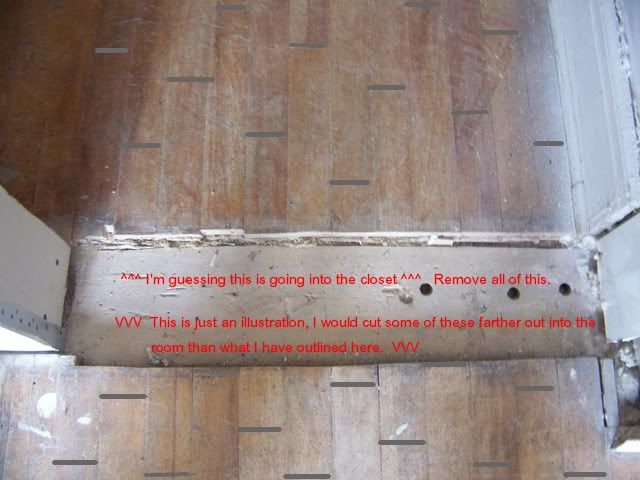 If I were doing the patch, I'd cut on the gray lines on the bottom of the picture to create new butt ends. then remove the wood from inside the closet. If the tongues are facing to the left, start on the right side and work left. If tongues face to the right, work from left to right. Then, using a good adhesive (I'd use construction glue) glue the area of the board you slide in where you cant nail on the tongue of the board. Rubber headed mallets work good for sliding boards in. When you get your first board in, cut the piece to run up to the wall and nail it in, and work to your next row. Does this make sense? It sounds like a lot, but its easier than you think. Cutting the new butt ends in the "room" can be done with a hammer and a sharp chisel, or if you have one of those Fein or Rockwell vibrating saws (<- Fein saws are what we use at work but I've heard the rockwells will do the job too.)
06-19-10, 01:14 PM
Join Date: Jul 2008
Location: canada
Posts: 345
Thanks for the guidance on the patching job,the explanation is very clear
I was traying to determine the kind of wood as Im planning on staining the floors darker than what they are and dont know if birch or maple will take a dark stain well
Regards
06-19-10, 06:26 PM
Join Date: Sep 2007
Location: Cottage Grove, MN
Posts: 239
06-19-10, 09:59 PM
Join Date: Jul 2008
Location: canada
Posts: 345
Can you suggest a product for a natural finish?
Thank you
06-20-10, 07:44 AM
Join Date: Sep 2007
Location: Cottage Grove, MN
Posts: 239


If you want to coat the floor the easy way, don't use a lambswool block like the directions say. Get a "T-bar". These have a swivel and make coating a breeze. T-bar applicators are tube shaped and use the same material as flat "paint pads" do. (foam/nylon bristles).
06-20-10, 02:03 PM
Join Date: Jul 2008
Location: canada
Posts: 345
Thank you again, when sanding the floors what grits should I use considering there isn't any thing major to get rid of?
Regards
06-20-10, 09:11 PM
Join Date: Sep 2007
Location: Cottage Grove, MN
Posts: 239
06-28-10, 11:42 AM
Join Date: Jul 2008
Location: canada
Posts: 345
Thank you so much for all the help.
Regards
Posting Rules
You may not post new threads
You may not post replies
You may not post attachments
You may not edit your posts
---
HTML code is Off
---