Attaching Laminate Flooring to the Door Bottom
04-18-11, 08:24 AM
Join Date: Apr 2011
Location: United States
Posts: 5
Attaching Laminate Flooring to the Door Bottom
---
Hey guys. I'm trying to figure out how should I attach my new Laminate Flooring to a few door bottoms that are brown plastic. Are those things removable? so I can slide the Laminate underneath or I need to use some kind of transition/threshold? Please advice.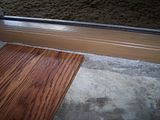 (Pic can be clicked for larger version)
Sponsored Links
04-18-11, 10:10 AM
Use a piece of shoe molding and tack it to the door molding itself, and not to the flooring as it has to float. You may be successful in removing the trim, but it may not cover the flooring completely, if what you have is shown in the pix. The shoe molding may be the only out.
04-18-11, 04:52 PM
Join Date: Apr 2011
Location: United States
Posts: 5
Yeah that what I thought too unless that thing can be removed and placed above the floor - I think that would look much better then with shoe molding.

Which glue would you recommend to attach a wood shoe molding to that plastic door trim?
04-18-11, 05:39 PM
PL Advanced is a good one.
04-18-11, 05:58 PM
And an air nailer will shoot into the plastic...been there, done that. Adhesive will never let it be removed or replaced. If the door needs replacing later, you'll need to put in more shoe.
04-19-11, 04:25 PM
Join Date: Apr 2011
Location: USA
Posts: 17
Posting Rules
You may not post new threads
You may not post replies
You may not post attachments
You may not edit your posts
---
HTML code is Off
---