Hardwood Over Dry Slab - Vapor Barrier? Rosin or Felt?
05-23-11, 09:46 AM
Join Date: Aug 2006
Location: Indiana, USA
Posts: 126
Received 0 Votes on 0 Posts
Hardwood Over Dry Slab - Vapor Barrier? Rosin or Felt?
---
First, let me say I understand hardwood over slab is advised against. I understand that and would appreciate not getting 20 "don't do it" replies. This is my wife's call.
We have a slab with nailers (pictured below) that we plan to add hardwood to. The slab is very dry and level (less than 1/4" over the 16 feet) - did moisture test. We plan to screw 3/4 ply to the nailers and place the hardwood over that.
My questions:
1) Should I put down a 6mil vapor barrier? It seems most mfg's recommend it, then i just watched that Holmes show and he swore this ladies hardwood failed because of condensation due to the vapor barrier. The slab is 4" reinforced over a combo of old pavers and more slab...old house.
2) Over the plywood under the hardwood what do you recommend? Some like working with rosin paper, other say it is useless. Most hate working over tar/felt, but some say it makes a vapor barrier...and would i want that weakish barrier between the ply and hardwood?
I can convince myself either way. Push me in the best direction! Thanks!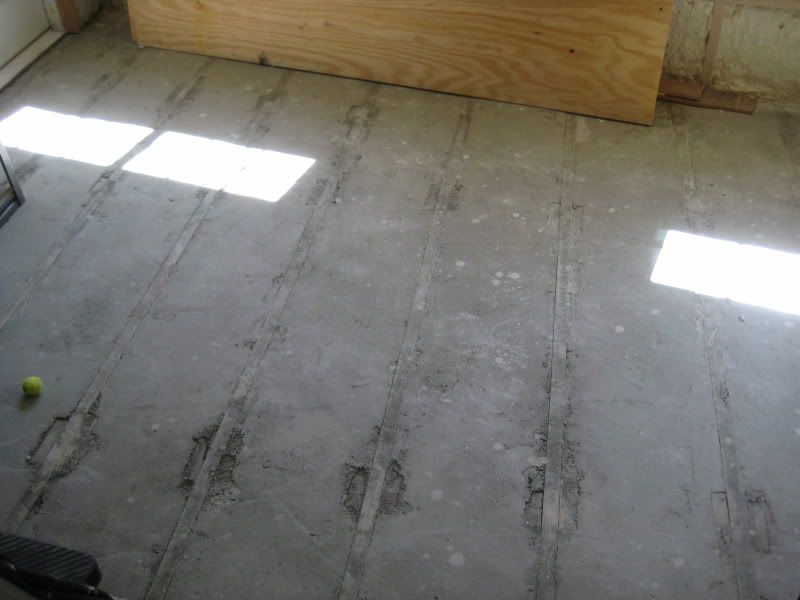 05-23-11, 12:28 PM
Is your concrete on a main floor or basement. The Holmes show you mentioned involved a basement situation which can be very different than installing on a main floor for one thing, and if your installation is in a basement the moisture issues can also be very different. What type of hardwood are you installing? Engineered, pre finished solid etc. The resin paper scenario is more about helping to eliminate squeaks, and not about moisture. Using felt tar paper is not something you probably want in a living space either for health reasons though I know it has been used by many in the past. I suggest that you install the hardwood after sitting for a few days in the room for it to reach the same humidity level as the room and let everything breath from there. Follow the manufacturers requirements regarding expansion gaps where it meets the walls. You may also want to consider if it makes sense in your area to thermal break the floor with rigid foam also depending on how cold things get. If you are a Holmes fan you know he uses this product alot over concrete, or at least in his shows, but those job sites are pretty much all in the Toronto area. You may not require it where you are.
05-23-11, 02:58 PM
Join Date: Aug 2006
Location: Indiana, USA
Posts: 126
Received 0 Votes on 0 Posts
The concrete is on a main floor. The Holmes show I'm referring to was a main floor kitchen.

The hardwood is pre-finished solid. Bruce 3.5" Gunstock. I will acclimate and do all install per rec, no worrys there.

I don't think I could do a thermal break at this point bc of doors/etc being set for 3/4 ply and 3/4 hardwood, but I like the idea. I'm in Indianapolis, so we have a winter, but not a terrible one. Not a huge Holmes fan, but I consider him a resource. He would have dozed my whole house and started new, hehe.

Do you recommend rosin? Do you recommend a 6mil vapor barrier?
05-23-11, 03:19 PM
I'm just a backwoods naildriver from the south, so bear with me. I have never buried wood in concrete with any hopes of longevity. You say this is on a main floor, is it above grade or on grade? What is supporting the concrete? How thick is it and how thick are the wood slats buried in it? Do they touch dirt?
Like equinox said, rosin paper will help with the surfaces sliding together and squeaking. You won't use both a vapor barrier AND paper or felt because you will be sandwiching your plywood with moisture and no where for it to go.
Now, I'll wait for the others to blast me out of the water. Go ahead.
Good luck with the project, it looks interesting.
05-23-11, 07:36 PM
Join Date: Aug 2006
Location: Indiana, USA
Posts: 126
Received 0 Votes on 0 Posts
Don't worry about the wood, my concern is vapor barrier vs not. (just want to stay on topic-hope you understand)

Chandler, are you saying the rosin paper acts as a vapor barrier trapping moisture? My understanding was rosin paper wasn't a vapor barrier and felt/tar paper was a relatively poor one.
05-23-11, 11:38 PM
JUst thought of another point. I have installed the Bruce Gunstock and it looks great but from my experience you need to make sure you have enough extra for scrap. I found alot of strips that were warped, strips with broken tongues etc. I only installed 400sq ft but at times found the Bruce product a PITA. Others have told me a similar story about this product. Also I worked out of 2 or 3 boxes at a time to help ensure a complete even color, and to allow for consistent spacing between short and long pieces. Just my experience. If you do decide to use tuck tape sealed rigid foam under the 3/4 ply you will both provide a thermal break and a pretty good moisture barrier. Just something to consider.
05-24-11, 11:44 PM
Join Date: Aug 2006
Location: Indiana, USA
Posts: 126
Received 0 Votes on 0 Posts
So you guys don't think it's better to let it breathe with no vapor barrier vs the risk of trapping some moisture with one?

Part of me says keep the moisture down there with a 6mil vapor barrier.

Part of me says what very little moisture is in there may be safest without the barrier so it can breathe.
05-25-11, 04:54 AM
Asked and answered.
What guarantees do you have there won't be moisture in the future. Just something to think about.
05-25-11, 05:13 AM
It sounds like you have done a lot of reading, but I'll take a chance and offer another link. This one is not directly on topic, but does have a lot of discussion about vapor barriers on slab floors. Just thought there might be something of value in it.
BSI-003: Concrete Floor Problems — Building Science Information
Luck,
Bud
05-25-11, 10:42 PM
Join Date: Aug 2006
Location: Indiana, USA
Posts: 126
Received 0 Votes on 0 Posts
Chandler: I appreciate the response and will likely use that technique. I was just wanting to see if that was the majority opinion as well. Hate to do it wrong "because this one guy on the internet told me...". You know how that goes.
Bud, that article was an excellent read. Many thanks for the post.