Should I pull up all underlayment ?
05-21-13, 08:03 PM
Join Date: Oct 2003
Location: San Diego
Posts: 687
Should I pull up all underlayment ?
---
I have two questions, feel they will need separate threads.
So, the first question related to possible mold and I was going to post this question on "cleaning" forum, but I feel it is related to the flooring more than to cleaning.
I put down a 14mm engineered floor about 10 years ago. Now decided (better half actually akhm) to replace it with 12mm laminate. Now, allow me to go about 6 month back. I discovered that I had a slab leak, you know, when the water pipe develops a leak inside a concrete slab. Apparently the pipe was leaking for awhile until i discovered the leak. Since with age my memory is not improving unfortunately, i forgot what kind of underpayment i used in that room. So i was actually very surprised not to see the floor buckling, but did not complain
I hired a plumber first, he caused more leaks before fixing the actual slab leak problem so drywall and flooring below was wet for awhile. Then I hired a drywaller who replaced the drywall and left. Back to today; While removing the old floor I came to find out that;
a. i glued a vinyl flooring before installing, then popular "green pergo" 2mm underlayment.
b. it looks like i have some mold or mildew build up on at least the perimeter of the floor next to where the pipes were leaking.
This is how it looks right now after pulling the wood floor and part of green underlaymnet. I think I'll have to replace the underlayment anyway.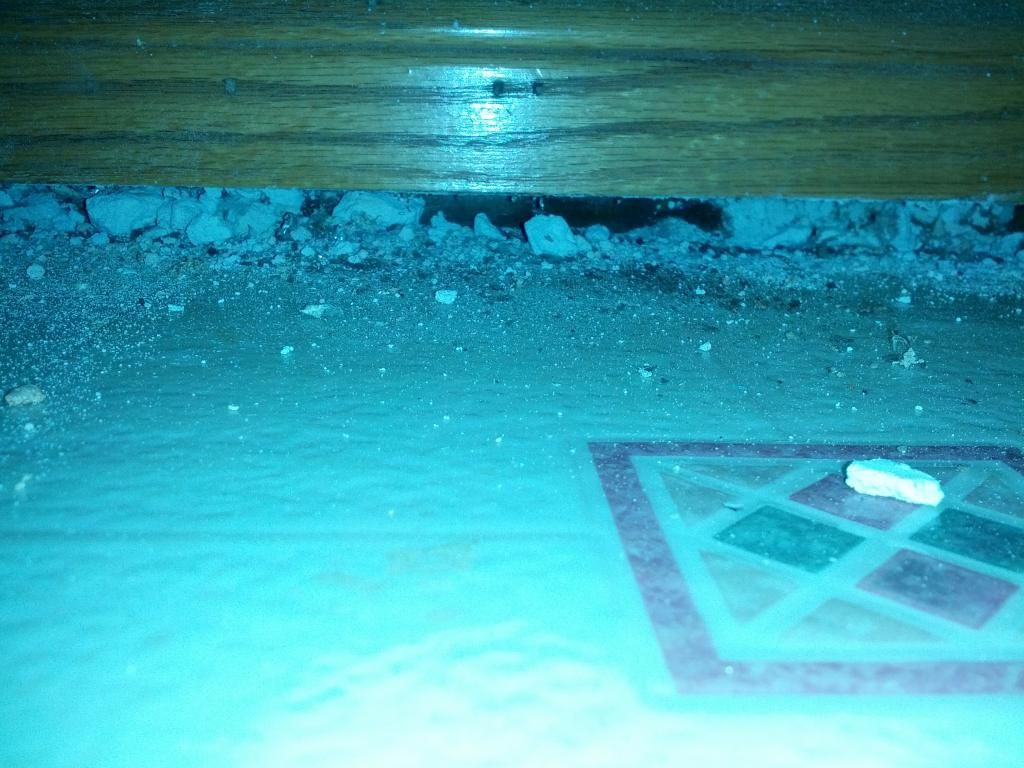 Should I start pulling the baseboards to see if there is actually mold behind them? I am afraid I already know the answer
And, should i even consider pulling of the vinyl floor from the concrete? After all it has that paper backing that was probably well soaked for weeks.
I just painted that room.... not that it matters now
Thanks!
Sponsored Links
05-21-13, 08:13 PM
Nope. Don't pull the baseboards off. Mold doesn't grow if it isn't wet. If the leak is fixed, great. And even if you have a little mold, it is in all likelihood dormant, and anything under your vinyl is basically encapsulated.

If you are replacing the underlayment anyway, that's good... clean the vinyl before you put anything new back down. But I wouldn't go any farther than that.
05-21-13, 09:07 PM
Join Date: Oct 2003
Location: San Diego
Posts: 687
Thanks!
---
Hey -Thanks for a quick answer and the encouragement!
I was actually thinking of spraying diluted bleach (below the baseboards) just for a good measure, before installing the floor and quarterround. My sense of smell is following my memory, so the fact that i can't smell mold does not mean much
Posting Rules
You may not post new threads
You may not post replies
You may not post attachments
You may not edit your posts
---
HTML code is Off
---