Hardwood Floor, thoughts needed please.
05-23-14, 09:58 AM
Join Date: Jan 2008
Location: VA
Posts: 414
Hardwood Floor, thoughts needed please.
---
So we ripped out our old carpet due to health reasons and found hardwood flooring underneath.
Being pressed for time, I checked a few youtube videos out and did my best especially since the house is underwater and I am not old money.
I purchased a harbor freight 24x4 belt sander along with 80 grit belt sand paper since the closest place that I could find for a floor belt sander was 50 miles away round trip.
The belt sander did well at first, but developed a strange issue where after about 2 minutes where it would start running at full speed thus making it more prone to walking away. I exchanged it for another one and it also did the same.
I really would have liked to have a very light appearing stain, but I think that may not happen because the wood has some dark spots that I can't get out unless I start gouging into the wood.
Based on all of this, I'd like to go with a VERY dark stain, to cover up the imperfections if possible.
However, I don't know if the level of sanding that I have performed is sufficient enough to even do that.
I have finally found a place where I can rent the floor belt sander that is reasonably priced and not too far away.
Below are some pics of the sanding that I have done which is surrounded by the way that the floor used to look. I kind of wish that I had left it alone, but it is too late for that!!
Questions:
1)
Is the level of sanding that I have done sufficient for staining? If not, how do I know when it is sufficient?
I am having a hard time remembering what I did when I go back to missed/extremely difficult to remove dark areas.
How do I know when or if I have already done a good enough job to move on?
2) If I have already done a good enough job, would an extremely dark stain end up looking better?
3) If I end up renting the floor sander? What additional tools will I need to get the corners?
4) I'd like to stop as much dust as possible. What can I use to block off my hallways? I hear that I can use a drop cloth, but is it a special type with zippers or something that allows access from room to room when needed?
Thanks!!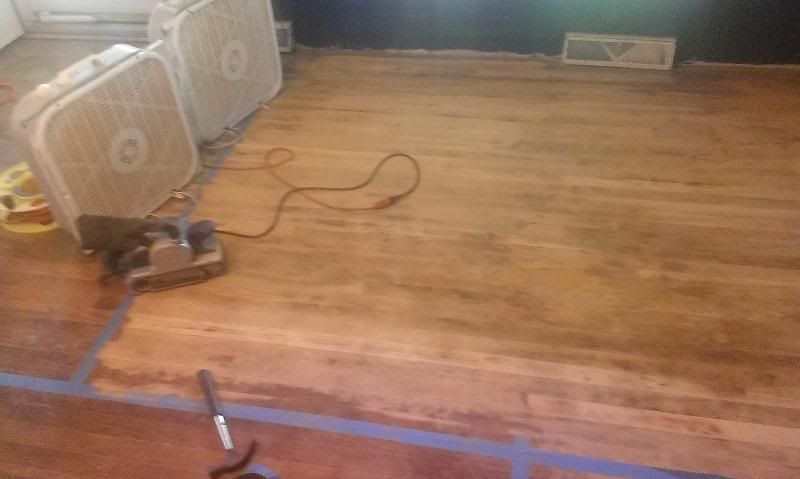 05-23-14, 01:23 PM
Join Date: Mar 2005
Location: USA - N.E.Tn
Posts: 45,161
I'd want it sanded better than that before applying stain. What's with the blue tape?
You can rent either a drum sander or a buffer [with sanding screen] The drum sander is quicker [basically a giant belt sander] a buffer is more diy friendly. You'd rent an edger to get the areas the floor sander won't get. A sharp scraper comes in handy in the corners. They also rent a square floor sander that is supposed to work real good - I've never used one or been on a job where one was used but they have good reviews.
There is no avoiding the dust
best you can do is tape off the openings to adjoining rooms with plastic. Dust will get past the plastic but it won't be near as bad as leaving it open.
05-23-14, 01:30 PM
Join Date: Dec 2005
Location: USA
Posts: 36,608
Upvotes: 0
I would rent a random orbit floor sander with screens. Less chance of gouging and a smoother overall finish. I can't believe you did this with a 4x24 belt sander
05-24-14, 06:05 AM
Join Date: Jan 2008
Location: VA
Posts: 414
Thanks everyone, the blue tape BTW is so that I could section things off and at least concentrate on one area because I was going nuts trying to figure out what I had missed and what I did. Was trying to at least give myself a goal.

If I am staining really dark, what is the problem with the parts that I missed? Not questioning you in a rude way, just trying to understand why so I can set a better goal for myself without going insane. Say I get one of the larger sander types that you all mentioned and those stains are still there. Wouldn't things still work out well and if not why wouldn't they? Is it a matter of adhesion for the stain or the appearance? FWIW the area in the bottom left area inside of the blue tape I didn't get to yet. I think some of the darker areas in the middle might have been where my dog urinated on the carpet lol.

Thanks
05-24-14, 07:35 AM
Join Date: Mar 2005
Location: USA - N.E.Tn
Posts: 45,161
Interior stains are formulated to soak into the wood and don't dry well over wood that is sealed or already stained. If you apply stain like it is, the wood won't absorb the stain where it's sealed [so that would will likely be lighter in color] and since that stain may not dry completely, when you apply the poly that stain may partially dissolve and be redistributed to the surrounding wood.

I assume you know to remove the tape and stain/poly the entire floor at the same time - it won't look good if you finish the floor in sections.