New at hardwood floor laying and need some big help
04-29-15, 06:18 PM
New at hardwood floor laying and need some big help
---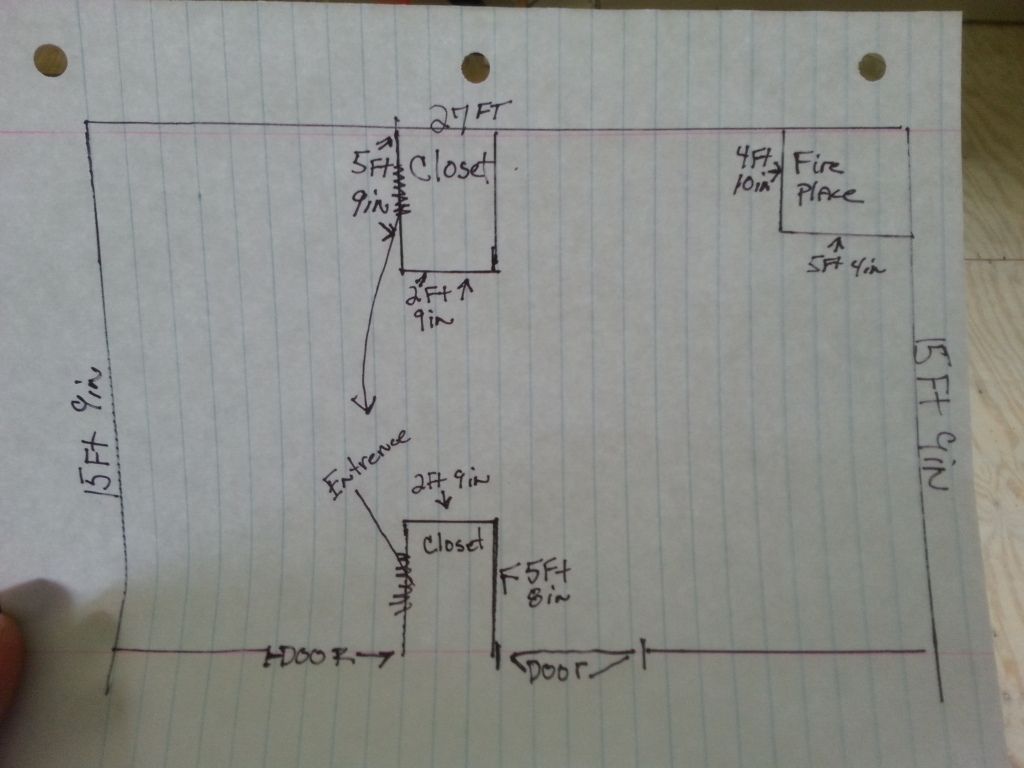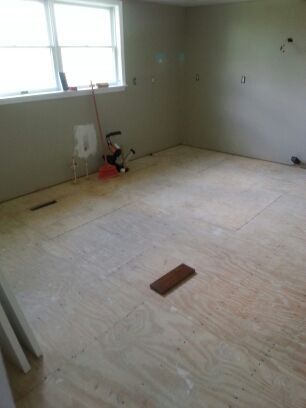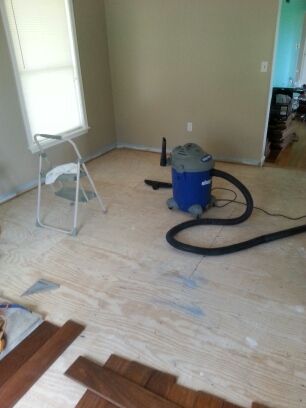 I am suppose to be starting this floor tomorrow but I am getting cold feet. If you look at my not to scale drawing you will see my layout along with pictures. I have never laid hardwood but I have done laminate flooring. I am using 3/4 inch solid Brazilian chestnut short boards on top of 6mil plastic since it is over our garage. I also have felt paper and red rosin paper but not sure if I need it.
Here are a few of my questions. If you look on my layout you will see the lines in the paper run the same direction as my floor support joist which are 16 inch on center. my sub floor is 3/4 inch think also. Can I run them parallel? and would it be ok or should i run them perpendicular to the floor joist? I am worried about sagging or buckling. In my living room they run the same as the floor beams and it runs the same direction as if you are walking into the kitchen / fireplace den. I could change it up but I think it will look awkward. What do you all think? My next question is where should I start at? Some people say the fireplace but I am not to sure. I am totally new to all of this and dont want to make things harder on me. I have a freeman tung nailer with 2inch cleets. Any help would be great......
THANK YOU ALL FOR YOUR TIME
04-29-15, 07:19 PM
It is best to run the floor perpendicular to the floor joists as the individual boards will span the gap between the joists and eliminate any waves. When you evaluate a subfloor, you look at deflection on the joists themselves, but also the deflection between the joists as well.

What do you mean by "short boards"? Are all the boards short, or just the majority?

Use 15# felt paper as the layer is a sound deadening material first and vapor barrier second.

I am inclined to suggest that you don't start on a wall, instead start dead center of the room and work outward in both directions. You have obstacles on either side of the rooms for a run perpendicular to the joists. If you drop a perfectly straight line down the center and work toward each wall you can navigate the obstacles as you move forward. Start next to the fireplace, and you have to start on the other side of the partition wall and meet perfectly on the other side. Near impossible to hit that mark. Instead, nail down perfectly straight 2x4 or 2x6 across the middle of the room to simulate a new wall to start on and work back toward the fireplace wall. Then remove the nailed down 2x4,2x6 and insert a spline and reverse direction and work toward the other wall. This also cuts down on the expansion and contraction of the overall floor.
04-30-15, 07:12 AM
When you reverse direction on the flooring, you end up with a groove against groove situation. A spline is a thin strip of wood that would turn one groove into a tongue to accept the groove of the next row that has been turned 180 degrees around to face the other direction. So, the middle row effectively is a double tongue piece so that you can install in both directions out from it. You can check with your flooring supplier or if you have a table saw, you could make one yourself.

Lots of short boards will make it a challenge to properly stagger your joints. It also would rely heavily on the sub-floor to add support and further reinforces going perpendicular to the joist system.