Laminate floor installation at doorway
07-30-15, 10:40 AM
Laminate floor installation at doorway
---
I haven't started yet but am currently getting my head around some possible obstacles.
When laying the laminate and starting along an exterior wall (blue), please see picture.
Laying in the blue direction, when I come to the doorway of the room, do I actually start laying in the opposite direction (red)?
Or must I start laying that room along the same exterior wall and end up with a transition strip at the door?
Bearing in mind the laminate has a longer locking bit on one side.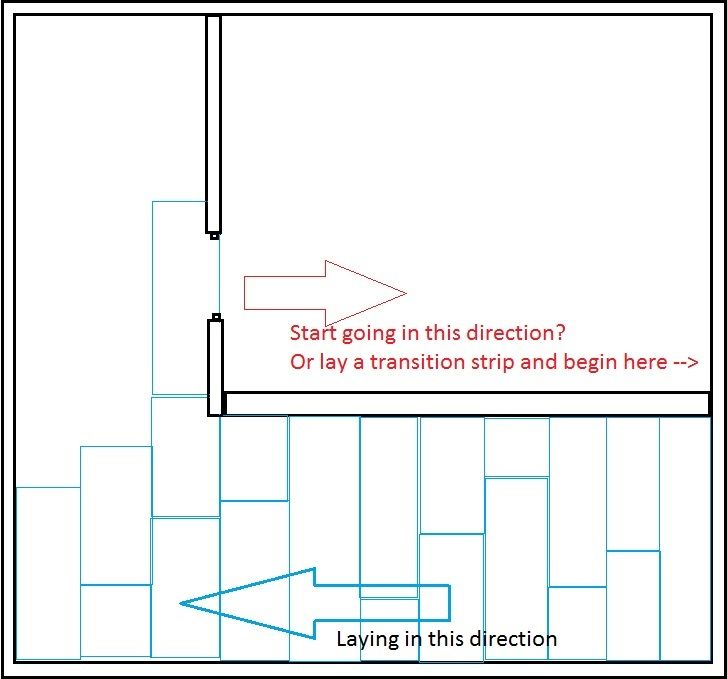 Sponsored Links
07-30-15, 05:32 PM
The only place you need a transition strip is in the middle of the door way right where the door stop molding is.
Where's the door to enter this area?
Most often it's best to start along the longest wall with no obstrutions.
07-30-15, 05:40 PM
Join Date: Dec 2005
Location: USA
Posts: 39,965
I would start at the wall and work toward the door, keeping a good eye on measurements. In reality, I wouldn't lay laminate, but since you are, put the transition strip in the doorway and allow the two lays to move. Don't crowd them too much.
Posting Rules
You may not post new threads
You may not post replies
You may not post attachments
You may not edit your posts
---
HTML code is Off
---