About time for a new floor
10-02-15, 07:58 AM
One quick question about the layout. I made a quick sketch through paint of what the kitchen layout looks like...
I was thinking I should layout the floor this way,....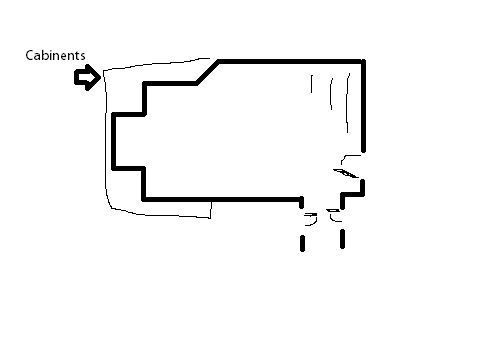 The three lines is the direction I was thinking to do it. Does that look like the best or should I do it the other way (going horizontally)?
10-08-15, 07:16 AM
Well, I finally got it done (for the most part, I still have a closet to do, but I will need to buy another box). There is much more waste than I anticipated. I did this the way I illustrated below. The first wall is 9'4", so I aligned it like:
-------------- ------------------ -------------------- --------
2'4" 3' 3' 1'
--------- ------------------ ---------------------- ------------
1'4" 3' 3' 2'
I am not quite sure if this was the correct way to do it or not to maximize in as little waste as possible. My instructions said to not have any of the pieces to have a width less than a foot and if I needed to trim, it needed to be on the first piece. So, I followed that, except for a few pieces under the cabinets that I didn;t want to ruin a huge piece for a 4" piece is I had to cut.
The way I cut it, I wasn't able to use much of the scrap pieces. I was also using a drywall T-square, so I wish I would have got a normal t-square, but I made do.
Before I did the flooring, I installed a new faucet.
Here is the old floor...
Old faucet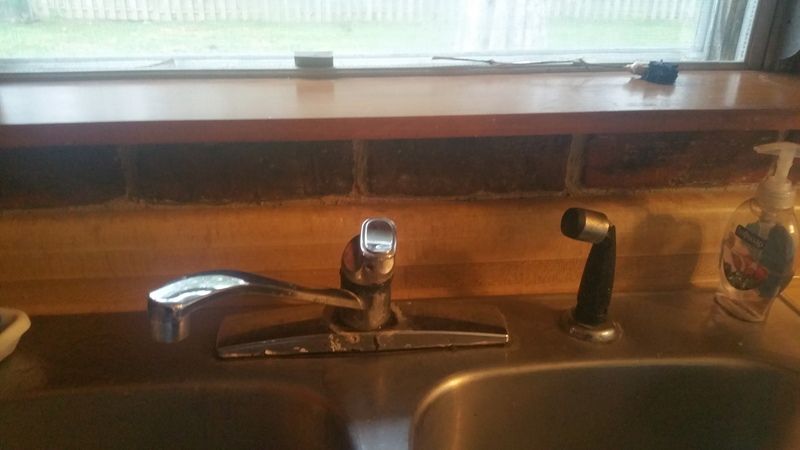 New faucet
New floor
I do have a quick question regarding where my new floor meets up with my living room's hardwood floor. What kind of piece do I need to put over top of them? My kitchen floor goes over the hardwood about 1/4". Here is a pic...
I have trimmed the edge of the floor to make it even since this pic was taken..
10-08-15, 08:46 AM
Join Date: Feb 2001
Location: SW Fla USA
Posts: 12,113
One of the flooring pros should be along, but a simple transition piece is all you need. If you have the right power tools (table saw, router) you can make your own. I did that with a transition from master bath to walk-in closet. Otherwise you can buy them at the big box stores, but they can be a bit pricey. Might also shop the trim piece section to see if there is something that could be adapted.
10-08-15, 08:53 AM
Don't have those tools at this time. I bought some shoe molding from home depot the other day to use in front of my kitchen door that leads outside. Previously there was a metal transition strip there, but it was really ugly. I saw some wood type transition strips, but as you said, they were expensive. If my memory serves my correctly, they were anywhere from $30-$50. If I did go that route, would it be best to get a wooden transition strip or one that looks more like tile?

Then do I nail through the vinyl? I would really hate to put a nail through it, but if I have to I will. Would the nail option work as it being a floating floor though? Wouldn't that prevent the floor from floating as it is supposed to.
10-08-15, 09:50 AM
Find an unfinished transition piece that you can stain to match the hardwood floor to blend in. They are unfinished and located on an endcap in the flooring/tile area at big orange box store. You can also get a piece of metal to cover the edge, they also are in the flooring dept near the carpet tack strips. Secure the transition to the hardwood and not the vinyl. Nice job, BTW!
Oh yeah, laminate or vinyl floating in the shape of tile are notorious waste machines as you always have to match grout lines of the pattern. Wood patterns are random and you can always use the end cut of one row as the beginning cut of the next.
10-08-15, 11:57 AM
Thanks for all of your help czizzi!
10-08-15, 02:44 PM
Join Date: Feb 2001
Location: SW Fla USA
Posts: 12,113
Second the comment on the job; meant to mention that earlier.
10-09-15, 07:44 AM
Thanks for the compliment the_tow_guy!