Need advice on split foyer stairs and railings
08-10-16, 09:56 PM
Join Date: Aug 2016
Location: USA
Posts: 2
Need advice on split foyer stairs and railings
---
I'm your average try to do it all guy with a 70% success rating so bear with me a little, my terminology may not meet yours.
My wife and I attempted to install hardwood floors about 4 years ago and well...we attempted. It was the first home project either of us had ever done and you can tell we had no help. We are about to, yet again, attempt the flooring ourselves. This time opting for a laminate.
To the point, I am having trouble deciding how to go about the stair railings. I am also at a loss as how to cover the exposed ends of the flooring(pictures below). As for the stairs I will be using laminate on the tread with a nose piece and painting the riser.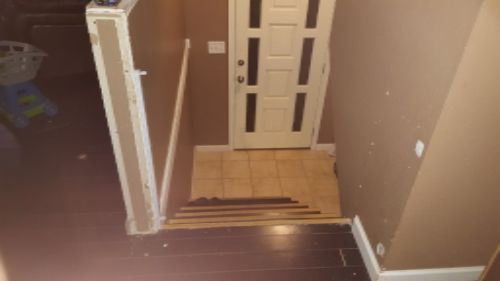 Here is the top of the stairs. The "wall" on the left will be removed and replaced with a railing. I am unsure how to ensure it will be sturdy. On the back side my current plan is to attach to the wall, guessing with a vertically placed 2x4 or similar. My second issue here is how to securely place a hand rail down the stairs.
When we first moved in there was a metal railing where the wall is and a metal hand rail going down. I really would like a wood railing there now. The metal railing that was there looked old and outdated.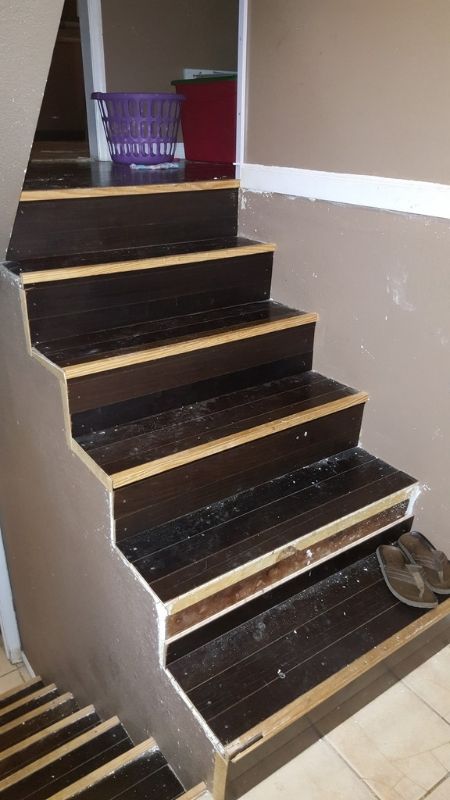 Here is another look at the top set of stairs....like I said...we "attempted" this before.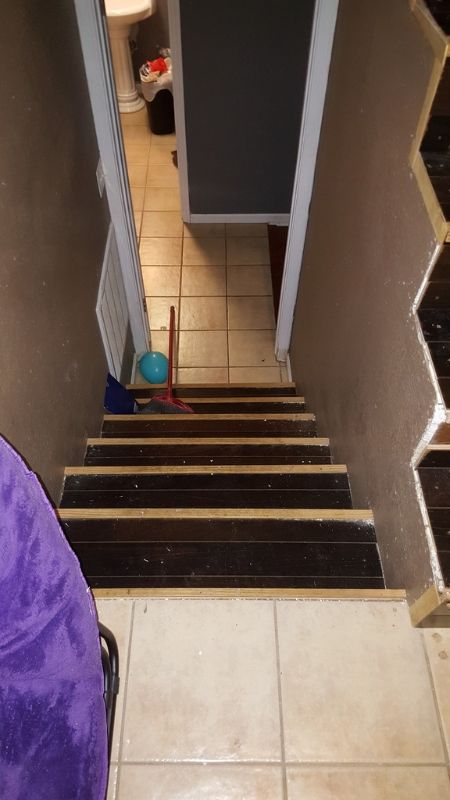 stairs leading to the basement I am not as concerned with. These seemingly will be much easier seeing they have walls on either side and I am just going to attach a handrail to the wall. But I added a photo for any suggestions or advice anyone may have.
So here you can see my original idea on hiding the edges of the flooring, not so pretty. I'm thinking there has got to be a better way to do this. Some sort of trim piece maybe? quater round?
Thanks in advance,
Jon
Sponsored Links
08-16-16, 09:26 AM
Join Date: Aug 2016
Location: USA
Posts: 2
Surely one of the 73 views has something they could share?
08-17-16, 08:59 AM
Join Date: Jan 2011
Location: USA
Posts: 4,294
#1, No way would I ever suggest using laminate in any stairway!
#2, Does that run and rise even meet code?
#3, Using a 2 X 4 for a railing is not allowed, it needs to be grippable and must return back to the wall.
Need to install a skirt board on that exposed side before working on the stairs and risers.
At the top of the stairs you need a landing tread.
There has to be an overhang on the treads beyond the riser.
http://www.centurygrp.com/Images/Int...eadsrisers.pdf
08-18-16, 06:05 AM
Join Date: Sep 2014
Location: USA
Posts: 486
There are building code guidelines which you should read before you start doing any work. There is a national code referred to as the IRC.....individual states sometimes have modifications to the national code. Your local building department can tell you which code you should follow. Go slow as there are safety issues involving stairs, railings, etc.
What went wrong with your first attempt at flooring?
09-27-16, 06:56 AM
Banned. Rule And/Or Policy Violation
Join Date: May 2016
Posts: 1
If you open the low wall space, install railings with a solid half-wall on the upper stairs. This would make the entryway appear much larger. It is very easy to do this.
Posting Rules
You may not post new threads
You may not post replies
You may not post attachments
You may not edit your posts
---
HTML code is Off
---