New to hardwood floors... few ?s
05-03-17, 09:27 PM
New to hardwood floors... few ?s
---
Hi everyone and sorry if I seem like a total newb but I am so please excuse any stupid questions but I'm the paranoid type especially with this kind of stuff. Long story short I installed a B.E.A....UTIFUL Earthwerks Acacia engineered hardwood floor but I am getting several conflicting things about how to finish up the cleanup. I live in west Tx have a pier and beam house and this is my first ever hardwood floor. The installation went well and the floor is amazing but during the install we did get some "smudges" on some boards from our fingers after working with the bostick urethane adhesive that was recommended to me. We were instructed to use mineral spirits OR an adhesive remover... well I just happened to have some Min Spirits sitting in the garage so we dampened a white rag ( did not soak just damp with the MS) and cleaned as we went but apparently missed some spots. My questions are these...
1. How dangerous is it to attempt to remove these last few smudges using the MS gently and will it ruin the floors? leave a film? anything else?
2. How durable are these floors and their finishes in general? Like I said ive been told its a great floor and I can use the MS without much risk as long as we are gentle and not rubbing our way to china... and that we needed to clean the floor after the MS usage.
.... again im very sorry if these questions are stupid but I have followed as closely as I could the instructions from the manufacturer that came with the wood, the instructions on the adhesive containers themselves, and the instructions from the install technicians themselves from the flooring company that I purchased from. All of them seemed to be ok with the way we did things but I would really like to get these smudges off ( no globs of glue or streaks or anything just from use connecting boards) before i move all of my furniture and things back in.... ANY advice for a total newbie to these floors would be greatly appreciated. I will attempt to post some pictures of the install when i get them off my phone. Thank you in advance and I appreciate you reading!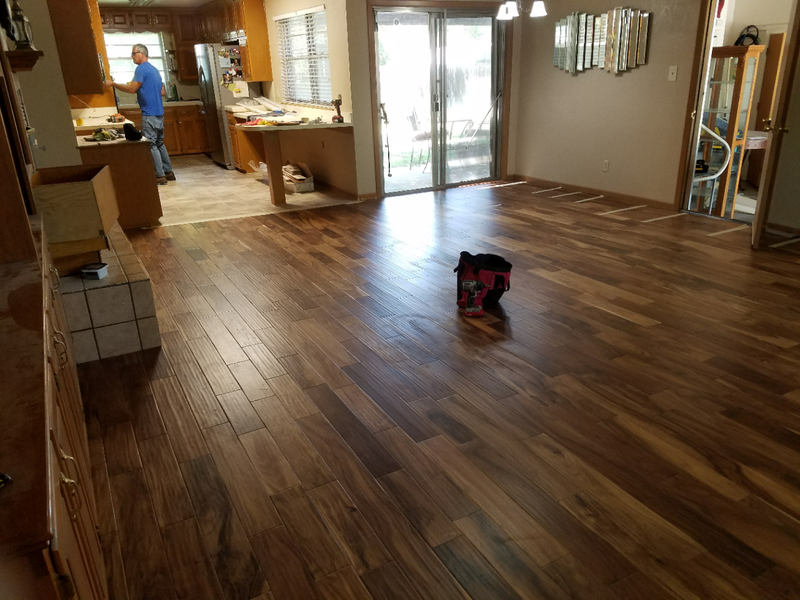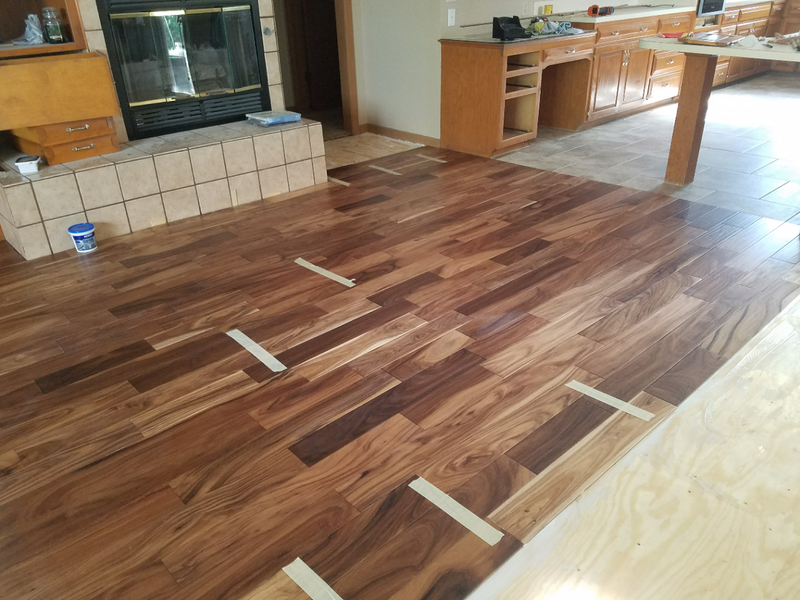 Sponsored Links
05-03-17, 09:45 PM
Join Date: Oct 2012
Location: Northern NJ - USA
Posts: 59,794
Welcome to the forums.

I approved your thread as it was in moderation due to your new member status and several duplicate pictures. (I removed the dupes)

I'm not a flooring pro but.... mineral spirits is very mild and will not hurt your floor.


The pros will by to comment.
05-04-17, 03:46 AM
Join Date: Dec 2005
Location: USA
Posts: 39,965
I agree with Pete. Using Mineral Spirits, especially low VOC MS won't harm the finish with light application. Do as you have done and just dampen the cloth to remove the glue. I would chase that with a good Orange or other floor cleaner to get the residual MS up.
05-04-17, 08:31 AM
It sounds like it will be ok to try and remove the residual adhesive one more time with the mineral spirits if im understanding correctly. I have also purchased the Bona Hardwood Floor cleaner as that what I was instructed to use from the company I bought from. I appreciate the input and feedback I am just really really hesitant to do anything to them without asking the pros first. This floor took me a lot of time and of course money so if I damage them by doing something dumb like cleaning too rough I will be very upset. Again I appreciate the input and if you guys think it will be alright to try the MS again for the remainder and then hit the floors with Bona and a microfiber mop after then I will see what I can do.
05-04-17, 09:03 AM
That should work fine, just be sure you have the smudges removed prior to applying the wax.
Just realized your 2nd question wasn't answered
Site applied poly is durable, the factory applied finish is even more durable.
05-05-17, 11:48 PM
Thank you all for the replies and information I am just paranoid about hurting the floors but I will try it again tomorrow. Any additional comments or info is welcome and appreciated! I will also keep things updated with any progress that is or is not made.
Posting Rules
You may not post new threads
You may not post replies
You may not post attachments
You may not edit your posts
---
HTML code is Off
---