Did I drill into a termite nest?
04-11-11, 07:19 PM
Did I drill into a termite nest?
---
I am working on this property in Miami, Florida, and I know I have termites. In several spots around the house where I had the ceiling sheetrock removed for remodeling, I see a circle of brown sesame looking build up after a few weeks, so I know it is active and I need to tent it one day. I am simply waiting for my remodel to get to a milestone before I do it.
The termites have done damages to interior wall wood studs and ceiling furring strips, and I am replacing those wood members that sustained damages.
Good news is, the original construction used some type of hardwood for the rafters and joists, and attached 1" thick furring strips below. Like this: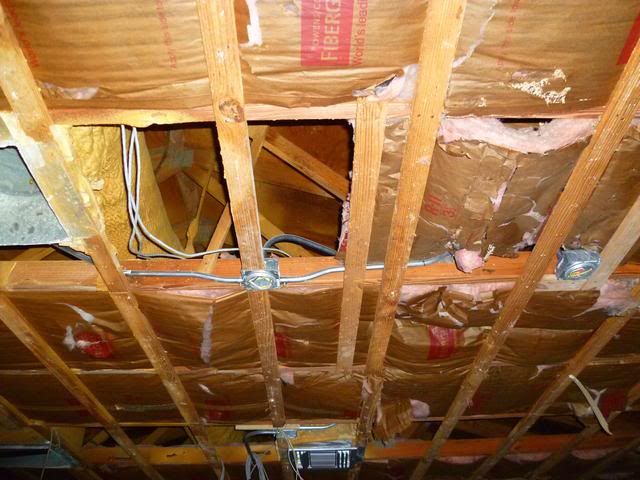 The termites damaged a lot of the furring strips, but have left the joists and rafters alone. I presume it is because they are not as easy to invade?
Tonight, as I replaced a furring strip, I had to drill into the joist from below. The joist is very hard. As I retract my drill, I noticed some "secretion" coming out of the hole I drilled. Something wet.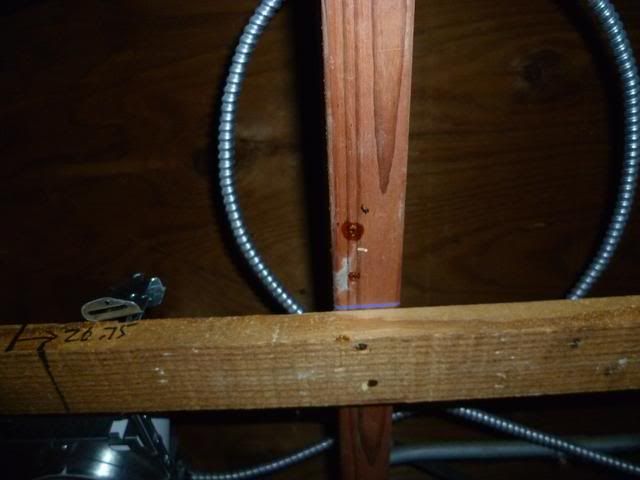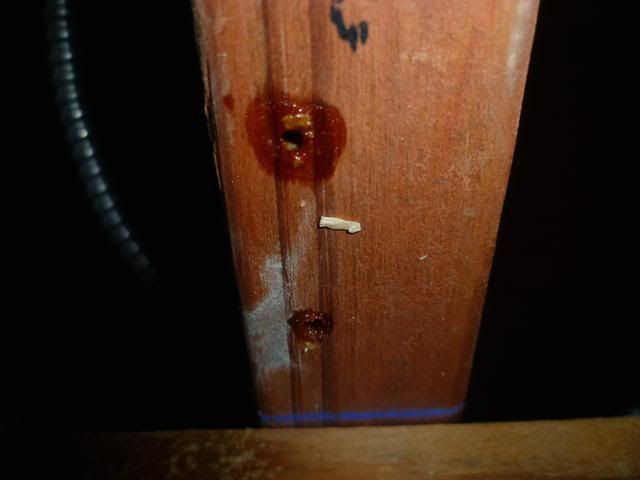 My drill bit: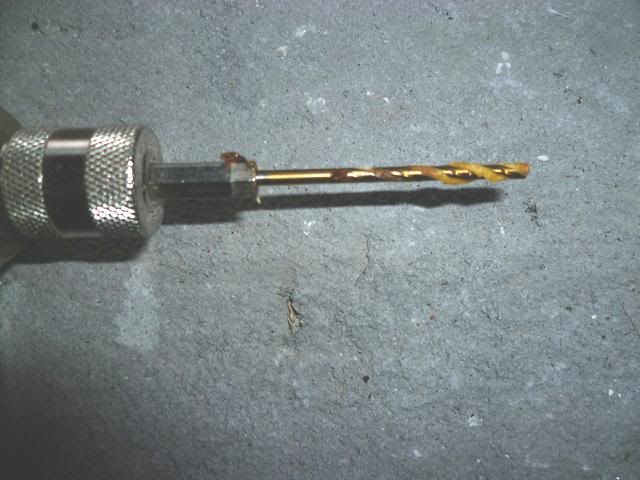 The wood is dry all around. I poked it with a screw driver and it is solid and hard. Yet two holes I drilled some liquid came out.
What is it?
I am thinking may be there is a nest of termites inside and my drill happened to hit pay dirt and tore up their bodies into termite "soup"? But I felt the joist all around, I did not see any sign of termite invasion. Furthermore, I have only seen them invade the furring strips, never the actual joists.
By the way, as the drill bit advance into the wood, I felt the same level of resistance in the wood all the way, just like other places I have drilled.
My friend said this could be natural secretion from the wood itself, like "maple syrup"...could it be? I highly doubt it. This wood looks like douglas fir, but I am not sure. The house has been around for 40 years.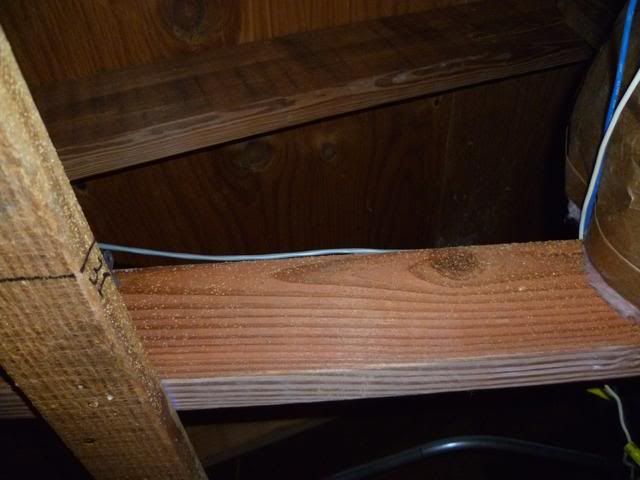 Any idea what that is?
04-12-11, 10:05 AM
the joist wood - I don't know what it is. It looks like douglas fir to me from the grain pattern. The furring strips look like PT pine.

My drill would go through the furring strips like knife through butter, but halt when it hits the joist. The reason I have to predrill it because it is so hard it would not take a screw unless I predrill it.

I have took down some pine wood studs in this house, and where there were termites, the surface is paper thin and once I took a wire brush to it, it came apart like swiss cheese. This joist is sold all the way around. The drill bit did not felt like it hit a "pocket".
04-12-11, 06:10 PM
I did more investigation, drilled a hole in every joist a total of ten. Only two of them had this secretion. The odor of it spells like the wooden balls you buy to repell insects in the closet. Could the roof truss be made of cedar or camphor?
04-14-11, 05:43 AM
I'm not a "wood guy" but I suspect that your wood is heavily resinated, which should make it more insect resistant. Try posting on the wood-worker, carpenter forums here. Strong pine/fir scent can smell somewhat like cedar, etc.