Do I have termites?
04-19-11, 02:57 PM
Join Date: Apr 2011
Location: USA
Posts: 2
Upvotes: 0
Received 0 Upvotes on 0 Posts
Do I have termites?
---
In the corner of my bedroom on the ceiling we noticed these dirt like "sacks" popped up over the weekend. We thought it was some kind of a spider sack. Got on a ladder.. sprayed them with a cleaner.. then wiped them with paper towels. When we wiped the biggest one.. then looked at the contents in the papertowel we saw wiggly clear little bug things!
Upon closer inspection.. we see that where the sack was.. there is now a tiny hole in the ceiling.. like whatever this is came from the other side of the wall which I guess is our attic. We put caulk over the holes before bed.
Well... when I woke up this morning... 10 hours or so after we did all that I was SHOCKED to see whatever it is CAME BACK AND DID IT AGAIN! I am a little horrified. Here are some close up pictures. I call them sacks but really the particle is made of a dirt/sand mixture and must be held together by a sticky substance.
here is a picture from far back showing the size:
here are some up close images: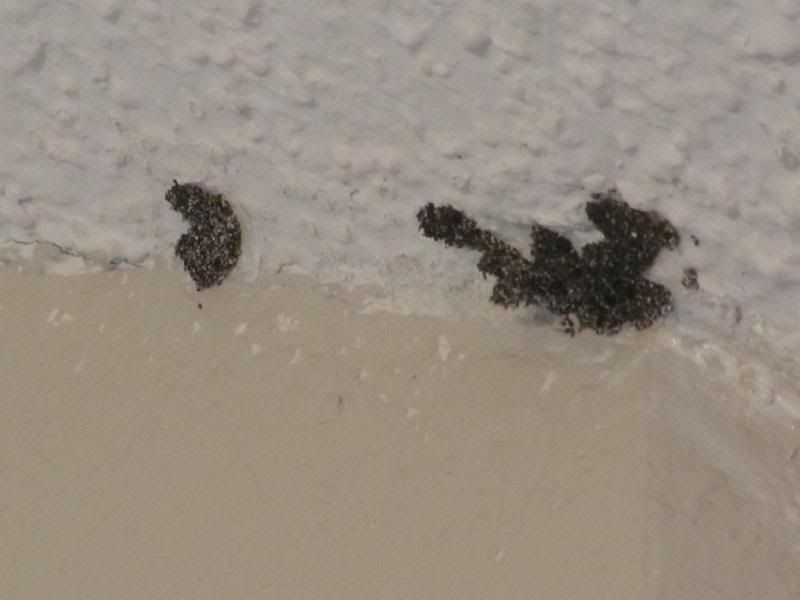 Please help!
04-19-11, 03:24 PM
Join Date: Dec 2007
Location: USA
Posts: 19,281
Not termites I don't think...maybe Bugman will weigh in later. I don't recognize it
04-19-11, 05:14 PM
Join Date: Oct 2008
Location: New England
Posts: 9,460
If that is sand or soil, then they are traveling from the ground up into the attic. I would also inspect the basement straight below this area, assuming you have a basement.

Bugman will know better, but termites are white to translucent. They also do not like to accidentally chew through the material they are inhabiting so will patch any thin spots. You can google termites to see if they look at all like what you found.

Bud
04-19-11, 08:19 PM
Join Date: Apr 2011
Location: USA
Posts: 2
Upvotes: 0
Received 0 Upvotes on 0 Posts
Ok so we cleaned off the dirt and took pictures of the bugs we found. I do believe these are termites based on other pictures I have found on the internet. And the hole that was created over the last 24 hours is even bigger than the one we patched last night.
We had some insect spray with a thin straw attachment.. so we stuck it in the holes and fogged them.. then caulked again.
What do I need to do next?
Also.. we do not have a basement. This is also at the front of my house where I do not even think there is attic on the other side.
Here are a few pictures.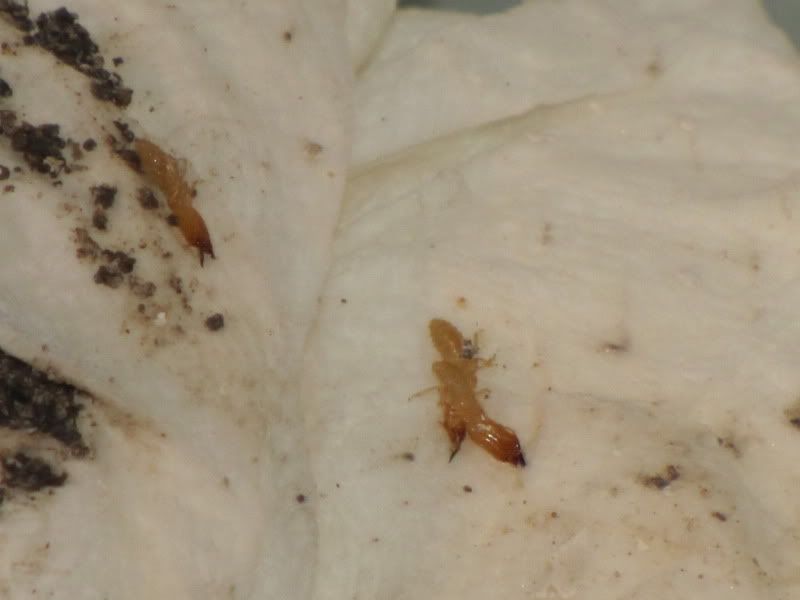 This is after cleaning off the majority of the dirt and you can see them on the ceiling and the two dark holes they created.
04-19-11, 09:35 PM
Join Date: Oct 2008
Location: New England
Posts: 9,460
Assuming they are termites, you will need a professional to treat the entire house. They will do the inside down through the slab and the outside around the entire house. They will also try to assess the current damage, like what you are looking at and if the damage is structural. Most pros will take a look and give you a quote for the services needed.

Bud
04-20-11, 03:23 PM
Join Date: Jun 2010
Location: United States
Posts: 1,897
The insects in photo are termites, specifically soldiers. Note the larger mandibles for fighting, reddish in color. These guys can't even feed themselves; they need the workers to feed them thru a process called trophalaxis.

The dirt, tunnels, etc in the earlier photos was puzzling till I saw the photos of the insects themselves. The odd color and texture of that material is from whatever they are chewing in. Possibly a homasote, or backer board. Usually it is dried mud from the soil, but this looks different. If you can get some of that material, wet it and see if it smears like mud, or is it a fibrous type building material.

The ceiling is quite high for subterranean termites, especially considering that you have no basement. An exception would be if there is a moisture source up there that may be allowing a secondary colony to exist.

What part of the country are you in? I have no experience with drywood termites, just subterraneans. Call your homeowners assoc if you have one; otherwise get referrals from friends for a local reputable pest control guy. Keep us posted.
05-01-11, 09:07 AM
Join Date: Dec 2007
Location: USA
Posts: 19,281
How strange...I never saw the type of infestation shown in the first series of pics...and now I'm watching a Holmes Inspection episode from 2010...with the exact same types of tubes hanging from the ceiling....

Very wierd...
05-01-11, 12:19 PM
Join Date: Jan 2005
Location: PA - USA
Posts: 4,832
Maybe a new species? Seems we're being invaded with invasive species a lot lately. I've never seen anything like this, either and hope I never do.