Help with wiring from Honeywell T874C to RTH7500
10-03-10, 05:19 PM
Join Date: Oct 2010
Location: United States
Posts: 6
Received 0 Votes on 0 Posts
Help with wiring from Honeywell T874C to RTH7500
---
I am new in this forum and just purchased a Honeywell RTH7500 programmable thermostat to upgrade my current Honeywell T874C with Q674F base. Currently my wiring coming into the base is as follows

W1---Blue
W2---White
G-----Green
R-----Red
O-----Orange
Y1----Yellow
E-----Brown
X1----Black
X2 and E jumpered

How should they be wired in the 7500?
My unit is a two stage heating, single stage cooling heat pump with E-heat.
Any help will be most appreciated.
Robin
10-03-10, 06:01 PM
Post the control wiring connections at the air handler.
Seems like the old stat should have been wired differently to me.
I see that you have a different color code then this example, but the blue wire on W1 should be checked.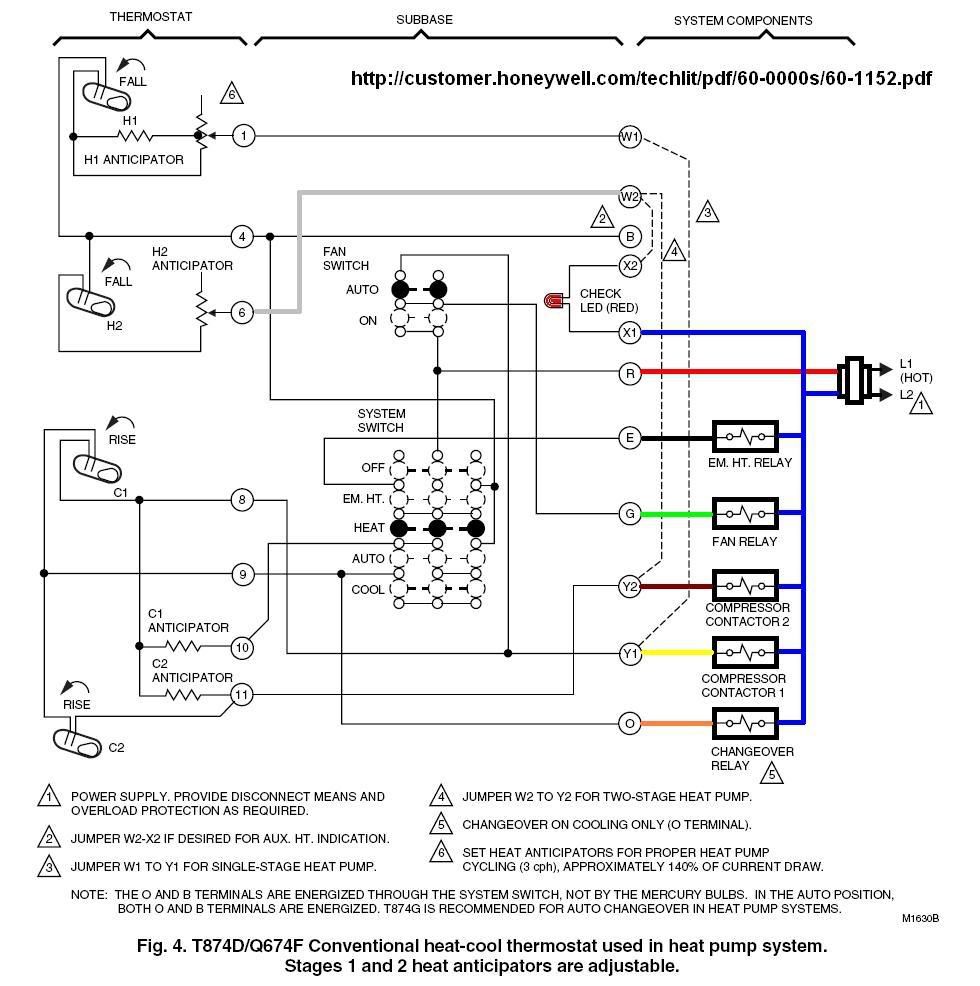 10-03-10, 07:11 PM
Join Date: Oct 2010
Location: United States
Posts: 6
Received 0 Votes on 0 Posts
Will be tomorrow afternoon before I can get the control wiring. I did notice that the pdf you showed is for a T874D instead of a T874C. Does it make any difference?
Thanks,
Robin
10-04-10, 05:22 PM
The Y2 terminal will not function when using a T874C.
The blue wire on your W1 terminal should have only been a jumper to Y1.
If it connects to anything else, this should be checked at the air handler.
otherwise...
Aux = white
G = green
Rc & R = red
O/B = orange
Y = yellow
E = brown
C = black
tape off blue
option 170 = 7
option 190 = 0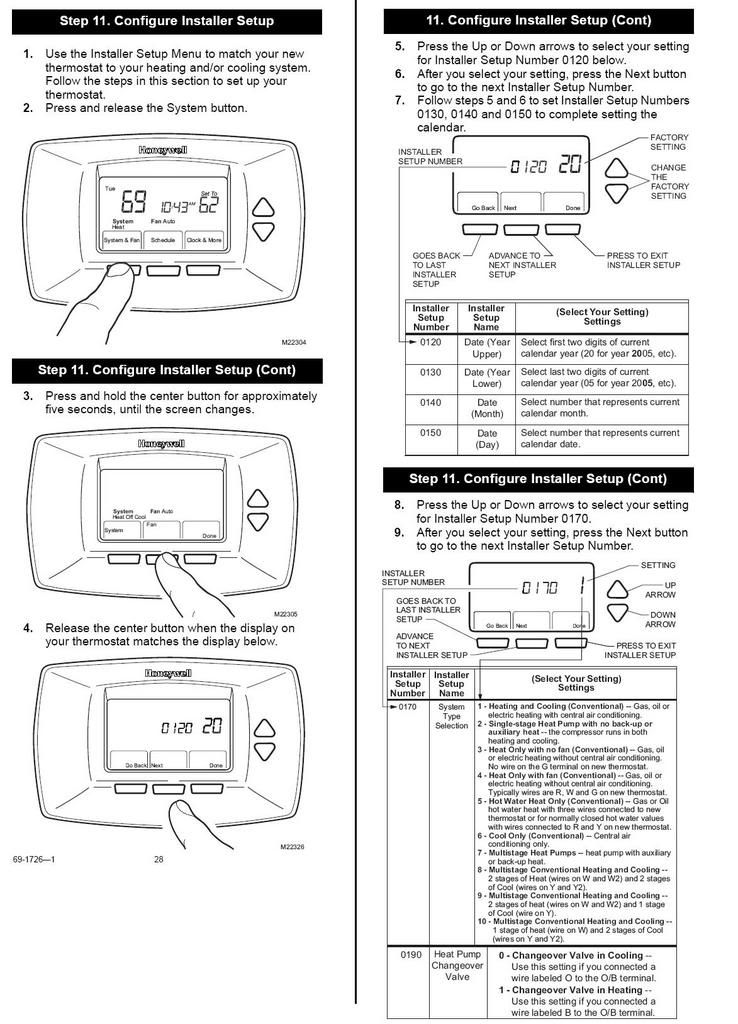 Remove power to the air handler before replacing the stat.
10-13-10, 01:46 PM
Join Date: Oct 2010
Location: United States
Posts: 6
Received 0 Votes on 0 Posts
Help with wiring from Honeywell T874C to RTH7500
---
The blue wire from W1 goes to the air handler and connects with another blue wire and two white wires (W2) and connects to a violet wire. This violet wire connects to another larger gauge blue wire and connects to pin 7 of R1. Does this help clarify matters? Sorry for my delay, been dealing with a family death.
Robin