Honeywell TH6110D not working
02-10-11, 05:43 PM
Honeywell TH6110D not working
---
Hello all;
Having a problem with our new Honeywell TH6110D Programmable Thermostat.
(Installation guide:
http://www.honeywell-thermostat.com/manuals/th6110d1005manual.pdf
)
My first floor thermostat controls heat and air conditioning. The second floor has separate thermostats for heat and air conditioning. I replaced the heating programmable thermostats (Maple/Chase) with the TH6110D's.
The 2nd floor (heat only) thermostat seems to be functioning correctly after I adjusted the settings to System Type "2: Heat only – 2 wire systems, 3 wire zone valves (series 20), and normally open zone valves." (from the installation guide)
The 1st floor (heat and A/C) is not working correctly. We're waking in the morning to nighttime temperature setting of 65 degrees, even though the thermostat has been programmed and clearly reads 68… nothing. The thermostat reads 'heat on' but the boiler and zone controller (LED light) is unaware. When we return in the afternoon, the thermostat seems to be functioning correctly???
(More: This 1st floor thermostat wasn't working with the default 'System Type' so I changed it to the same as the 2nd floor. I notice the 1st floor thermostat double 'Clicks' often… even when the actual temperature and set temperature are the same.)
It is my feeling that the boiler (and powervent) is cycling on/off more often than with the previous thermostats.
Honeywell's customer service (with a distinct Indian accent) told me to contact the contractor who installed it… after I explained I was the installer.
What I am working with:
Oil heat, forced hot water – baseboard; 2 zone heating, 1 zone external water tank, 1 none used zone.
2 zone air conditioning
TACO ZVC404 Zone Valve Control
(Instruction sheet:
http://www.taco-hvac.com/uploads/Fil...ry/102-090.pdf
)
TACO 571-2 Valves
(Instruction sheet:
http://www.taco-hvac.com/uploads/Fil...y/100-3.2a.pdf
)
I've included some pictures that I hope will help decipher this problem.
http://i1084.photobucket.com/albums/...3/P1040808.jpg
http://i1084.photobucket.com/albums/...3/P1040813.jpg
http://i1084.photobucket.com/albums/...3/P1040809.jpg
http://i1084.photobucket.com/albums/...3/P1040817.jpg
Thanks in advance for any advice.
Bill
02-10-11, 06:08 PM
Hello Houston204,

I'm hoping I have this right... yes, there is a jumper between the R and Rc contacts - the last picture in my thread shows a Red to R and Blue to Rc contact.

Thank you for your interest.
Bill
02-10-11, 06:29 PM
24 VAC power in is displayed in the upper left portion of the diagram.
I can see a transformer next to the zone control board. It is very likely that we do not want a R to Rc jumper.
02-10-11, 06:58 PM
Hello Houston204,

Funny you mention removing the jumper... when I initially installed this thermostat (and used the default setting) I had initially removed it , but replaced it when I changed the system type.

I'll remove it again, I don't think it can hurt, and report back on how it works.

Thanks,
Bill
02-10-11, 07:02 PM
I'd say lose the jumper and reconfigure the stat. Setup Function 1 = 0 (Gas, oil or electric heat with air conditioning) and Setup Function 3 = 0 (equipment controls fan in heating) since we do not want fan in heating.

2 transformers can provide 48 volts instead of 24 volts when this jumper is used.
02-10-11, 07:14 PM
Houston204,

I've removed the jumper and bumped the temp up 1 degree and it worked (so far); the TACO ZVC LED illuminated and about a minute later - the powervent/boiler turned on. So far so good.

We'll see how it goes overnight... it's going down into the single digits tonight; luckily the 2nd floor is fine.

Thanks again Houston204, I will report back tomorrow.
Bill
02-10-11, 07:20 PM
I'll take a look at the setup functions tomorrow.

If I'm understanding you correctly, by having the jumper in place - the thermostat was getting too much juice; I'm assuming this would mess with the thermostat's function.

Thanks again,
Bill
02-11-11, 06:50 AM
"Houston, we have a problem" (sorry - just had to say it)

Woke this morning to the same problem. The offending (1st floor) thermostat was set for 68 and was reading 65 (night temperature setting). Wife is a bit miffed as to why I decided to replace 'perfectly good thermostats'... I'm wondering now too.

Last evening I removed the jumper and tested by increasing the temperature setting - it seemed to work, thermostat 'clicked,' LED on the ZVC illuminated and then the boiler turned on. This morning - nothing.

This morning I also changed the 'system type' setup to '0' (1 heat/1 cool conventional) as you suggested (the fan control was already set to '0' (gas or oil furnace...). I then turned off the thermostat, then turned it back on; it clicked and I checked the ZVC - nothing, no LED light, and no boiler action. Minutes went by and still nothing. I then turned the temperature setting down below the actual temperature, the thermostat clicked off. I then turned the thermostat setting to 1 degree above present setting (programmed for 68, I set it to 69), the thermostat clicked and read "Temporary"; I checked the ZVC - nothing, no LED light, and no boiler. Minutes later I heard the boiler kick on, I checked the thermostat and the actual temperature was now 64, the ZVC - LED thermostat light was illuminated, and soon the valve control light lit - heat was coming! It appeared to me the drop in actual temperature likely caused something to kick on with the system.

I'm starting to think the thermostat is faulty.

Any thoughts?
Thanks again,
Bill
02-11-11, 04:10 PM
I see that Zone 4 Priority is turned on...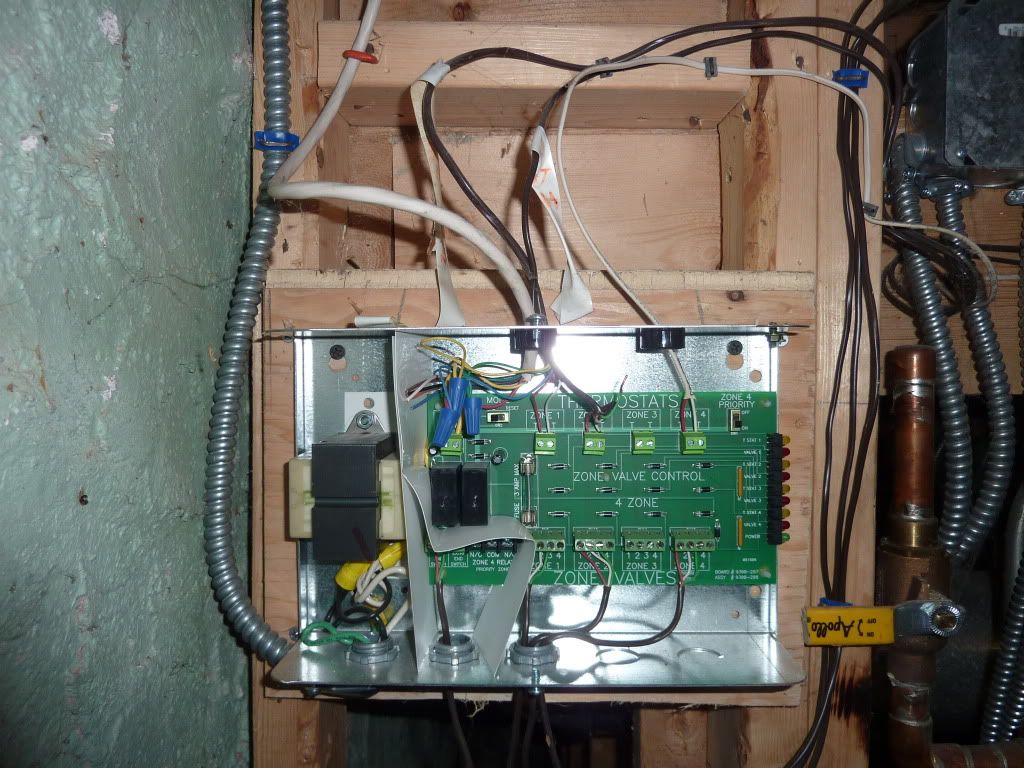 Priority Operation: When zone 4 is switched to the priority
setting and is actuated, all other zones will stop operation until
zone 4 is satisfied. When zone 4 is not switched to priority, all
zones will operate independently.
02-11-11, 06:44 PM
Houston204,

That is a great catch. I was talking with my father in law this evening and told him it seems like something was blocking the signal from the thermostat. The morning seems to be the only problem; it seems the thermostat doesn't have any issues the rest of the day.

This problematic thermostat is scheduled to turn on about a half-hour after the 2nd floor (zone 1) turned on, but it would turn on at the same time the external hot water tank would be reheating from our morning showers - the hot water is run off zone 4.

Tonight I swapped the thermostats to rule out a faulty thermostats. I may have to give this test some time (when the hot water is running) to see how this plays out.

I'll be sure to report back and let you know how this works out.

Thank you for your time and giving me another possible solution.
Bill
02-14-11, 05:33 AM
Working correctly now
---
Houston204 pointed-out the priority zone switch and that seems to be the culprit. I've adjusted the timing of when the heat will turn on and everything seems to be working fine now.

Thank you Houston204 for your help.
Bill