Installing Honeywell RTH7600 Thermostat
01-04-13, 07:34 PM
Installing Honeywell RTH7600 Thermostat
---
Hi all, looking for some help on wiring. I currently have an "Environments for Living" thermostat (no model # on unit) and attempting to install a Honeywell RTH7600 Thermostat.
The current thermostat is on top, while the new Honeywell is at the bottom.
So I guess if I match up all the letters that are on both of 'em it comes out as
(old --- new)
Y1 --- Y
G --- G
FD --- ???
T --- ???
To --- ???
W2 --- W2
C --- C
R --- R
So I don't know where FD, T, and To go... or at least that's what I assume?
Any help would be greatly appreciated!
01-04-13, 08:15 PM
I looked this up, and I am not coming back to anything for this stat??

Nothing at all on the back of it?

ANyway, going to need you give us more info, I am guessing you have a Heat Pump? Gas or electric back up heat?

You may have to go back to the furnace/air handler and see where those wires go to.
01-05-13, 10:25 AM
Hi Jay, Houston. Thanks for the quick response!
Don't know why it didn't occur to me to look at the serial(!). I just looked up the name on the front and it came up blank. Anyway, on the back it says Erv 24Super.....which I believe is this:
ERV-24-HC11 Thermostat With FanCycler | SCI USA
I don't know. We just recently moved in and couldn't figure out the controls, which is why I got this new thermostat. Now that we have the manual, maybe I should just leave it?
Uhm... To be honest Jay, I'm an idiot at this and can't even answer your question re: heat pump. We have an hvac up front (see attached). I assume its gas since I live in Northern California and have never lived anywhere with electric heat.
Check out my photos!
01-05-13, 12:45 PM
Your existing thermostat has 2 remote sensors (T and To) and a fresh air damper (FD) connected to it that your new stat will not support.
You will be losing these features with the new thermostat.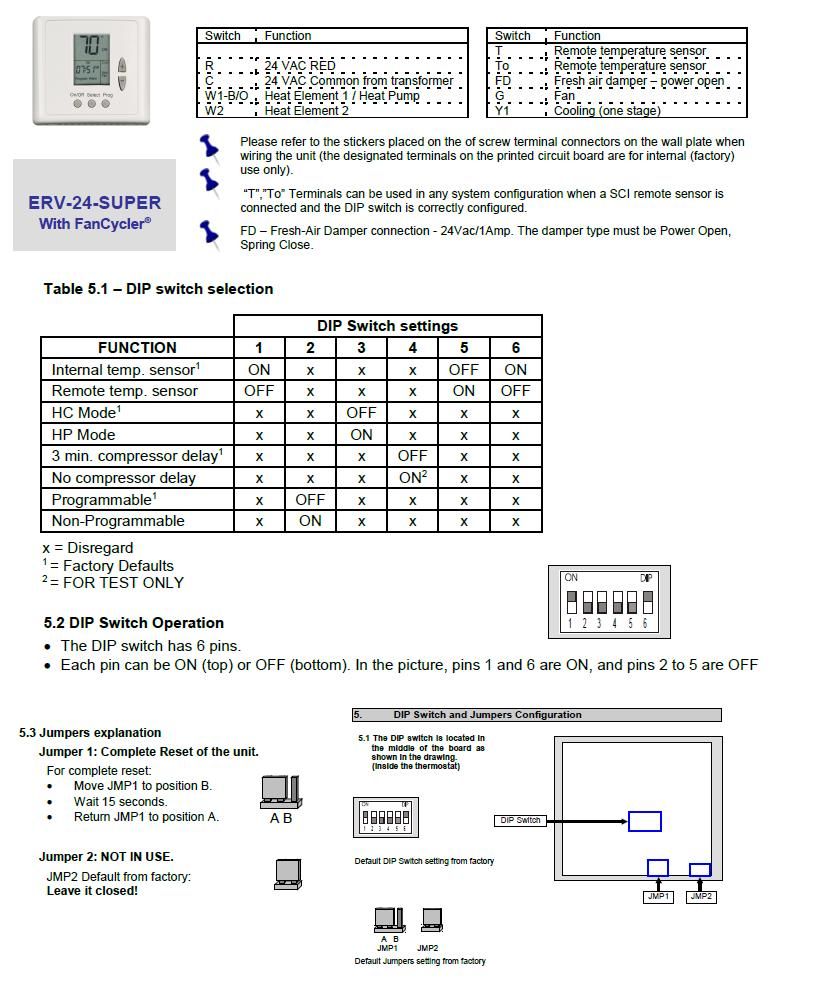 What are the dip switch settings?
01-05-13, 01:09 PM
Thanks again!Houston!

Settings are 1-0-0-0-0-1

Uhr.... I guess I should just leave the current thermostat as is then??

I guess me and the mrs can just try to get used to it. Heh, never seemed to have much trouble figuring out a thermostat up til now. :/
01-05-13, 01:27 PM
01-05-13, 07:52 PM
From your mode# on the outdoor unit, you have A/C, but I don't see anything on the inside unit.

The W1 not being wired up now and just W2, your heat is not going to come on right away, should be to W1.