Honeywell VisionPro IAQ with EIM Running Trane
02-17-13, 02:20 PM
Honeywell VisionPro IAQ with EIM Running Trane
---
HI!

I am getting Trane HP XR16 2-ton, TAM7 2.5 ton, 2x5kw strips. 17 SEER). Thermo to have outside temp sensor. Thought of Prestige v.2, or VisionPro IAQ. Do not need internet, don't need HD screen, don't need apps, so unless some useful functionality, will get VisionPro.

1. Can Prestige or VisionPro save all its settings to a card/thumbdrive to reduce reprograming after power outage?
2. For heating/cooling staging, does either Prestige or VP consider outdoor temp sensor.
3. Is the Adaptive Intelligent Recovery on the Prestige such a money saver over the VisionPro AIR?

Otherwise, sticking with VIsiionPro IAQ

1. Is it better for the VP to control staging on XR16 (instead of XR16)? Heat? Cool? Both?
2. For DEHUMIDification, is the Thermo best to control that through loweing fan speed? What happens to Condensor Staging when Dehumid is called for? I do not want "extra" cooling method. Is THIS something the IAQ is better for?

THANKS for your help!
Sponsored Links
02-17-13, 02:45 PM
1.) Settings remain after a power outage due to a watch battery.
2.) NO. Both CAN lockout the aux heat above a outdoor temp setpoint as long as they are used with ODT. Prestige can be wireless, VP must be wired.
3.) AIR is the same on both........ HP systems are best to set it and forget it. Using a setback temp schedule will cause the aux heat to come on during recovery.
1.) The thermostat controls the staging, the HP does not.
2.) Both thermostats must be allowed an over cooling which can be set to as low as 1F.
IMPORTANT WIRING!!!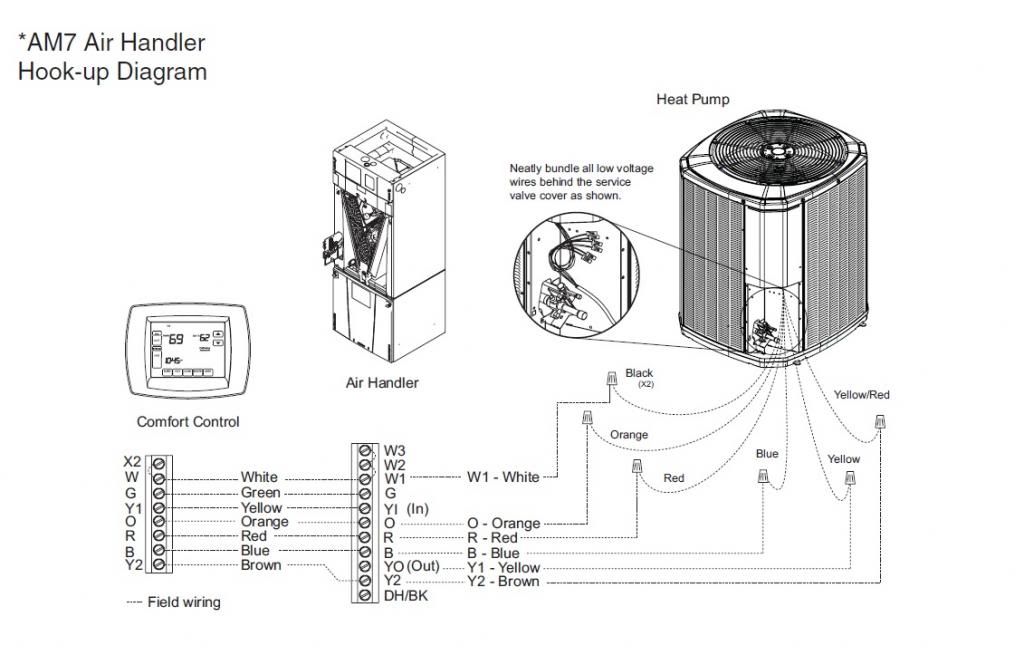 02-17-13, 05:07 PM
Kevin, Diagram dies not show EIM In Between Units
---
Thanks! So far I have not seen anything to require the Prestige. Even down to the remote: a wired remote is one less battery to deal with. Same with Outdoor sensor being wired. Installer specified Wired.

I think it will be important for me to spell out what I want the "entire" system to do so that the installer deals with the programming00or gets a company specialist to handle it. The firm has 150 or so staff.
Posting Rules
You may not post new threads
You may not post replies
You may not post attachments
You may not edit your posts
---
HTML code is Off
---