Wiring a new Honeywell Thermostat to Honeywell Aquastat Controller
03-13-14, 11:32 AM
Wiring a new Honeywell Thermostat to Honeywell Aquastat Controller
---
I purchased the Honeywell thermostat model RTH8580WF. My boiler is equipped with a Honeywell Aquastat L7224 controller. It is clear that I attach the RH and W lines of the thermostat to T terminals. It is not clear where I attach the C common line to power the thermostat. Please advise.
03-13-14, 12:50 PM
Join Date: Oct 2012
Location: Northern NJ - USA
Posts: 62,119
Welcome to the forums.
It's not clear where to put the C wire as there is no Common terminal in that controller.
Using available info and wiring diagrams from Honeywell I've determined a wiring diagram that should work for you. I take no responsibility for the outcome of this wiring. I'm illustrating it for you. It's up to you to verify that the application will work for you.
Looking at the diagram below you'll see the terminals marked clearly. You must make sure that you measure 24vac between C and 24vac. If you don't.... stop and let me know. If you measure the 24vac there you should be ready to connect the thermostat.
Let me know how you make out.
03-14-14, 01:09 PM
I am familiar with this diagram. Thanks for taking the time to investigate it for me. Unfortunately, I could not detect 24vac across those mentioned terminals, or any combination of the four. I see that there is a transistor on the circuit board that must step down the 120vac to 24vac (or possibly lower voltage) to power the board. But I can't find a way to tap into it responsibly.

Honeywell suggests that I get a "contractor" to wire a transistor into the system to power the thermostat.
03-14-14, 04:53 PM
Join Date: Oct 2009
Location: Texas
Posts: 7,425
A transformer can be installed and wired to the thermostat Rc and C terminals then connect Rh and W to your T and T terminals.
A fan center could also be used to isolate the stat from the furnace...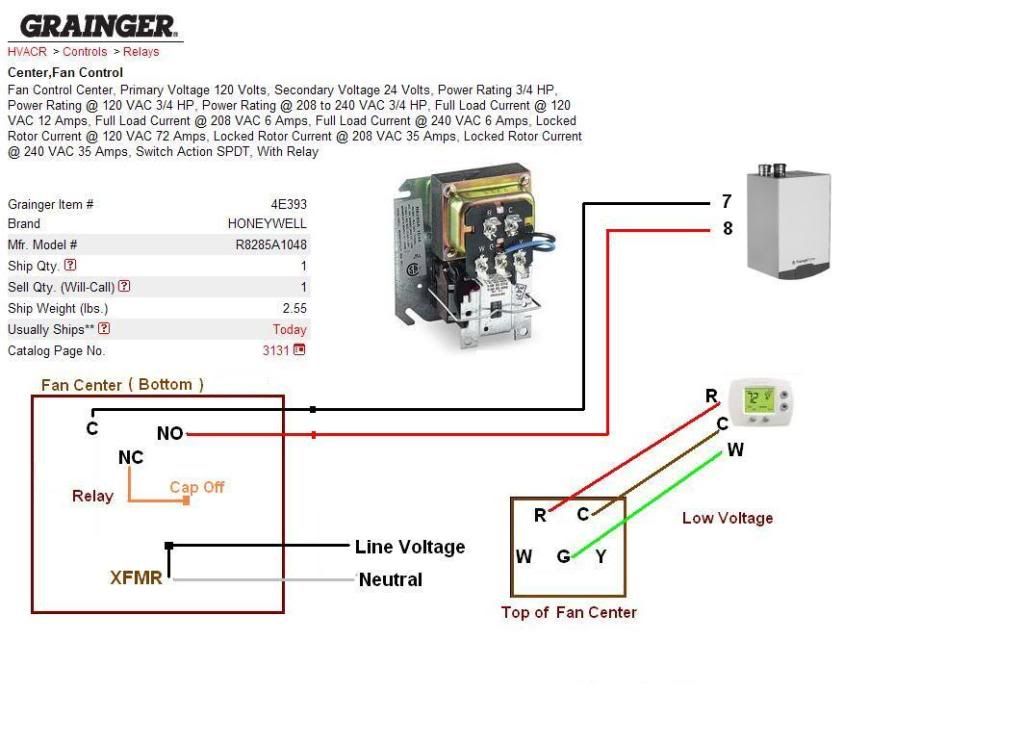 7 and 8 = T and T
03-14-14, 04:57 PM
Join Date: Oct 2012
Location: Northern NJ - USA
Posts: 62,119
Are you sure you had your meter set to AC volts and not DC volts ?

The remote t'stat that connects to 1,2,3 shows 24vac on 2 and 3.


At the very least.... you should read 24vac on the TT terminals with nothing connected.
If you don't..... what do you measure across TT ? Check using AC and DC meter settings.