Nest Gen2 Install Help
11-24-14, 02:42 PM
Join Date: Nov 2014
Location: United States
Posts: 6
Received 0 Votes on 0 Posts
Nest Gen2 Install Help
---
Hey guys!
I just pulled my new Nest Gen2 out of the box and started installing it. I hit a snag almost immediately with the wiring. I was hoping someone could explain to me which wire goes where and how it all fits together.
Details of my system are:
Carrier Heat Pump 38YXA042320
Carrier Air Handler FV4ANF005
Carrier Thermostat TSTATCCPRH01-B
I've taken some pictures of the existing wiring at the Thermostat as well as the wiring in the basement in the air handler.
Thermostat:
Basement Air Handler:
The letters, from top to bottom, are Dh, R, W1, W2, Y1, Y/Y2, G, O, C.
I'm having a little trouble mapping everything up. I'm also a little confused as to how the HUM, DHUM, S1 and S2 wires should match up. There is a humidifier in advance of the air handler down there so I'd like to get that hooked up if possible.
Thank you for any advice, help or guidance you could provide!
Evan
11-24-14, 05:20 PM
Your new thermostat will support the Hum terminal but not the dehumidification (dehum) or the outdoor temperature sensor wires (S1 and S2).
You will need to put the J1 jumper in place to catch both pins again (it looks like it may be already there).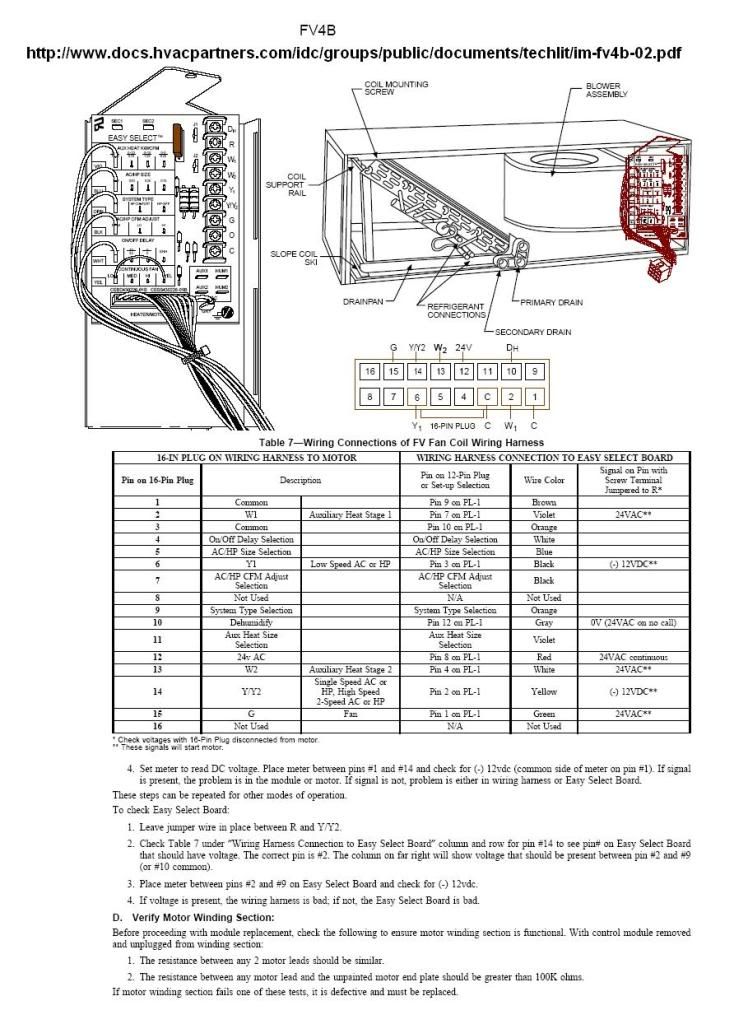 11-24-14, 05:33 PM
I can't see if tan or black is on HUM but it if is tan...
Tape off the old Dehum wire. Your new stat will not be able to reduce fan speed on demand for dehumidifcation if you use the star terminal to control a humidifier.
11-25-14, 07:51 AM
Join Date: Nov 2014
Location: United States
Posts: 6
Received 0 Votes on 0 Posts
Hey Houston204,

Thanks for your detailed explanation! I really appreciate all the help here. Just to clarify, inside the air handler in the basement I simply need to jump the R and Dh terminals with a single wire and then just hook it up as you have illustrated?

Seems simple enough. Are there any load requirements for that jumper wire of will a standard ~20awg stranded wire work?

Thanks again,

E
11-25-14, 07:58 AM
Join Date: Oct 2012
Location: Northern NJ - USA
Posts: 62,066
Any wire will work. #18 solid is preferred as it is easier to work with around the screw terminals.
11-25-14, 11:24 AM
The J1 jumper is a small black plastic pin connector to the left of your Dh terminal in the air handler.

When I remove them I make it catch a single pin instead of both pins. This keeps it from getting lost or dirty.

I see that you have the jumper but I cannot tell if it grabs both pins as required by the new stat.

I would also consider moving the J2 jumper to a single pin to allow staging of the heat strips.
11-25-14, 05:17 PM
Join Date: Nov 2014
Location: United States
Posts: 6
Received 0 Votes on 0 Posts
Hey guys!

Just got everything wired up and it's working great. The most difficult part was repairing the wall behind the old thermostat! Thank you so much for all your help. This thing is really cool!

Thanks again,

E