Need confirmation on conversion of Honeywell PC thermostat to Nest2
12-12-14, 08:16 PM
Need confirmation on conversion of Honeywell PC thermostat to Nest2
---
I currently have a RHEEM Criterion run by a Honeywell Perfect Climate thermostat. I've been reviewing the install and see the 4 wires coming from the thermostat to the perfect climate control box. coming out of the control box I have 5 wires going to the RHEEM and connecting to the PCB - Y G W R B. I also have 2 wires coming from the perfect climate control box "vent" terminals to a duct that appears to have a sensor or valve. Of course I have the 2 wires also coming off the RHEEM heading outside to the condensing unit.

My plan is as follows - this is what I need confirmed so I don't mess anything up.

1. disconnect Honeywell Perfect Climate thermostat
a. cut wire cable and strip 5 wires - R W Y G B - clip off 6th wire
2. mount Nest adapter to the wall
3. connect newly prepped wires in step 1 to the NEST
a. connect as follows - R-R1 W-W1 Y-Y1 G-G B-C
4. disconnect wires running to the input of the Perfect Climate control box
a. cut wire cable and strip 5 wires - R W Y G B - clip off 6th wire
5. disconnect wires from control box attached to the RHEEM unit PCB
a. wrap them with the Perfect Climate control box
6. connect newly prepped wires in step 4 to the RHEEM unit PCB
a. connect as follows - R-R W-W Y-Y G-G B-C
7. turn power on and check voltage at pins R1 and B1 at the nest adapter
a. if not good check power at the RHEEM unit wires W and B
8. shutdown power and attach Nest2 to adapter and power up

Do you see any goofs in my plan?

Also, what should I do with the 2 wires going from the control box vent connections to the duct sensor/valve? Are they even needed? What are they there for?

Any help and sanity check on my plan would be greatly appreciated.
12-12-14, 11:52 PM
Join Date: Oct 2012
Location: Northern NJ - USA
Posts: 62,101
Welcome to the forums.
It looks you have a Rheem heatpump system..... is that correct ?
If so..... there should be more than two wires going to the outside unit.
* Please confirm before wiring *
Old thermostat ---> color ---> nest
Y ---> yellow ---> Y1
G ---> green ---> G
W ---> white ---> W1
R ---> red ---> Rh
B ---> black ---> O/B Must program the t'stat for power on B in heat mode.
Use the extra 6th wire C ---> C
This thread has some info too.
http://www.doityourself.com/forum/th...ventional.html
12-13-14, 05:51 AM
12-13-14, 12:55 PM
Join Date: Oct 2012
Location: Northern NJ - USA
Posts: 62,101
I remember that thread. Hopefully we'll get a reply back from the OP soon.
12-13-14, 07:33 PM
So W2 and * cannot be jumpered and neither will control Aux and emergency heat? This is almost as disappointing as the fact that nest does not provide a decent manual with wiring diagrams the way every other manufacturer does.

I hope that this has been corrected with a system update.
12-14-14, 04:35 PM
It's not a heat pump, I got the RHEEM Criterion off the front of the unit. It has a gas furnace and the outside unit is for cooling - I'm not too sure of the correct terminology. I always thought a heat pump didn't use gas to heat the house.
Now one issue I didn't like with the Honeywell thermostat was that I had to manually switch from heat to cool.
I'll get back into the attic later this week and get a couple pics of the unit and all the wiring
12-14-14, 10:18 PM
A heat pump system can include a gas furnace.
It is a little tough to read the wire terminals in your pics.
What is the model number of your outdoor unit?
The fact that your post makes it seem as if a B terminal was in use with the old stat will point to a heat pump.
a. cut wire cable and strip 5 wires - R W Y G B - clip off 6th wire
Did you mean to post the color of each wire? Did the old stat have the terminals labeled 1,2,3,and4?
Was blue actually connected to 3 instead of B with the old stat?
12-16-14, 08:34 PM
Hey Houston - the wires were just me selecting them arbitrarily
I remember replacing the unit outside and found the paperwork, they installed a Payne 13 SEER Air Conditioner - 4 ton
018-060 single phase
036-060 3 phase
back of the compressor manual shows the following, so I think this would be my wiring from thermostat to furnace - what do you think? But I do need to get back into the attic to check the terminal pin designation.
12-16-14, 08:55 PM
I would definitely prefer to connect the wiring from the stat straight to the furnace and eliminate the perfect climate control altogether.
I removed that old control and installed a Nest thermostat for someone on this site a while back. He had me leave the old board and wire nut the stat wires to the equipment wires in cased he decided to sell the house in the near future.
Funny thing about older Rheem and Trane furnaces is that they didn't ship with a low voltage fuse to protect the transformer.
I would pick up a fuse holder and stick a 3 amp blade type automotive fuse in it to avoid burning up a transformer...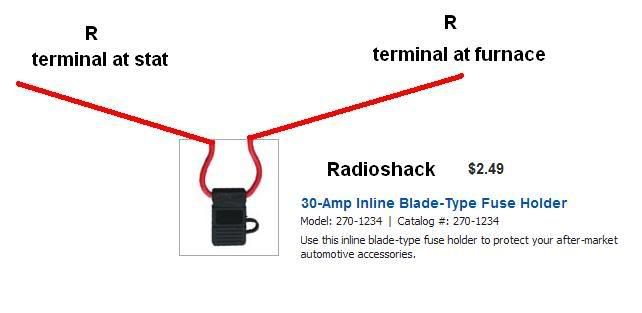 12-18-14, 03:11 AM
Houston,

Thank you for all your help, so I guess going forward here's my plan.

1. Check RHEEM PCB to see if there's a fuse
2. if no fuse then put one inline with terminal R between furnace and stat
3. use wiring diagram from my last reply

Basically I don't plan to leave the perfect climate control box wired in, I intend to disconnect it and stow the wiring.

One other question - what is/was that vent line connected to the perfect climate control box for? I guess it's not required but just curious what it was used for.
12-20-14, 08:44 AM
An outside air damper can be control from the Honeywell module.
Modern Honeywell controls with a equipment interface module are the Honeywell IAQ and the Honeywell Prestige IAQ.

The * terminal on a nest thermostat can be used to control a fresh air damper if you have enough conductors to the stat.

Do you see an outside air damper at the opposite end of the vent wire?