Converting from Visiopro IAQ to Honeywell RTH9580WF
01-08-15, 08:27 AM
Converting from Visiopro IAQ to Honeywell RTH9580WF
---
I want to convert from my visionpro IAQ to the Smart wi-fi thermostat for my vacation home.
I have not bought the wifi unit yet as I am concerned about compatibility.
This is a dual fuel system, heat pump & propane and it has an outdoor sensor.
The Visionpro uses a 3 wire communication line to the interface box at the air handler.
I believe there is a full thermostat wiring cable behind the baseplate, but only 3 wires have been used for the communication function.
Before I spend a lot of bucks for the wifi thermostat, can someone answer these questions.
1. Is the conversion possible without additional wiring?
2. Can the outdoor sensor be used in with the wifi thermostat?
3. Can the interface box still be utilized (since that is where the furnace/heat pump connections actually are.
3. Would the new baseplate simply mirror the remote connections in the interface box?
Thanks for any help or guidance you can provide.
01-08-15, 10:44 AM
Join Date: Oct 2012
Location: Northern NJ - USA
Posts: 62,066
Welcome to the forums.

Houston is the forum pro on thermostat recommendations.

I can answer a few of your questions. The new WiFi t'stat needs a lot of wires. It does not communicate to a module like the IAQ does. The baseplate is completely different. You can
connect a remote temp sensor but I'm not sure if you can use your current one.

You should get a wire count now so you/we know how many wires are in your existing cable.
01-08-15, 11:21 AM
Well, since I am not at my vacation home in the mountains, it will be awhile before I can check on the number of wires in the cable.

I know there was a standard thermostat there before the VisionPro - when it was a heat pump only installation - but know nothing more than that right now.

Will start over with a new post when I have that information...unless you or the resident pro can make an educated guess from the above info.
01-08-15, 04:52 PM
http://www.forwardthinking.honeywell...s/03-00005.pdf
1. Is the conversion possible without additional wiring?
You would need to rewire the controls since the new stat doesn't use an EIM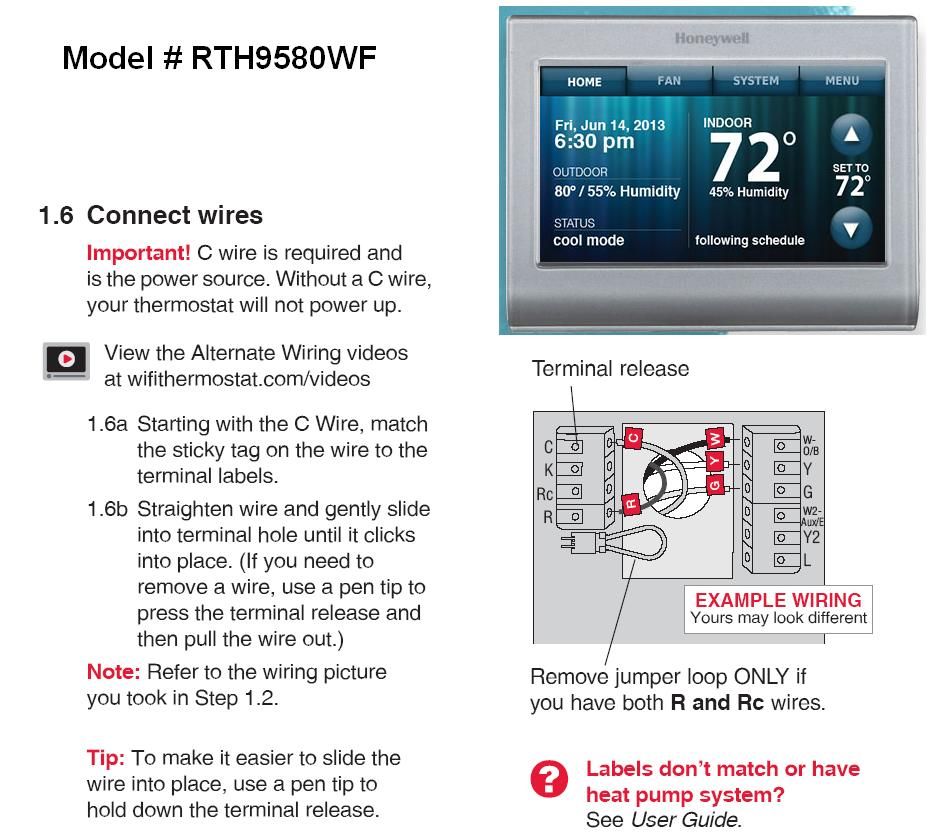 2. Can the outdoor sensor be used in with the wifi thermostat?
No, not with this stat.
3. Can the interface box still be utilized (since that is where the furnace/heat pump connections actually are.
No, the new stat does not use an EIM, and the Redlink stats use a different EIM
3. Would the new baseplate simply mirror the remote connections in the interface box?
No, it has less terminals
and does not support your dual fuel system.
The Honeywell Prestige IAQ would be the closest mirror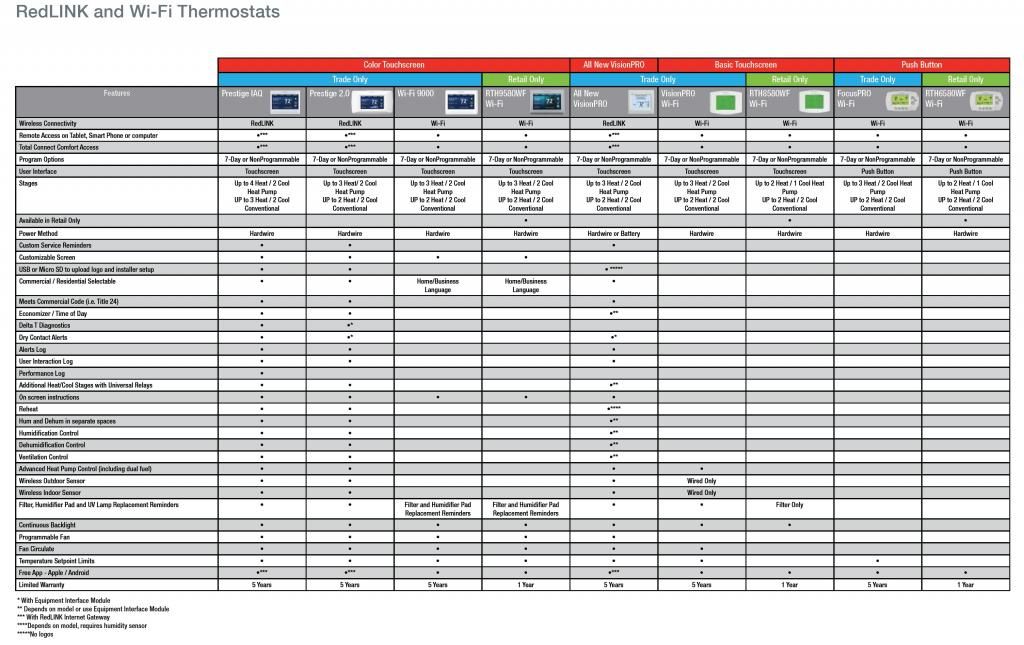 I recommend the Redlink Honeywell Prestige IAQ to replace your Honeywell IAQ control. Any of the Honeywell Redlink line of stats in the link that have a dot by the Advanced Heat Pump Control option will support your setup, if you get the Redlink EIM.
A separate Internet Gateway is required for internet control of the Redlink line of thermostats.
01-09-15, 05:43 PM
Wow....that is one expensive set up! And requires a hard-wired ethernet connection to a wi-fi router....which in my case on a different level of the house. Maybe an Apple Express router near the furnace , and wirelessly connected to my Apple Airport router would work.
What about a wifi visionpro 8000 or a wifi focuspro 6000. They're both dual fuel compatible. Would a standard thermostat cable work with their baseplate?
01-09-15, 06:46 PM
The 6000 doesn't support dual fuel according to the chart.
The Pro version VisionPro WiFi will according to the chart. I would expect the model number to be TH8320WF. I am confident that it supports your wired outdoor sensor.
https://customer.honeywell.com/resou...69-2733EFS.pdf
The internet gateway has worked great for me in highrises across the floor with 2 sets of elevators between them. I have used Honeywell wireless stats with the module in the attic and the stat 2 floors below on 2 story homes without issue.
The Redlink VisionPro 8000 can be upgraded to use an EIM at a later date if you chose it. We have installed these to operate without any wires between an EIM and the stat, but I would prefer 2 conductors between the stat and EIM whenever possible.
Do you have additional equipment wired to your existing EIM? A humidifier, fresh air damper, or dehumidifier? An EIM supports more peripherals than a stand alone stat.
01-10-15, 05:45 AM
You're right about the 6000...I misread the chart.
I mentioned in my first post that there is an existing multi-wire cable from the furnace to the thermostat...from when it was originally just an HP setup. They used 3 wires for the EIM and tied off the others. What I don't know for sure is how many total wires there are in that cable, but if it ran a conventional heat pump set up, it sounds like that cable would handle the TH8320WF and keep my cost for obtaining wi-fi remote control at a reasonable level.
Is my logic here correct?
01-10-15, 08:02 AM
---
Last edited by Houston204; 01-10-15 at

08:18 AM

.
01-11-15, 05:28 AM
I can get a good deal on a complete redlink system:

1- THX9421R5021WW Prestige thermostat,
1- YTHM5421R1010 Equipment interface module,
1- C7089R1013 outdoor sensor,
1- THm6000r1002 internet gateway
1-rem5000r1001 portable control
1- rem1000r1003 entry exit remote

My question is, is the EIM a direct replacement for the EIM I already have; would installation be a matter of moving the wires from one EIM to the other? Could I reasonably expect to set this up by myself with Honeywell manual and your help?
01-11-15, 10:12 AM
They are very similar. The VisionPro IAQ uses 3 wires to the stat and the Prestige IAQ uses 2 wires. The Prestige IAQ uses a Pairing button.
You can certainly install it yourself with our assistance.
Turn off power to the indoor unit and snap a couple of pictures of your equipment interface module before removing any wires.
Here are some examples...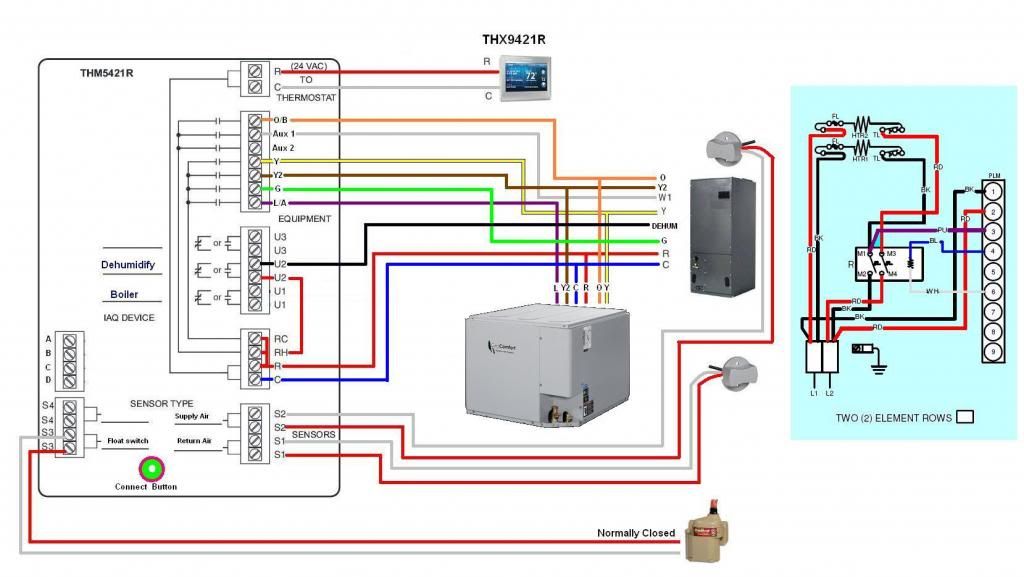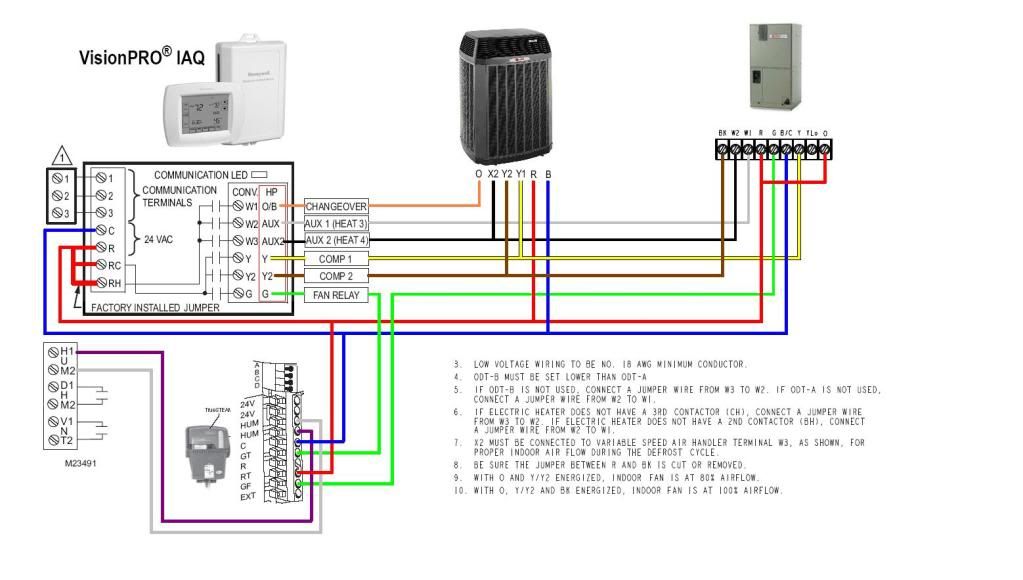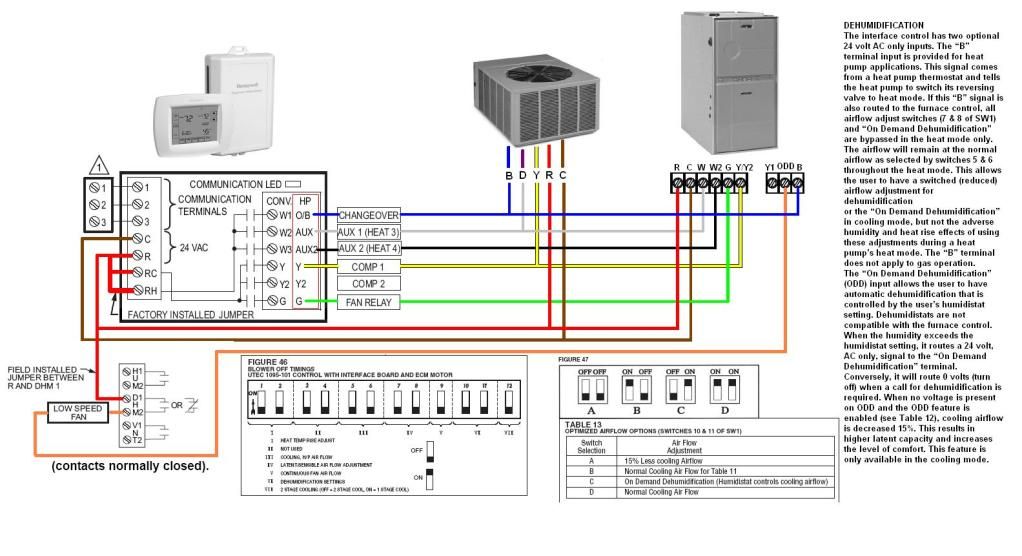 01-14-15, 01:00 PM
I've obtained a VisioPro 8000,TH8320R1003, a Redlink Gateway and a Redlink EIM YTHM5421R1010. Will be going to vacation house Friday to start changeover.
Pulled a 140 page printout of installer instructions and installer setup table...that's kind of intimidating!
Any suggestions on best way to proceed? I know to take photos of existing EIM for reference.
Should EIM be wired before thermostat? Does it matter which two of the 3 wires now at the stat I use?
Can I wire my existing outdoor temp sensor to one of the sensor pairs in the EIM?
Anything special I need to be aware of in the installer table, especially regarding my dual fuel setup?
Thanks for the advice so far....I'm sure I'll need some hand holding over the next few days.
01-14-15, 04:55 PM
Connect any 2 of the 3 wires but use the same combination at both ends.

I usually use red to R and white to C when connecting 3 conductor wire.

I don't remember seeing outdoor sensor listed as an option under wired sensor for the EIM. It is an option with that stat but the stat only views R and C when an EIM is in use.

It is important to use an outdoor sensor with dual fuel applications to allow the ability to lockout the heat pump below freezing temps. I would set heat pump lockout at 34 degrees but I see many opinions on the best setting at various propane and electricity rates.
01-16-15, 09:38 AM
Success!
---
Wanted to let you know that all went well in swapping out the visionpro IAQ with the redlink visionpro 8000. Took my time, labeled all the wires before disconnecting from old t-stat EIM, then moved them over to the redlink EIM.
Only 1 hitch in the whole process. The gateway installation manual does not tell you that you have to press the connect button on the EIM before pressing the button on the base of the gateway...simply says press button on gateway base.
Took me about 30 minutes to figure that one out.
Otherwise, everything communicated on power-up and the internet connection is dandy.
Thanks so much for your help and your advice on going the redlink route.
Curmudgeon 555