How to upgrade Honeywell TH921C1004 to wifi thermostat
06-29-15, 08:28 AM
Join Date: Jun 2015
Location: USA
Posts: 2
Upvotes: 0
Received 0 Votes on 0 Posts
How to upgrade Honeywell TH921C1004 to wifi thermostat
---
Hi,

I am in a process of upgrading my thermostat to a wifi thermostat, I tried to replace my current thermostat ( Honeywell TH9421C1004) with sensi wifi thermostat but the sensi doesn't seem to be compatible with my thermostat.

My current thermostat doesn't have any color codes instead it has 1,2,3.

Do you guys know any wifi thermostat compatible with this? Please find the thermostat picture attached.
Sponsored Links
06-29-15, 07:34 PM
http://www.amazon.com/gp/product/B00..._dp_o_pd_S_ttl
The Honeywell Prestige IAQ is a very close match to your Honeywell IAQ.
The old one has 3 wires but you only need to connect 2 wires between the new thermostat and the New EIM.
Your existing thermostat is connected to an equipment interface module.
The new stat will have a slightly different module.
06-30-15, 07:38 AM
Join Date: Jun 2015
Location: USA
Posts: 2
Upvotes: 0
Received 0 Votes on 0 Posts
Thanks Houston204, you are awesome!!!.. I just got a response from Honeywell and they also recommended the same.
Looks like i need to replace Interface module to get the wifi thermostat, seems to be lot of things to change.
Here is Honeywell response:
Thank you for contacting Honeywell.
Please note that the TH9421C thermostat is a VisionPRO IAQ thermostat. This thermostat gets connected to the Heating and Cooling system through an Interface model. Hence this thermostat cannot be replaced with any thermostat. It may be replaced by the same unit. If you want another thermostat, you may consider getting a Redlink thermostat like THX9421R thermostat.
However, do consider that the thermostat is a professionally installed product and for a suitable recommendation we would suggest you get in touch with the installer or contact your nearest HVAC contractor for the same.
For assistance finding a contractor near you, please use the following link:
http://yourhome.honeywell.com/home/A...hereToBuy.aspx
06-30-15, 04:20 PM
I recommend entering the configuration menu on your existing thermostat to see the current settings.
(Especially system type and possibly reversing valve heat or cool)

The old stat uses a code book (like function 174=7) and the new stat uses English (like system type= heat pump).
06-30-15, 04:37 PM
The Prestige IAQ module looks very much like the old IAQ module.
Swapping it out is not a difficult task.
This is an example of the VisionPro IAQ in a heat pump application...
This is an example of the new Prestige IAQ with a 2 stage gas furnace and a 2 stage condenser outside...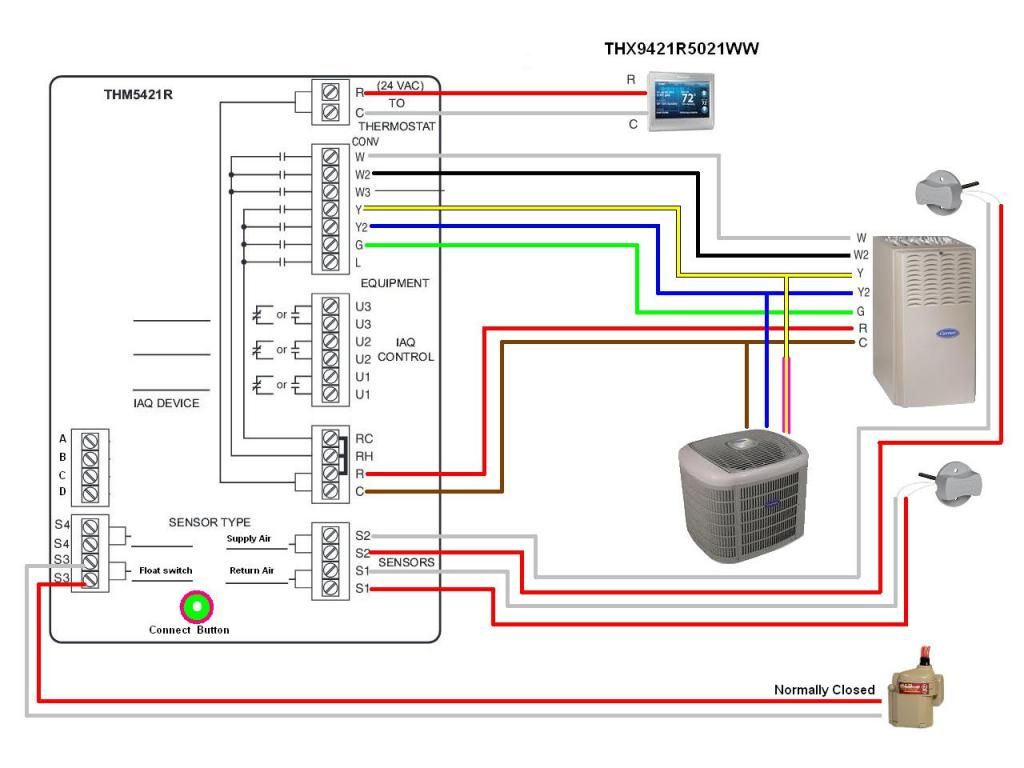 This example also has 2 duct sensors and a float switch.
Posting Rules
You may not post new threads
You may not post replies
You may not post attachments
You may not edit your posts
---
HTML code is Off
---