Connecting thermostat on Rheem heat pump system?
08-15-15, 04:06 PM
Connecting thermostat on Rheem heat pump system?
---
This is the way our old Carrier R22 Split System Heat Pump and Thermostat were connected:
Old Honeywell mercury switch and bimetallic strip Thermostat T874G 1055 HH07AT171
W2 WH
C GY
G GR
R RD
E BL
O OR
Y YL
Old Air Handler Connections (these were screws inside AH)
C GY
W3 BK
W2 WH
Y YL
O OR
W1 (N.C.)
R RD
G GN
E BL
We are replacing the above with a Rheem system. First, I want to connect the old thermostat to the new system. Could you please tell me how to connect it?
Afterwards, I may want to connect the new thermostat to the new Rheem system, but it doesn't seem to have the right connections (for example, it has L, O and Aux connections, etc. which the Rheem doesn't have.)
2.5 ton Rheem 15.5 Seer R-410A Heat Pump System RP1530AJ1NA / RH1T3617STANJA with optional 10KW electric heater installed (W/BK, BR & BK/W go to the AH control Board from the TDCs. The schematic shows TDC1 & TDC2 which both seem to be in parallel, and I don't see any thermostat wire for heater relay coming out of the AH to connect to E on the new thermostat.
Honeywell Thermostat Non-Programmable Heat Pump 2 Heat / 1 Cool Pro 3000 TH3210D1004 (NOT FOR GAS)
2H/1C Honeywell TH3210D Thermostat (new digital)
C
B
R
L
O
G
Y
Aux
E
Rheem Air Handler
R
C
G
W1
W2
Y1
Rheem Heat Pump
Y YL
D PR
B BL
R RD
C BR
08-15-15, 06:53 PM
Your Carrier heat pump thermostat will probably not have the required B terminal to control a Rheem/Ruud heat pump.

The Q674 number on the old thermostat subbase is required to look up the terminals.

That new thermostat will work.

stat - air handler- heat pump
C - C - C
B - * - B
R - R - R
G - G - *
Y - Y - Y
Aux - W1, W2 - D
E ( jumper to Aux)

* = no connection
08-16-15, 07:47 AM
B is energized the entire time that you are in heat mode, regardless of set point.

O is energized the entire time that you are in cool mode, regardless of set point.

These terminals control the heat pump reversing valve.

The operation can be reversed if you want to buy a double throw relay and some spade connectors, but I would replace the thermostat.
08-22-15, 08:43 AM
Thanks again. I've wired the thermostat connections up the way you said and have tried as much as I can so far, and the whole house fan in the air handler works correctly. (We have just finished modifying the duct work and installing the new Air Handler in the ceiling, have removed the outside condenser and have put the new condenser on a slab. I was awaiting tools that I ordered: nitrogen test tank and gauge, spring pipe benders, vacuum pump, torch, etc. I'll be working on the copper tubing next. I've already removed the old tubing that went outside from the AH in the cellar through some holes in the cellar cinder blocks.)

I forgot to mention that this Air Handler has an optional 10 KW heater. Would the wiring diagram that you previously gave me stay the same?
I have a PDF of the (very confusing, because it combines many alternate wirings on the same diagram) thermostat wiring diagram in the manual that came with the outside unit that I could send you, but I don't see an way to upload a file on this web site. I could send it to your email, if you'd like.

Some of the notes on the diagram in the manual are:
If maximum outlet temperature rise is desired, it is recommended that W1 and W2 be jumpered together. (In the AH manual it says, "When using 13kw or higher, it recommended to jump W1 and W2 together for maximum outlet temperature rise").

Other notes:
Jumper "E" to "W2" on thermostat to transfer control of supplemental heat to 1st stage when the emergency heat is on. (I think I prefer to run just the 10kw heater when needed, rather than both the 10kw + the heat pump in heat mode simultaneously, if that is what this jumpering does -- what do you recommend?)

This wire (goes from D on Heat Pump Outdoor Unit to W2 on inside AH and thermostat) turns on electric heat strip during defrost. Omit for most economical operation.

Thanks for your help!
08-22-15, 09:01 AM
(I'm using the new thermostat instead of the old one).
Somehow, I didn't see the "manage attachments" button; guess I was looking too quickly for something marked "upload". I've uploaded the scan of the wiring diagram in the HP manual (the AH has about 12 different wiring diagrams, so this one was simpler).
08-22-15, 11:02 AM
You will still have the ability to run only the electric heat strips if you jumper Aux to E.

You might find that 5KW isn't very much heat and it is unable to temper the cold air that your heat pump puts out when it shifts into defrost mode.

I would not omit the D wire from the heat pump unless you are okay with 55 degree air blowing into your home when the heat pump enters defrost mode( which is actually cool mode minus the outdoor fan).
---
Last edited by Houston204; 08-22-15 at

11:43 AM

.
08-30-15, 11:27 AM
Thanks for all of your help. I've finished installing the system and it works really great and is a lot more efficient than the 30 year old one that it replaced!

One thing that I've noticed is that the old Honeywell (mercury bulb) thermostat just had an "On" setting and it could turn on cooling or heat on days that were hot and nights that were cold; the new digital tstat requires that you manually select cooling/heat/emergency heat. What is the equivalent in the new tstats (2 Heat / 1 Cool)?
Thanks.
08-30-15, 12:57 PM
The fan has Auto and On on both thermostats, but what I meant was on the bottom right of the thermostat for heating and cooling. The old thermostat just has Supl. Ht, On, Off while the new one has Cool, Off, Heat, Emerg. Ht

With the old tstat, with the "On" setting for heat/cool, if the nights went down to 55 degrees, the tstat would turn the heat on, and then if the daytime got above 75 degrees, it would turn cooling on -- without me changing any selections on the tstat (it could decide whether to heat or cool based upon the two temperature setting slider adjustments).

If I wanted to do what you mentioned ("The operation can be reversed if you want to buy a double throw relay and some spade connectors..."), can you recommend a relay and how to wire it? Would it be mounted somehow inside the Air Handler near the control board and transformer?

Thanks again.
08-30-15, 03:46 PM
I believe that you are referring to Auto Changeover.
The Honeywell TH5220 thermostat has this option (as well as any multi stage Honeywell thermostat 5000 series or higher).
A relay can be added in the air handler to reverse the operation of the O terminal to use the old thermostat.
Connect thermostat O to the coil of the relay, connect the remaining coil terminal to C.
Connect AHU R to relay terminal 1.
Connect relay terminal 2 to Heat pump B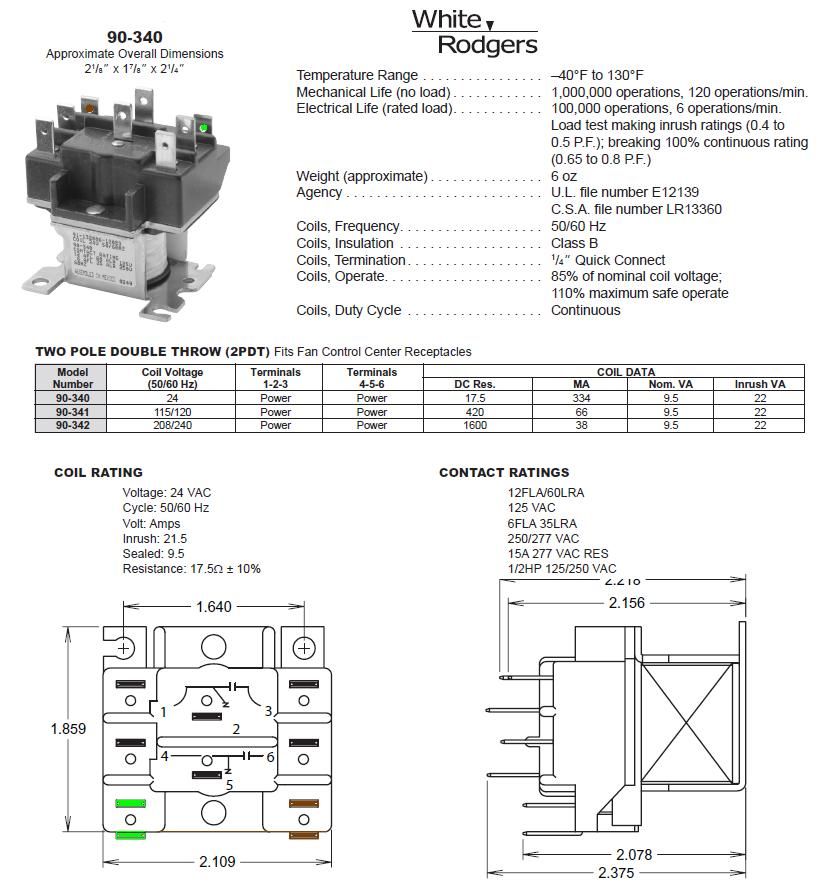 http://www.amazon.com/x2022-90-340-R...t+relay+24+VAC
http://www.amazon.com/White-Rodgers-...t+relay+24+VAC
---
Last edited by Houston204; 08-30-15 at

06:23 PM

.
10-18-15, 02:28 AM
We are using the thermostat wiring that you suggested below, and the new digital thermostat (Honeywell Cool Pro 3000 TH3210D1004 2H/1C Honeywell TH3210D Thermostat). With this configuration, what is the best way to use the Emergency Heat setting?
We saw the following article:
How NOT to Use Your Heat Pump Thermostat
and were wondering if it is referring to the thermostat being wired such that the electrical heating coils are being used in tandem along with the heat pump running in reverse (heat) mode, because it seems that the heat pump would run non-stop when the outside temperature is zero degrees F otherwise.
Should we use the Emergency Heat setting when it's below a certain temperature outside, or only if there is a genuine emergency, such as if the heat pump doesn't work in heat mode any more?
10-19-15, 03:51 AM
Your article is not referring to heat strips running in tandem (second stage heat).

The article refers to emergency heat which is running the heat strips without the compressor.

A heat pump can operate below 0°F. This may not be very comfortable since defrost mode actually turns on the cool mode which would be tempered by also running the heat strips.

If you are more concerned with operating cost than comfort you can only connect the heat strips to thermostat E and not Aux. I would not drop stage 2 heat since a heat pump loses capacity as the outdoor temperature drops.
10-20-15, 08:20 AM
We're going to leave the thermostat wired the way you initially told us.

Thank you very much for all of the information and guidance. You've been very helpful, and our new heat pump and thermostat are working perfectly!