C wire hookup to zone valve board transformer
06-19-17, 06:31 PM
C wire hookup to zone valve board transformer
---
Hello all!
New here and I've searched high and low but cannot find a definitive answer to my question. Hopefully you all would be so kind as to share some of your knowledge with me.
As so many other people, I'm looking to install a "smart" Ecobee 3 thermostat but my current thermostats do not have the required C wire. I have a 4 zone boiler system for heat with 4 separate thermostats. One of these thermostats also controls my separate AC system. Thankfully, whoever installed the system installed 5 conductor wire from the zone valve control board to each of the thermostats. So hopefully, I could pick up one of the unused conductors and bring a common to each of the thermostat locations.
Unfortunately, my Atlas zone board does not have a "C" or common connection lug. But, it does have a 24 volt transformer right there which is attached to the board via 2 yellow wires. A pic is attached below.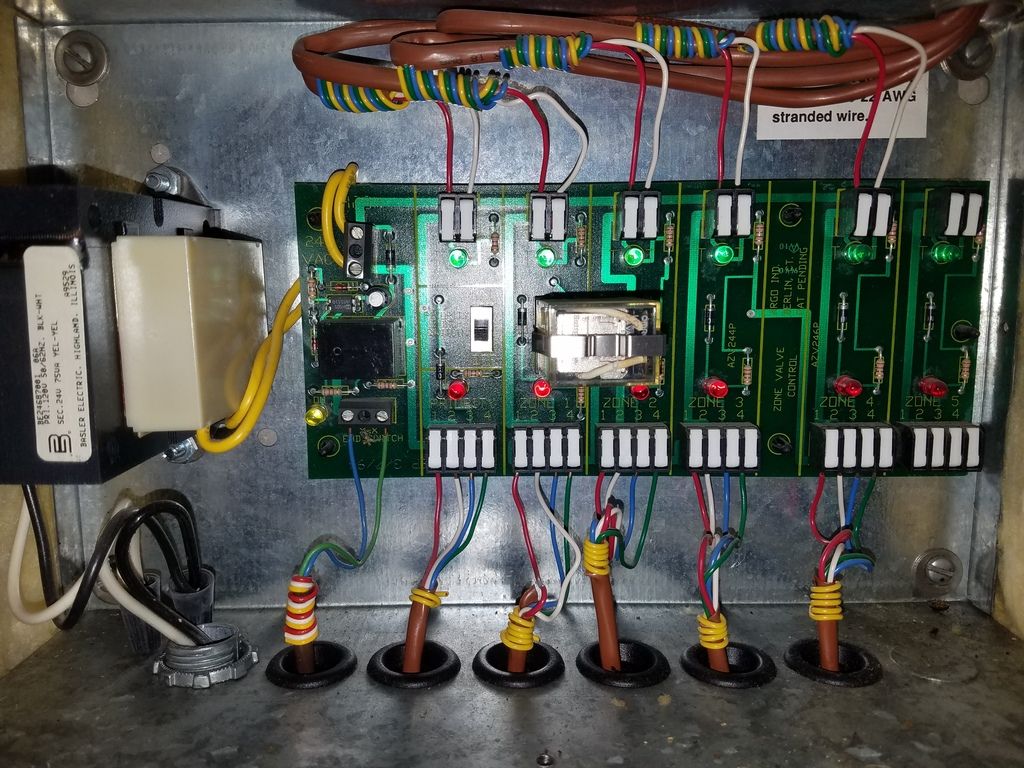 Here is the wiring schematic as well: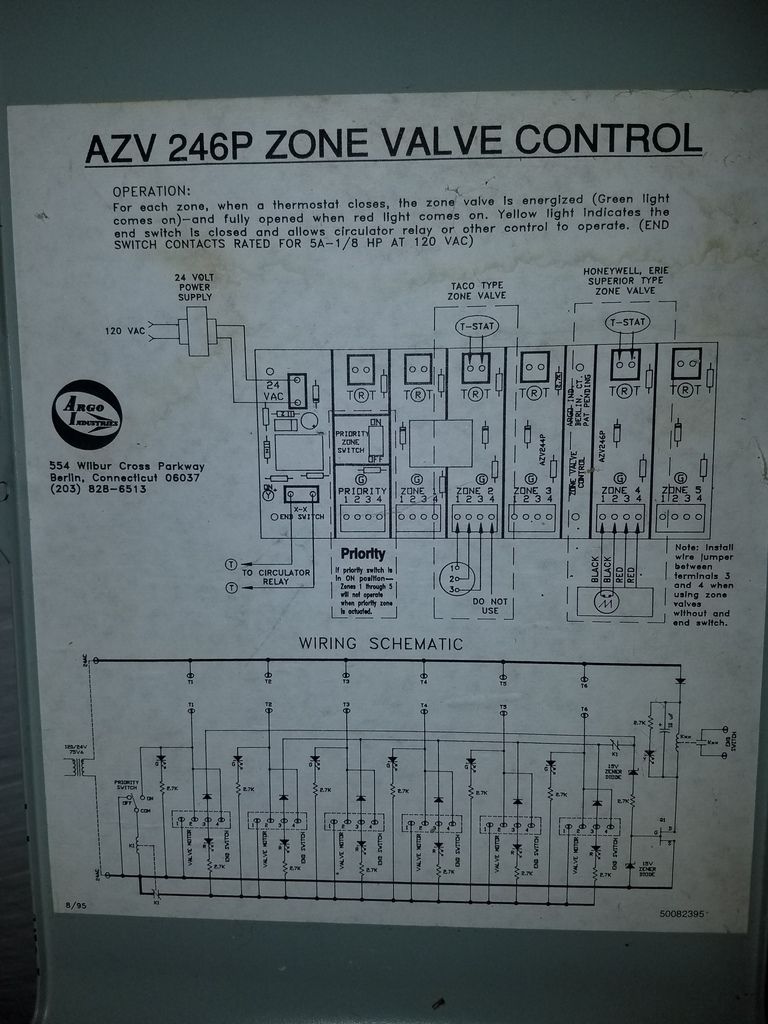 Which leads to my questions:
1) Can I simply pick up the 4 unused blue conductors and attach them to one of the two lugs coming from the transformer to pick up a "common" to power my new Ecobee?
2) If so which lead from the transformer do I connect to?
3) Is this transformer robust enough to power the Ecobee as well as run the zone valves?
4) Will it cause a problem if I just use the common from the zone valve board to power the Ecobee, but the AC unit is also connected to the same unit?
Thank you in advance for your help!
Mike
06-19-17, 10:50 PM
Is that a 75VA transformer? I boxed in what may be the VA rating in the pic.
You are going to need to identify R, W, and C.
It looks very much like the bottom yellow wire from the transformer is C but we can prove this.
Turn off heating demand to all zones.
Remove the red and white wires to zone 1.
Place a short piece of wire to bridge ( jumper) the 2 terminals that red and white went to.
Measure for 24 volts AC from your jumper to each of the 2 transformer terminals.
The terminal that reads 24 volts is your C terminal. My money is the one that I highlighted blue.
The remaining yellow transformer terminal is transformer R.
Remove the jumper wire.
Measure from transformer R ( probably my highlighted red) to each of the 2 T wires on the zone 1 terminals.
The terminal that gives you 24 volts AC is terminal W.
The other T terminal is R.
That gives you the thermostat R and W as well as the transformer C.
This is PJ's procedure, He may be able to shine more light on this if you have further questions.
---
Last edited by Houston204; 06-19-17 at

11:50 PM

.
06-20-17, 09:29 PM
Join Date: Oct 2012
Location: Jersey
Posts: 70,915
Good job Houston.
That is indeed a 75va transformer.
I agree with your blue and red ID's as R goes to directly up to the stat connections and C goes directly down to the zone valves.