Replacing Lennox Signaturestat
04-26-18, 06:20 AM
Join Date: Apr 2018
Location: USA
Posts: 7
Replacing Lennox Signaturestat
---
I have a Lennox G60UHV variable speed furnace with a single speed AC unit. It was originally installed 15 years ago with a Lennox branded Signaturestat (51M26/27/28). The thermostat is not working properly now and I want to replace it but I didn't realize all the functions it was handling for my setup and how difficult it would be to get a replacement.
The Signaturestat has the usual C, R, Y, W and G wires but it also has one for H and another for D. The single wire H controls the bypass humidifier. The D wires seems to act like a built in relay to dehumidify by running the blower at low speed with the AC. The thermostat also has some other functions that I like:
I can choose to run the fan only at chosen intervals to circulate the air in the house
It slowly ramps up and down the heater and air conditioner fan speed
Shows humidity in the house
I think that the Honeywell THR8321 is what I want as a replacement - I think it will handle the variable speed fan, the humidifier and dehumidification function. What I'm not sure about is the wiring. How do I gain the dehumidification function and add the humidifier to this setup?
Sponsored Links
04-26-18, 07:15 PM
Only with an EIM
---
The Honeywell TH8321R thermostat only has one set of U1 contacts. It can control a humidifier or dehumidifier function but not both unless you add an equipment interface module.
04-27-18, 07:58 AM
Join Date: Apr 2018
Location: USA
Posts: 7
Thank you for clarification. I like the idea of upgrading to a Honeywell AIQ with the Gateway add on. That way I can have wifi control too. Is the wiring of the EIM straightforward?

What other alternatives do I have that would have two U1 type contacts? I've seen some Robertshaw thermostats that looks similar to the Signaturestat but I wonder if they are the same plug and play?
04-27-18, 04:24 PM
It is the same stat
---
Lennox rebranded that robertshaw 9825i2 thermostat.
The background color may be different but not much else.

It will have a configuration menu.
---
Last edited by Houston204; 04-27-18 at

04:48 PM

.
05-06-18, 12:53 PM
Join Date: Apr 2018
Location: USA
Posts: 7
Thank you for the advice regarding the robertshaw 9825i2 thermostat. I think it may be the right replacement for my Signaturestat but I think it still needs a different set of settings down on the control board. Below are some shots of instructions from my manual. The Signature stat had the E20 Jumper set to Single and the W914 on-board jumper cut, per the instructions. This worked terrifically with the thermostat controlling the humidifier, low speed fan dehumidification with the ac on to remove humidity and ramping up and down the motor to start and stop heating or cooling at different fan speeds. I think the 9825i2 is a dual stage thermostat and I need to change some of these. Is it correct that I should switch the E20 jumper to Two and reconnect the W914? Anything else to consider?
05-13-18, 02:59 PM
Join Date: Apr 2018
Location: USA
Posts: 7
Anyone? Will the Honeywell unit give me the most flexibility?
05-13-18, 08:16 PM
I would definitely choose the Prestige IAQ and the gateway over any other option.
I have that setup on my house and I like it very much.
The Prestige IAQ is sold as a pro install item.
It isn't very hard to install but it does take longer that just swapping out a thermostat.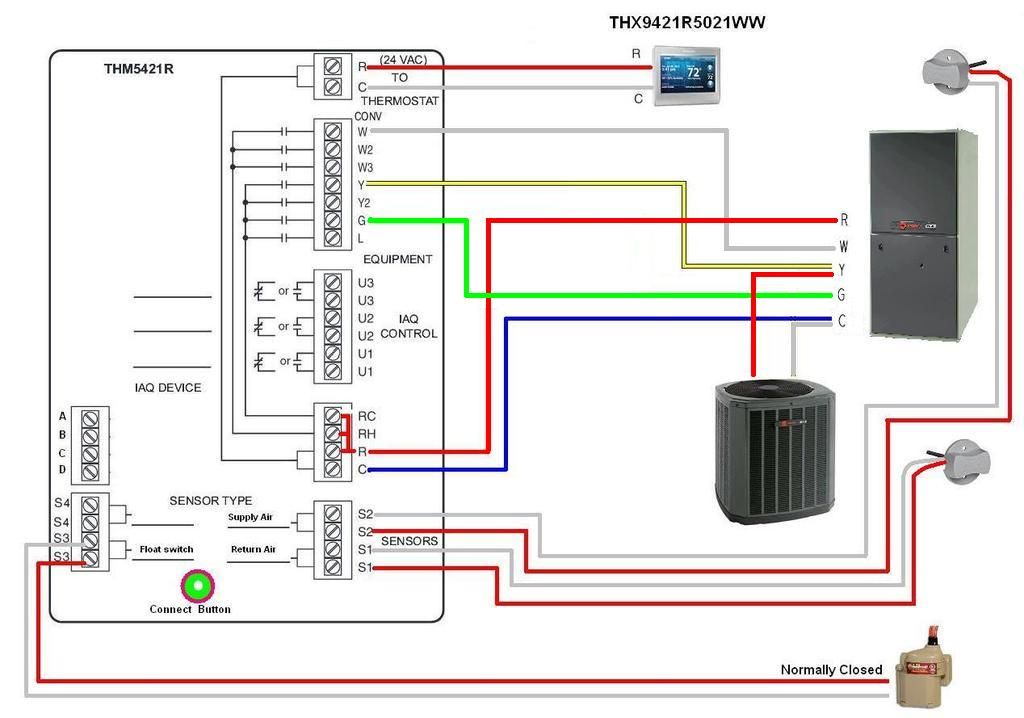 That Robertshaw would be easier but it would not be my choice.
---
Last edited by Houston204; 05-13-18 at

10:11 PM

.
05-15-18, 04:28 PM
Join Date: Apr 2018
Location: USA
Posts: 7
I'm going to go with the Honeywell but there are a lot of different Thermostat models. Which ones will work with the Equipment Interface Module and enable me to use two of the three U terminals for the humidification and dehumidification functions?
05-15-18, 06:59 PM
I believe that you only have 2 options.

TH8321R1001 and a THM5421R1021 equipment interface module and possibly an internet gateway THM6000R7001..

Or

Prestige IAQ
I would get the option with a gateway...
YTHX9421R5127WW
---
Last edited by Houston204; 05-15-18 at

07:29 PM

.
05-16-18, 02:13 PM
Join Date: Apr 2018
Location: USA
Posts: 7
Is there a difference between the two approaches? Is one just an "older" looking thermostat vs the newer looking IAQ?
05-16-18, 04:11 PM
stat 149, eim 58, 2 duct sensors 96, internet gateway 85 = $388

Honeywell Prestige IAQ = $264

The better Honeywell Prestige IAQ is the better deal, even if you didn't get the duct sensors.
The Prestige IAQ will likely also have more options. I don't know if the black and white stat will give you data logging but I doubt it.

The Prestige IAQ only requires 2 wires between the stat and EIM.

The TH8321R would be better with 2 wires but it can also be a wireless thermostat. It is the wireless option that has me choosing this route sometimes. If someone already had the VisionPro on their wall it might also add weight to this option.
05-17-18, 08:29 AM
Join Date: Apr 2018
Location: USA
Posts: 7
Thank you again for this info. By wireless you mean fully wireless from the EIM and not that it is internet capable, correct? I think both have the redlink option so both can use the gateway to connect to the internet and have remote (from phone) functionality?

I'm leaning towards the Prestige IAQ since it has the color thermostat (and lower cost doesn't hurt).
05-17-18, 11:30 PM
Yes, the TH8321R can be wireless from the EIM.

The Pretige IAQ is available in a better package.
Posting Rules
You may not post new threads
You may not post replies
You may not post attachments
You may not edit your posts
---
HTML code is Off
---