Hole in Bath Tub, can it be fixed?
01-28-13, 11:12 PM
Join Date: Jan 2013
Location: USA
Posts: 3
Hole in Bath Tub, can it be fixed?
---
Let me say I am a young home owner, and don't have too much experience with plumbing. I am an electrical guy.
My tub recently has developed a hole. I was taking a bath and all of the sudden I swore I heard water falling into my crawl space, and then noticed the water was draining wayyyyy to fast. noitced a hole by the drain.
I am not sure if this tub is porcelain, but I think that is the material. Seems to be metal under the finish.
Is there a way to fix this or do I need to buy a new bath tub.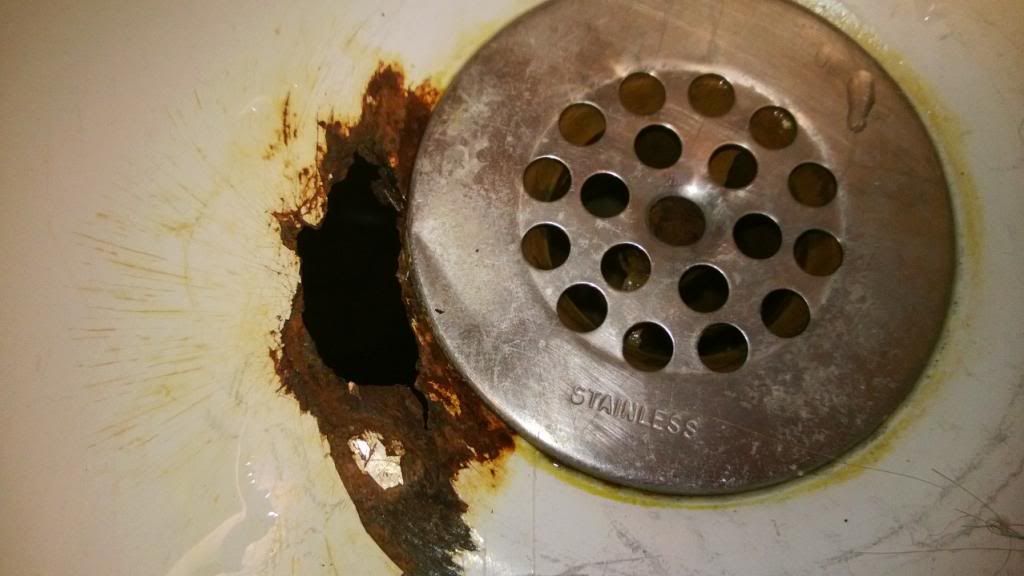 Sponsored Links
01-28-13, 11:19 PM
01-29-13, 12:13 AM
Join Date: Jan 2013
Location: USA
Posts: 3
is there a type of putty or something I can use for temporary fix?
01-29-13, 12:24 AM
There are two parts putties and epoxies that may work. Check at home repair centers.
I was trying to find an epoxy and fiberglass mesh repair kit but did not find any small quantity repair kits.
01-29-13, 04:40 AM
It is highly unlikely this can be fixed with any permanence in the DIY setting. The drain must be removed first. You may be able to scuff up the surrounding area, apply fiberglas mesh and coat it with liquid fiberglas. You can sand it down once cured, taking special care around the drain flange. It wont be pretty, but may buy you some time. The drain flange must meet the existing measurements in order to seal properly.
Resin:
Home Solutions 1 qt. All-Purpose Fiberglass Resin-20122 at The Home Depot
Mat:
Home Solutions 9 sq. ft. Fiberglass Cloth-20128 at The Home Depot
I know the quantities are larger than needed, but the cost is under $30 for the repair, excluding sanding materials.
01-29-13, 05:36 AM
Geee whiz that dont look like it happened over night....

I would fill it with silicone and look to replace the tub......
01-29-13, 06:56 AM
Join Date: Jan 2013
Location: USA
Posts: 3
So here is the thing I do not understand.

There is no floor under this tub. It is being supported by a metal brace or bracket. I have a feeling this is not normal. how will this affect the repair job?

I saw the porcelin slighly cracked, but it is just one of those things I never made the connection with. I never knew what tubs were made out of, and in my head it was just the finish that was cracked, I am a young home owner and never really knew they could get a hole. Just figured it was a cosmetic thing.
01-29-13, 07:10 AM
The flooring in the drain area is cut out for the drain and trap. The rest of the tub has flooring under it.
Posting Rules
You may not post new threads
You may not post replies
You may not post attachments
You may not edit your posts
---
HTML code is Off
---