Installing a Utility sink in laundry room
02-06-13, 01:01 PM
Installing a Utility sink in laundry room
---
I want to install a utility sink in my laundry room utilizing the same drain/vent
as what the washing machine uses now.

Current setup: Washing machine
enters into a drain, goes through a p-trap, then that connects to the drain/vent pipe from the left side. There is also a connecting drain pipe from an upstairs bathroom that you could see near the floor (in the picture) that taps into the drain/vent.

What I want to do: I want to install a
sink on the left side also and run the drain along side the drywall and
turn it 180 degrees and enter the same drain/vent used for the washing machine
from the right side. I figured turning a pipe 180 degrees isn't a
problem, so long as I have enough slope in the drain pipe.

Problem: In a
perfect world, I would be able to use a double Y connection on the drain/vent
(one for the washer and one for the dryer), however, the current connection for
the washer is to high on the vent, so I would need to bring the utility sinks
connection below the connection of the washer on that same drain/vent. Does this
cause a "venting issue"? Any other ideas? Thanks!
Sponsored Links
02-06-13, 03:14 PM
Why wouldnt I be able to just change the vent/drain connection to a "Y" connection and then swing the drain pipe for the sink around from the left and attach to the right side of the vent?
02-06-13, 04:09 PM
Not understanding what you mean. This is code. You cannot have two trap arms on a vent except like this.

There is another way but it will not help you.

If you could draw a diagram it would help.
02-06-13, 05:11 PM
lawrosa- So are double sanitary tee's not code?

The double would be used to bring the washer into one side and then the sink into the other....and then they would share the same vent....
02-06-13, 05:26 PM
02-06-13, 06:54 PM
Yes

Yes

Yes, but you need to find one with 2" side for the washer....

You may be better just dumping the washer into the laundry sink.....do away with the stand pipe.
02-06-13, 06:58 PM
Read here.
http://www.doityourself.com/forum/pl...-bad-idea.html
This is probably how you will have to do it because I do not think you will find that fitting with a 2" side.
The right side will be the trap and stand pipe for the washer.... Pic is just showing dual lavs.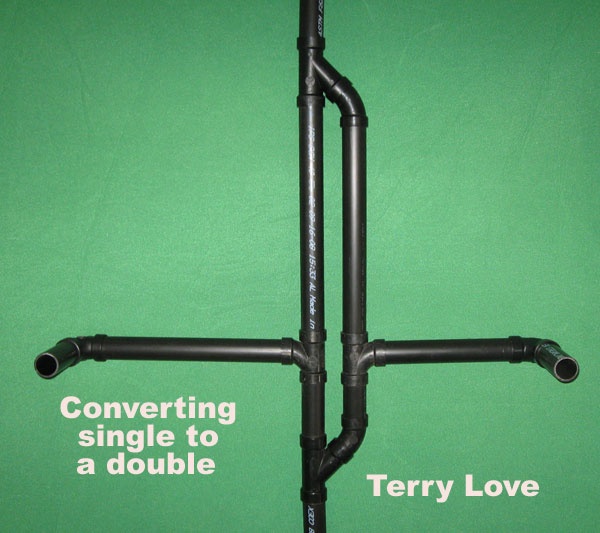 Posting Rules
You may not post new threads
You may not post replies
You may not post attachments
You may not edit your posts
---
HTML code is Off
---