Cannot remove shower faucet cap
04-04-13, 10:23 PM
Cannot remove shower faucet cap
---
Hi,
First off, sorry if I get terminology wrong, obviously new to this
I'm trying to repair a leak in our shower faucet. It seems to be coming from the hot water. I've done a bit of research and I usually see that the cap on the handle can be removed to expose the screw (on similar looking faucet handles). However, I can't get mine off. It doesn't seem like it comes off as there is nowhere I can stick a screw or knife to pry it off. What am I missing here?
Thanks in advance
04-05-13, 06:14 AM
Oh, I was banging my head against the wall just last week with a nearly identical faucet. I wiggled and pulled so hard I was afraid of breaking the valve assembly free in the wall. I finally broke down and bought a puller tool. Something I should have done ten years ago.
Check in the special tools section of the plumbing department at your local home center. The puller is about $10 and makes quick work of pulling a stubborn knob.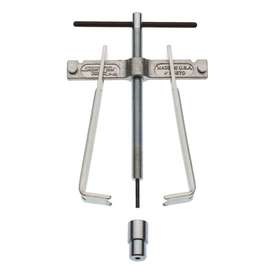 First pop off the plastic cap on the end of the knob. Remove the screw. It does not hurt to spray into the screw area with some penetrating oil like Liquid Wrench. Then go get the puller which will give the penetrating oil some time to work. Unscrew the threaded center piece of the puller much of the way. Insert it's long thin point into the screw hole of the knob stem and hook the two arms behind the knob. Tighten the handle on the puller and the know should come right off.
04-05-13, 06:52 AM
Thanks for reply!
Actually, my problem is that I can't get the cap off (red ring on left handle). It doesn't seem like it would come off actually. Was trying to use a screwdriver or knife to pry it off but it wouldn't insert anywhere. Am I just not trying hard enough?
04-05-13, 06:55 AM
I believe that you are on the right track, but sometimes those little crevices get packed with soap scum, etc., and become virtually non-existant. I would probably start with a little bit of degreaser and a tooth brush, gently scrubbing it into the area where the cap would typically pop off, let it set maybe an hour, wipe it off, and try something like an Exacto blade or finest tip on a smaller pocket knife; not that you will want to actually pry with something like that, but you should be able to feel where the break actually is.
04-05-13, 07:26 AM
Sometimes the blade of a box cutter or other knife can get under the edge. With older ones really stuck in place the edge of the plastic cap breaks off so don't feel bad if you do break it.

Also, close the tub drain or put a towel over it. When you get to removing the screws they have a bad habit of jumping out of your hand and are pretty good at finding the drain.
04-05-13, 09:12 PM
Alright so I finally got the cap off. Thanks everyone for the advice.

However, now I can't get the screw off. I even might have worn out the screw head so that a screwdriver won't work anymore. Looks like I need different tools now.
04-06-13, 06:26 AM
Join Date: Dec 2010
Location: Galivants Ferry SC USA
Posts: 18,152
I followed this post and figured you would get it off eventually... But now you stripped the screw...
So IMO the only option would be to break the handle off. This will break the stem too and you will have to get new parts.
That looks like a cartridge design but not sure. The handles look too new.
I wish I could give you other advice but thats all I got....And often what I do when the handles dont budge.
04-06-13, 06:30 AM
Please say the screw head is not rounded out. It can be a real bugger to get them out and even worse when the head rounds out.

First spray the screw with penetrating oil then give it another squirt 5 minutes later and let it sit for half an hour or while you are at work. Get a nice fresh/sharp screw driver. If you look closely at the end the Philips should have flats and nice sharp 90 corners, not rounded or pointy. Then really push as hard as you can and turn.

---
I've sent a PM to another Mod that hopefully has some better advice so give him some time to reply before trying the stuff below because at this point I start getting destructive.
---
If that did not do it you can cut a slot in the head of the screw with a Dremel tool then use a flat blade screw driver. If that did not do it I destroy the knob. I use a reciprocating saw and cut along both sides of the knob and get as close as I can to the screw making sure not to cut into the valve stem. Then I use channel lock or Vice Grip pliers to grab the knob parts and pull/rip it off the valve stem trying to get it out of the way and expose the screw. If you're lucky and careful the knob will be gone with the screw sticking out in the open so you can get a good grip on it with Vice Grip pliers.