How do I remove bolts in tight spaces? My first post & thread! Hello, everyone!
12-13-13, 12:58 PM
How do I remove bolts in tight spaces? My first post & thread! Hello, everyone!
---
First off, hi guys, nice to meet you all! I'm a total newbie here, just registered yesterday and looking to start posting today! This looks like a pretty cool DIY forum! I would like to go all out DIY becoming a amateur (maybe pro one day) carpenter, plumber, etc, and perhaps I become one of them now already.
Glad to be here!
I'm going to replace my existing toilet because it is rather old, leaks and the lever is broken. So I started taking out some bolts and nuts, but I was slowed down by a problem..
Alright here is the issue. Okay so, I have these bolts I need to remove that are on the bottom of the toilet tank in order to remove it, and the toilet bowl to replace.. and so I have tried using a small 6 inch adjustable wrench to try and remove the bolt all the way in the back, but it didn't work. Plan B. I tried using what you call a ratchet driver... but the driver's power nut bits wasn't long and hollow enough inside and it... sadly it just didn't work out. So now here I am a bit frustrated and delayed by it. I'm not sure what tool to use and do next. I was able to take out one bolt, but that was because the space wasn't tight..
Here are some pictures.
Here is my toilet been using for a good 10 years.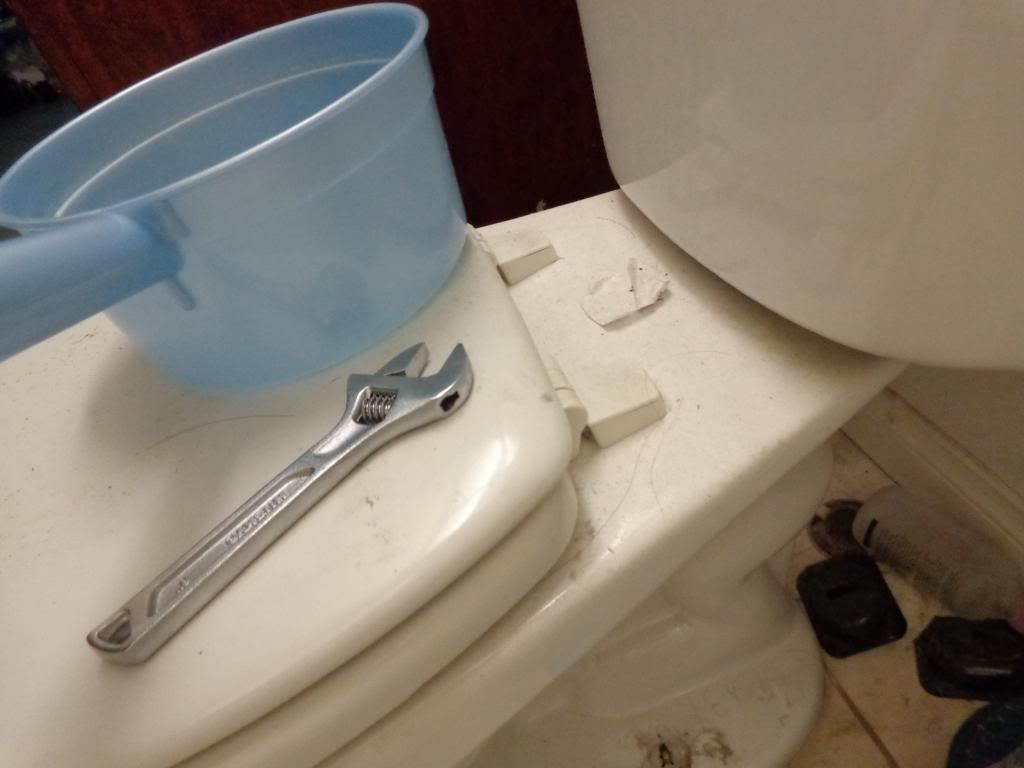 Under the toilet and it's tank.
Any help on how to remove that bolt in that such tight space would greatly be appreciated.
Thanks a lot guys.
-William
12-13-13, 01:22 PM
Join Date: Mar 2008
Location: United States
Posts: 9,029
To replace whole toilet you don't have to take tank off unless to to make it lighter to carry. Just disconnect water supply and 2 floor bolts and lift off wax seal.
12-13-13, 02:59 PM
If you are replacing the toilet you don't have to be so concerned about the bolts. Try removing the bolts and a common problem are the two bolts that mount it to the floor. Sometimes they rust in place, round off or the stud just spins. There are nut busters and other tools that work but if the toilet's going bye-bye anyhow a hammer is sometimes quicker & easier. Turn off the water supply and disconnect the supply line. Cover the toilet with a old sheet or blanket, put on some safety glasses and go at it with a hammer. Pick up the pieces and carry them out in a 5 gallon bucket.
12-13-13, 04:59 PM
Hi, I have tried differeht ways to remove tank bolts . I will just write about the easy way I found to remove them.
Drain the tank. Put Channel Locks on the bolt on the bottom of the tank to keep the bolt from turning. take an electric drill with an 1/8" bit and as close to the center of the head of the bolt drill a hole about 3/8 deep then bore out the drilled hole with a 3/16 bit then a 1/4 and then a 5/16 bit. The head will then be drilled loose from head and the rest of the bolt will drop to the floor. Takes about 5 minutes per bolt and you drill it out while sitting an the toilet facing the tank. Very easy.
Good Luck Woodbutcher
12-13-13, 05:39 PM
Join Date: Oct 2012
Location: Northern NJ - USA
Posts: 60,934
If you are
scrapping
the whole thing..... just pull the tank forward and the bolt will snap.
When those bolts get old..... the head corrodes so you can't use a screwdriver and a wrench.
You can hold the bottom of the bolt and use a saw with a hacksaw blade in it.... almost like a keyhole saw but for metal.... cut between the tank and the base.
Since you're becoming a DIY'er get yourself a ratcheting wrench set or ratcheting combination wrench set. They make many variations.... fixed head, flex head, dual head.
Sear's sells them and right now they're on sale. Almost all the tool companies make them. Extremely handy.
12-14-13, 02:41 AM
Ahhh I see what tools I need now! Hahaha A hammer?? I'll have to think about that one *chuckle* maybe I'll wreck the tank. Great way to take the frustration out on it lol. Well yeah, thanks a lot guys for the help, I really appreciate it. I might do some updates. We'll see how the tools do.
12-14-13, 10:11 AM
The hammer is not so much a joke if you are throwing the toilet away especially if the bolts are rusted. Rusted old bolts can be a real bugger to remove and toilets are kinda big, heavy and hard to get a good hold of. Just get as much water as possible out of the toilet before bashing. Sometimes I just break the tank and hammer free the flange at the base where the two hold down bolts are, leaving the bowl in one big piece. After all, who wants to be picking up a lot of poo contaminated bowl pieces.
12-14-13, 10:28 AM
The easiest way to remove the tank is get yourself a small coping/hacksaw with a metal cutting blade that will fit into the area and simply cut the bolts off between the tank and the bowl. The same can be done with the flange bolts if your careful. New bolts will be alot cheaper than all the lost time spent messing with other ways of removal.