Removing Faucet Stem
07-27-15, 07:58 AM
Join Date: Jul 2015
Location: CA
Posts: 4
Removing Faucet Stem
---
Hello
I have an old leaky bathtub faucet, and plan is to replace the rubber washer on the end of the stem and the seat inside.
This bathtub faucet stem doesn't seem to have an obvious way to be removed? (obvious to me anyways)
https://imgur.com/a/YGEar
any suggestions would be appreciated
Thanks!
Mike
Sponsored Links
07-27-15, 08:03 AM
Join Date: Mar 2003
Location: NC, USA
Posts: 19,807
Likes Received: 69
It looks like you have already removed the packing nut? If so then unscrew the stem from the body. Easiest is to put the knob back on the stem so you have a handle to unscrew it. You don't want to bugger the spline on the end or the smooth shank with a wrench which could cause leaking.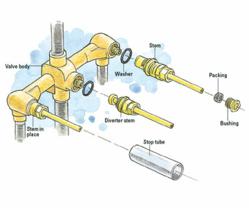 07-27-15, 08:05 AM
Welcome to the forums...
That threaded ring should come off. I assume as it looks now the stem will not turn out correct?
You may have to chip around and remove some tile to get a shower wrench in there.
If you look in the wall you should see a nut in there. But that threaded piece/sleeve as I stated should turn out..
08-02-15, 10:59 PM
Join Date: Jul 2015
Posts: 44
You probably will want to just replace all the seats, stems, escutcheons, washers, and handles. There are kits online that have everything you need packaged together. I never thought I would find my obsolete stems, handles, and such but a few websites had a kit that had everything I needed packaged together.

Do not attempt to take out the stems or seats without using the proper tools: the stem keys shown in the picture and a faucet seat wrench.
08-15-15, 09:20 AM
Join Date: Jul 2015
Location: CA
Posts: 4
thanks! you right it just unscrewed out all the way, after replacing the rubber washer, and the seat inside the wall (it was rusty) no leak!
08-15-15, 09:24 AM
Join Date: Jul 2015
Location: CA
Posts: 4
Resolved
---
Big thanks to everyone that posted suggestions. Then leak is now fixed
Not sure how to mark this thread as fixed/resolved/closed?
Thanks
08-15-15, 09:28 AM
Join Date: Jul 2015
Location: CA
Posts: 4
Thanks for the suggestion
This model the stem actually just unscrewed all the way out, I was scared at first to try that
08-15-15, 12:21 PM
Closed thread. Issue fixed... Thanks for the reply...
Posting Rules
You may not post new threads
You may not post replies
You may not post attachments
You may not edit your posts
---
HTML code is Off
---